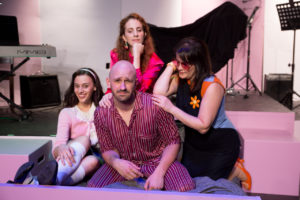 Marvin (Braxton Molinaro) and the women in his life (all photos by Arthur Marroquin)
Like his contemporary, gay playwright/actor Harvey Fierstein, gay composer/lyricist William Finn wrote a trilogy of one-act plays about gay life in New York City in the late 1970s/early 1980s. Fierstein's International Stud, Fugue in a Nursery and Widows and Children First! began life off-Broadway before transferring to Broadway in 1982 in a four-hour Tony Award-winning production known as Torch Song Trilogy. Finn's Falsettos opened on Broadway in 1992 but only consisted of the final two-thirds of his Off-Broadway trilogy—March of the Falsettos and Falsettoland. His original 1979 offering, In Trousers, was revised for its L.A. debut in 1984 before returning to Off-Broadway the following year with most of the L.A. cast and creative team intact.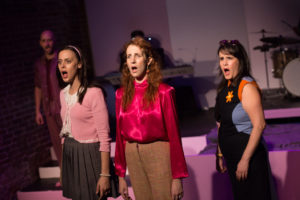 Lea Madda, Tal Fox and Michelle Lane
In Trousers has been seldom seen over the past three decades so that is why it is joyful news that a new production is now available to L.A. audiences at the Lounge Theatre in Hollywood thanks to Knot Free Productions. Despite a seemingly last minute change of directors, the 90-minute sung thru show is mostly a delight. Ryan O'Connor has deftly directed his four-person cast in the intimate confines of the Lounge Theatre. Music director Jake Anthony on piano leads the teeny tiny band of Joe Martone on percussion and Ethan Chiampas on bass through Finn's bouncy score.

Michelle Lane as Miss Goldberg
In Falsettos, Finn takes us through Marvin's life after the divorce from his wife, the acceptance of his homosexuality and the up and down relationship with his male lover Whizzer. In Trousers provides the back story, showing us Marvin (Braxton Molinaro) as he deals with the women in his life, beginning with his 14th birthday. His High School Sweetheart (Lea Madda), His Teacher Miss Goldberg (Michelle Lane) and His Wife (Tal Fox) are his major female influences. Even though he has been married for 10 years and has a son, Marvin can't continue to resist his growing attraction to men, especially the unseen Whizzer Brown, as joyously demonstrated in "Whizzer Going Down" Molinaro is at his best in this number; he seems detached the rest of the time. The character of Marvin is mostly a dreamer and voyeur in this memory play, but Molinaro seems to take that dispassion to extremes.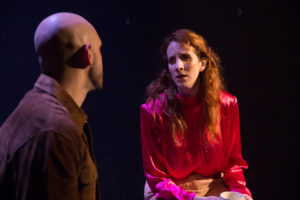 Braxton Molinaro and Tal Fox
The trio of women is really great, whether in their solos or in their many tight harmonies like "High School Ladies At Five O'Clock". Madda has the most threadbare character, but she plays sweet, young and lovely very well. Fox is loving, understanding and stoic, expertly showing a range of emotions throughout her character's arc. Her manic rendition of "I'm Breaking Down" is a highlight. She and Molinaro beautifully enact the sad realization of a marriage gone wrong in "Breakfast Over Sugar". Lane provides a show-stopping turn with the score's best song, "Set Those Sails," belting out this call for exploring life's possibilities.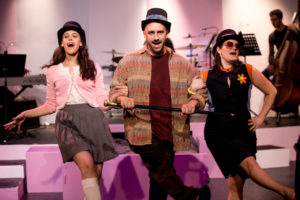 Lea Madda, Braxton Molinaro, Michelle Lane
Finn has created a hummable score that gets a full bodied rendition here by the onstage band. He loves wordplay and really has fun with his lyrics as you can tell from some of the song titles—"How Marvin Eats His Breakfast," "Marvin's Giddy Seizures," "The Rape of Miss Goldberg," "How the Body Falls Apart," and more. It truly is a delight to see and hear this rarity once more. See In Trousers and have a giddy seizure yourself.


Lounge Theatre, 6201 Santa Monica Blvd. in Hollywood. Ends Nov. 3 www.introusersla.brownpapertickets.com