(all photos by Matthew Murray)
At a certain age, when looking back at the events of 1970 they seemed to have happened just the day before yesterday. Then something like the 50th Anniversary Tour of Jesus Christ Superstar arrives for a quick one-week engagement at the Hollywood Pantages Theatre and you realize 1970 was nearly 50 years ago. 1970 was when the world was first introduced to the Andrew Lloyd Webber/Tim Rice two-record concept album that covered the final seven days in the life of Christ, from his entrance into Jerusalem to his crucifixion, in rock opera format. An arena tour played the U.S. in the Summer/Fall of 1971 including the Hollywood Bowl where this writer first saw it staged. Most of that tour's cast ended up on Broadway for a 711 performance run. In 1972 Jesus Christ Superstar became the first stage show to play the then totally outdoor Universal Amphitheatre in an unforgettable production. Then 1973 saw the release of the Norman Jewison directed film version. A 1977 Broadway revival lasted only 96 performances but the film's stars-Ted Neeley and Carl Anderson toured the country in the show for decades. A version set in a strange militaristic state appeared on Broadway for 161 performances in 2000 and was filmed for PBS Great Performances. The most recent Broadway outing was the misbegotten 2012 Des McAnuff production from Canada by way of La Jolla which ran for a disappointing 116 performances.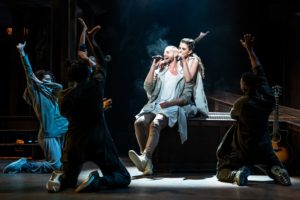 Aaron LaVigne and Jenna Rubah
The current tour started life at London's outdoor Regent's Park Theatre in 2016. This is not your parents' Superstar and it is most definitely not your grandparents' Superstar. For the first time in my 50 years of seeing the show, this is the first time I've experienced it in 90 minutes, straight thru, no intermission. The show does not feel rushed, nothing is missing, yet director Timothy Sheader has managed to inject new energy and insight into the proceedings. I must admit it did take a few moments to accept this bold new interpretation—Jesus sporting a man bun and strumming an electric guitar is not something I ever expected to see. The production has been stripped down to its bare essentials—the music (a really kick ass 11 member band led by Music Director Shawn Gough) and the voices (a truly heavenly choir of 16 headlined by another nine rock out voices in the leading roles).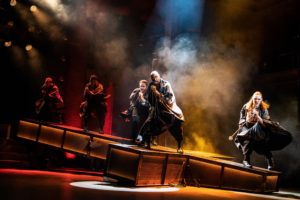 Alvin Crawford and Tyce Green lead the high priests
Aaron LaVigne commands attention as Jesus and his performance of "Gethsmane" is one for the memory. James Delisco Beeks makes a commanding and conflicted Judas, easily hitting the rock hysteria of "Damned For All Time" as well as the exuberant joy of the title song as he leads a choir-robed chorus through that infectious tune. Jenna Rubah as Mary Magdalene makes her power ballad "I Don't Know How to Love Him" soar but she is also effective and touching in her quieter numbers "Everything's Alright" and "Could We Start Again, Please". Tommy Sherlock's leather clad, mic dropping Pilate makes an indelible impression. Paul Louis Lessard has fun with the high camp inherent in "Herod's Song". Alvin Crawford's down-in-the-depths bass as Caiaphas paired perfectly with the higher ranged tones of Tyce Green's Annas.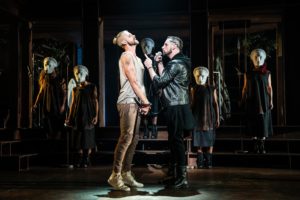 Aaron LaVigne and Tommy Sherlock
Of composer Lloyd Webber's 18 or so musicals, Evita and Superstar contain his most varied and stirring music. It is great to hear this wonderful score so vibrantly performed by the talented cast and band thanks to Keith Caggiano and Nick Lidster's exemplary sound design. The band sits above the playing area on Tom Scutt's multi-level set that still allows them to showcase the occasional guitar or saxophone solos. Lee Curran designed the spot on arena lighting, only fitting since director Sheader seems to have conceived the show as a rock concert, with his guitar strumming Jesus and his cast in Scuff's layered rehearsal/gym clothes. The cast even storm the stage from the audience at the start and form a circle as if they were hippies from Hair.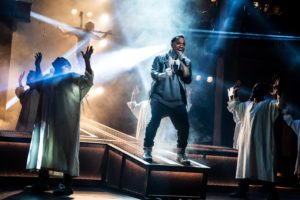 James Delisco Beeks
Sheader has provided some memorable visuals—his glitter strewn "39 Lashes" is the most stunning. There is also the image of Judas wearing his 30 pieces of silver courtesy of his silver painted hands. Drew McConie choreographed the acrobatic and seemingly non-stop dance moves although they eventually become repetitious. There is an over-abundance of jazz hand waving by the chorus. And Christ is carried around the stage so often by a group of four men that when he is finally taken down from the cross and carried away by the same quartet, the solemn moment has lost its meaning. But these are minor quibbles in a Jesus Christ Superstar that miraculously spans the 50 years from inception to now.


Pantages Theatre, 6233 Hollywood Blvd. in Hollywood. Ends Nov. 3. www.hollywoodpantages.com