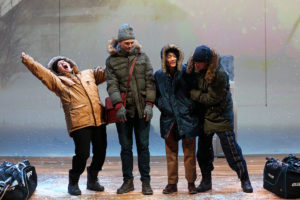 ​Linda Gehringer, Kyle T. Hester,​ Daniel Chung and Corey Brill (all photos by ​Jordan Kubat/SCR)
Growing up gay in a small town is usually a very lonely experience; whether in the USA, Canada or just about anywhere. It felt that way in the 1960s and it seems it still is that way today for some young men. At least that is how Gordy, a 23-year old gay resident of the small town of Port Alison, Manitoba, feels. It seems to snow constantly in Port Alison and the main recreational activity is hockey. At least Gordy (Kyle T. Hester) has operas he can listen to on his ear buds when his brothers aren't hassling about drinking and picking up girls at the local bar. He does have those pottery classes with his friend Brendan (Daniel Chung) that he sneaks off to occasionally. Gordy and Brendan work for the town's Mayor and although they can see the attraction between their co-workers Trish and Little Henry, they seem blind to their own attraction. That is until Brendan's Uncle has a health problem and suggests he and Gordy take his uncles's place on a gay cruise to the Caribbean. Should they? Could they? Would they?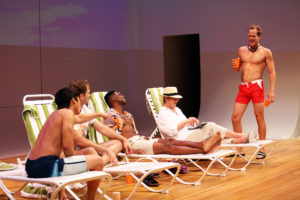 Daniel Chung, Kyle T. Hester, Corey Dorris, Linda Gehringer and Corey Brill
The result is a fun-filled, heart-warming comedy about taking chances, finding your voice and experiencing life. Adam Bock's 80-minute The Canadians is receiving its World Premiere on the Julianne Argyros Stage at South Coast Repertory in Costa Mesa. Bock has written a delightfully humorous romantic comedy that puts a smile on your face and leaves you with that fuzzy teddy bear feeling that all can be right in the world. Jaime Castaneda has done a stellar job of directing. Most of the comedy produces small, feel-good laughs, the kind that come from real people and situations. Gordy and Brendan are both awed by the fact that they are on a very big ship in the middle of the ocean with 3000 gay men, most of whom are wearing just skimpy swim suits.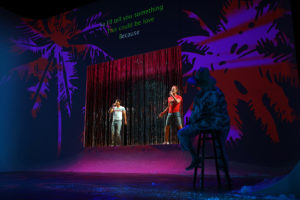 Daniel Chung, Corey Brill and Linda Gehringer
The little lost Canadian lambs are soon taken under the protective and encouraging wings of long time couple Wally (Corey Dorris) and Oliver (Linda Gehringer). It's their 11th consecutive year on the cruise and they share all the pluses and minuses. Brendan is soon swept up into various activities by the aggressive Andy (Corey Brill) and the too shy Gordy is left to do little but read in the sunshine. Wally and Oliver decide to give their young charge his wings by dressing him in drag for the inevitable White Party. Gordy takes to high heels and garter belt like a puck to ice. His confidence grows tremendously and there is a happy ending for all before returning to the snows of Manitoba.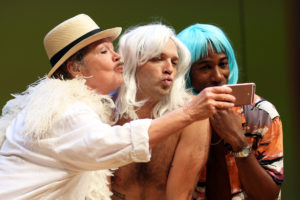 Linda Gehringer, Kyle T. Harris and Corey Dorris
There are many standout moments in The Canadians including Gordy's learning he's a master at walking backwards in heels and the wild karaoke duet by Brendan and Andy to "The Time of My Life," complete with the Patrick Swayze lift. Not to mention Gordy and Brendan's first kiss. their second kiss, etc. Gehringer, Dorris and Brill, each playing several characters, add great support as does Chung. But the show belongs to Hester and it is a real joy to watch as his Gordy stretches the boundaries of his life and realizes all that he can be. The Canadians is something to cuddle up with on a cold winter's night in Manitoba. We in Southern California will just have to imagine a cold night.


South Coast Repertory, 655 Town Center Dr. in Costa Mesa. Ends Oct. 20. www.scr.org