Well, dear readers, this week is flying by, like a gazelle with irritable bowel syndrome.  And yesterday, if I may just say, was a day-and-a-half kind of day. But before I get to that, let me do this – announce our two new Kritzerland releases: First up is Ben Bagley's Shoestring Revue, a classic revue from when revues were revues, with songs by Charles Strouse, Lee Adams, Sheldon Harnick, Alec Wilder and the like, and featuring Bea Arthur, Dody Goodman, Jane Connell, Dorothy Greener and other wonderful folks – funny, tuneful, and delightful.  Here's the cover.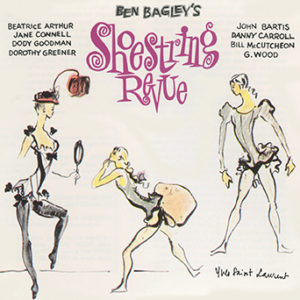 The second release is Kurt Weill Revisited, Volume II, a grand follow-up to the first volume, featuring great rare Weill songs with lyrics by Ira Gershwin, Alan Jay Lerner, Ogden Nash, Bertolt Brecht, and others, featuring Tammy Grimes, Nell Carter, John Reardon, Ellen Burstyn, Estelle Parsons, Nancy Andrews, and more.  I almost like this one better than the first and the first was great.  Here's that cover.  The two are already live at Kritzerland.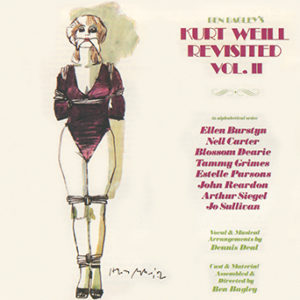 Yesterday, as I've already mentioned, was a day-and-a-half kind of day.  I really never stopped.  I slept until noon – eight hours – and once up it was an instant barrage of telephonic calls, e-mails, working at the piano, and at the computer.  I kept trying to post on our Unseemly Discussion Board and every time I'd try to come to this here site, something would interrupt me.  Damn them, damn them all to hell.
I went and picked up some packages and no important envelope, then went to Ralph's and got a few shrimp cocktail shrimp and some fresh crab claws, came home, made cocktail sauce, and that was my lunch.  It was really good and had no more than a couple hundred calories, if that.  Then I got everything ready for our announcement.  Then we had to deal with a lot of rehearsal issues for the What If show, which I think have been worked out now.  And then the day was over, so I sat on my couch like so much fish.
Last night, I watched the first forty minutes of the new transfer for The Shining – the Blu-ray.  There's a 4K disc, too, but I haven't graduated to 4K yet and don't really want to.  The Blu-ray looks very good, but I understand the 4K looks much better.  I'll finish it up, perhaps tonight, but I just kept dozing off and I enjoy it too much to want to fall asleep constantly.
After that, it was more work at the piano, more work on the computer, more telephonic calls, sending out the eBlast for our new releases, and I went to Subway and got a spicy Eyetalian sandwich for my evening meal – still under 1200 calories for the day – and then I came home and ate it all up and it hit the spot and the spot retaliated by hitting it.  Those two are real cutups.  Then I relaxed and listened to various and sundried music.  I'm almost caught up with the listening pile, so that's good.  It's also good that I'm almost caught up with the listening pile.
Today, I can sleep in a bit, then it's more of the same routine – I'll see some menus and test stuff for The Creature Wasn't Nice DVD – it's moving along quickly now and we should be able to announce it in a couple of weeks for pre-orders, at least that's the hope.  I'll hopefully pick up some packages and an important envelope, I'll eat something light but amusing, I'll work at the piano and on the computer, I have to record the latest finished songs, and hopefully we'll have a LOT of orders for our two new titles.  Then, at some point, I'll relax.
Tomorrow, I have a work session for the What If show, Saturday I'm going to the County of Orange to see Peyton's school show, Quilters, and then I'm not sure what's happening on Sunday – perhaps a day of rest would be nice.  Then next week is very busy with What If stuff.
Well, dear readers, I must take the day, I must do the things I do, I must, for example, sleep in a bit, see some Creature stuff, hopefully pick up packages, eat, work at the piano and computer, record a couple of songs, hopefully have a LOT of orders for our two new titles, and then relax.  Today's topic of discussion: What are your favorite motion pictures directed by Mr. Stanley Kubrick?  Let's have loads of lovely postings, shall we, whilst I hit the road to dreamland, happy the day-and-a-half kind of day is at an end, so that a new day can begin.