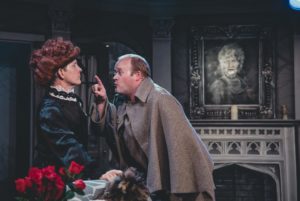 John Allee as Jane and Isaac Wade as Nicodemus (all photos by Matthew Gilmore)
Charles Ludlam wrote nearly 30 plays during his career, mostly performing in them at his own Ridiculous Theatrical Company in New York's Greenwich Village. A friend took me to see Conquest of the Universe or When Queens Collide during my first theatre trip to NYC in 1977. It was my first off-Broadway experience. Ludlam's plays have seldom been performed outside of his company and rarely in Southern California although actor Michael Kearns made a memorable Lady of the Camellias at Highways in the title role of Ludlam's Camille. The most famous and most produced work by Ludlam is his gothic novel/penny dreadful/Universal horror films mash up The Mystery of Irma Vep. Actors Co-Op in Hollywood is currently presenting this outrageous farce and high cardio workout for two performers.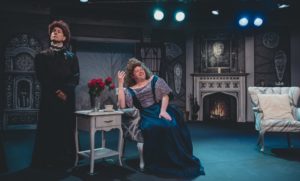 John Allee as Jane and Isaac Wade as Lady Enid
The action takes place at Mandacrest on the desolate moors near England's Hampstead Heath in the Victorian Era. It is the ancestral home of Lord Edgar who, though still mourning his late wife Irma Vep, has brought his new wife, the former stage actress Lady Enid, to her new home. Housekeeper Jane was devoted to Lady Irma and is not really open to making the new lady of the manor comfortable. Of course there is that howling by wolves on the moors unsettling her nerves and Jane is soon frightening poor Lady Enid even more with tales of mayhem and violent death. The other Mandacrest servant, the swineherd Nicodemus, is besotted by the theatrical and glamorous Lady Enid but the full moon threatens to keep them apart. Werewolves, vampires, family secrets and secret rooms are all part of the fun as is a reincarnated Egyptian Princess after Egyptologist Edgar takes a quick trip to Egypt.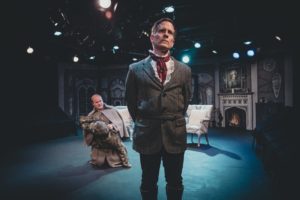 Isaac Wade as Nicodemus and John Allee as Lord Edgar
John Allee (Lord Edgar, Jane and othrs) and Isaac Wade (Lady Enid, Nicodemus, Alcazar and others) play all the roles in slam bang fashion thanks to the spirited and precisely timed direction of Carla Cackowski. The two actors play off each other very well, no matter what costume they may be wearing at the moment. They also prove they can adlib when a costume, wig, prop or cue goes amiss.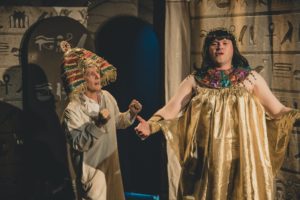 John Allee as Lord Edgar and Isaac Wade as reincarnated mummy
Jessa Orr and Greg McGoon share credit for the scenic design. Vicki Conrad designed the costumes and wigs that facilitate the actors' quick changes. Martha Carter designed the moody lighting and David B. Marling designed the howlerific sounds. You may easily solve The Mystery of Irma Vep but you will probably laugh yourself silly doing so.


Actors Co-Op, 1760 N. Gower Ave. in Hollywood. Ends Nov. 10 www.actorsco-op.org