Well, dear readers, I haven't really been making a big deal out of it, but this is the fifteenth anniversary of What If, which opened in September of 2004 (or was it August).  And so, isn't it fun that we're doing this two-night benefit for the Group Rep on the fifteenth anniversary.  That show was just one of those little miracles that happen every now and then, completely out of the blue.  It happened solely because Tammy Minoff asked me to direct her in a straight play – and after booking the theater found that the playwright didn't want his play done in LA.  We found another play and applied for the rights and found out that that playwright didn't want his play done in LA.  We found a third play, got the rights, and then the rights were taken away because they hadn't realized they'd already given them to people who were going to do the show about a mile from our theater.  At that point, I said, "Look, you're on the hook for the theater – let's play to our strengths – I can put together a musical revue.  I have all these parodies that no one's ever heard and they could form the basis, and then we'll just find some other numbers – charm songs, ballads, funny songs – to help not to inundate the audience with nothing BUT the What Ifs.  And so, four weeks later we opened a revue.  There was a funny little buzz about the show from the time we announced it – don't know why, really.  We had a great cast and the show moved like a house afire.  But you never know what you really have until there are people there.  We got the first inkling at our first preview – with big, loud, and long laughs throughout, and one bit that literally had some of the biggest laughs I've ever heard anywhere.  So, our hopes were high.  We had a very sophisticated-looking set – basically black but with interesting lines and contours, some stools and a grand piano.  The costume gal did a fantastic job.  Said costume gal was an actress – she'd just finished a film that was about to come out, was bored, and thought this would be a lark, which it was.  Months later, her movie came out – she was nominated for an Academy Award, if I remember correctly.  Her name was Amy Adams.
Opening night was unbelievable – every seat taken, and in the audience, Mel Brooks, Carl Reiner, Jack Klugman, Billy Barnes, and several other luminaries.  The show began and we knew we were just in the right place at the right time – everything landed, everything worked.  There were two songs that I wasn't happy with, that I felt weren't working so well, but that was something we'd look at after opening.  Mel Brooks insisted on meeting the company and he was gushing praise, as was Mr. Reiner, and they both gave us quotes for our ads, which was a huge deal for us.  The word was out before even the first review appeared – we sold out that entire weekend and the next weekend was also on its way to being sold out.  The reviews were mixed – they RAVED about the What If parodies but questioned why we didn't just do all parodies.  Had we, though, the show would not have worked as well – you have to give breathers, and you don't want the audience to start predicting what you're doing.  But boy did we have great quotes to pull.  The entire eight-week run (extended from six) was sold out, lines out the door every performance.  People came back and saw it two or three times.  We could have kept it going, but I would have lost half the cast and I didn't want to figure out how to replace them, probably a mistake.
Prior to the third week's shows, I replaced the two numbers that I wasn't happy with – I wrote new songs for those two slots – one was Annie, which became probably my most performed song ever and which ended up in Welcome to My World – and Born Too Late, my paean to disco, which ended up in LA Now and Then.  Both numbers worked perfectly.  My song Simply, which would go on to win a MAC award for best song of the year, was introduced in What If.
So, yesterday, after seven hours of sleep and getting ready, we had our first rehearsal for next week's benefit.  Two of our cast weren't with us, but the four that were did a great job.  They've been learning all this material for the past month, and while they're not quite completely secure, I'm sure they will be.  We have new What Ifs in this – there were no solo What Ifs in the original show – but there are quite a few in this benefit.  I kept all but three of the original What If numbers from 2004.  And the non-What If numbers are basically things the cast already knew.  But we have Annie and Simply in the show, so that's fun.  I was going to call Amy Adams to see if she wanted to do some costumes, but, I didn't (insert smiley face here).
We ran all the group numbers – very rough going on the first one, but we did it three times and it kept getting better.  The others were easier, but we ran all five several times.  And then we ran all the solo numbers.  I was hoping we'd be finished in three hours, but we were actually finished in two, which meant we could run all the group numbers again, which was great.  So, come tomorrow, we'll have our full cast and can get everything sharp and assembled and we can run stuff as much and as long as we need to.  But sitting there watching it all – it was still funny, and I laughed a lot and it's just a great cast. Here's a proper flyer.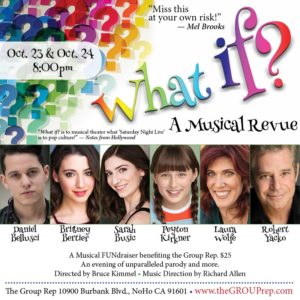 After that, I picked up some packages, then went to Jerry's Deli and had my beloved chili, cheese, and onion hot dog and some fries.  They made it correctly and it was really good.  After that, I came home.  I listened to some music and did some work on the computer.  Then I had to write some notes about new pages that were sent to me for the show I'm working on, but basically, I just relaxed.  I didn't feel like watching anything, so I didn't.  But I did hear so much wonderful music.  Oh, and the iPod finished synching – it took almost twelve hours.  Then I couldn't get the menu controls to work – I finally figured out it was a little switch at the top that was in the wrong position.  Then I plugged it into the car thing, and it kept shutting off after five or ten seconds.  I think it did that last time, too.  So, I powered it off, powered it on again, and now it seems to be okay – at least the thing has played four tracks in a row.  I went to Gelson's and got more guacamole and a tiny bit of seafood salad, came home, ate that, and made some taquitos and ate those, whilst listening to more music.
Today, I can sleep in, then I'll do the set of liner notes, eat something, but mostly I'll relax and do nothing.
Tomorrow, we have our second What If rehearsal with our full cast, Tuesday we have a stumble-through here, and then Wednesday I go in to set the lighting, and our sound guy from Vitello's is coming by to set up a mic and stand for the solo numbers, we'll do our sound check and run whatever we need to, and then at eight we do our first show.  Thursday we play our second show and we're hoping we have enough folks to make the theatre a decent amount of dough.
Well, dear readers, I must take the day, I must do the things I do, I must, for example, sleep in, write a set of liner notes, eat, and relax.  Today's topic of discussion: It's free-for-all day, the day in which you dear readers get to make with the topics and we all get to post about them.  So, let's have loads of lovely topics and loads of lovely postings, shall we, whilst I hit the road to dreamland, happy for the return of What If.