Well, dear readers, our second performance went very well, we had a slightly smaller audience, but they were great and really seemed to enjoy the show.  The cast did brilliantly, even better than the first night.  Not a flubbed lyric, on point, comedy-wise, and the voices were just fantastic. Of course, both performances should have had full houses, given we were doing this as a fundraiser for the theater – this is a membership company and the lack of support was palpable from certain quarters.  Every member should have been at least letting people know about it, even if they couldn't come.  Doug and I are having conversations about it.  The members who did come had a great time and this should be a community, and yet doesn't feel like one.  I don't know if there's an answer to that or not.  But this cast worked their butt cheeks off to do this show, and they deserved a full house, not to mention that the theater would have made a lot more money.  They made over $1500, so whatever help that is it is.  But we all had a lot of fun, and that's half of it for me.  Here are a few photographs – more coming tomorrow.  First, Daniel Bellusci.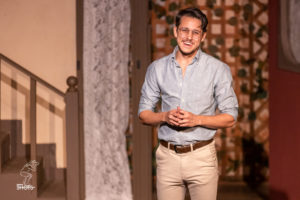 Here's Brittney doing our Sweet Charity/Sunday in the Park with George What If.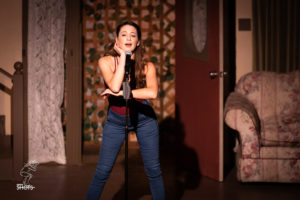 Here's Robert Yacko.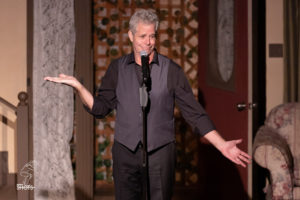 And here's Daniel, Brittney, Sarah Busic, and Laura Wolfe.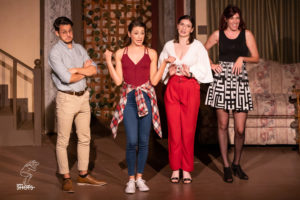 Once again, Peyton stopped the show with Annie.  It may well be the most performed song I've ever written, due to it being published and available.  But the way Peyton acts the song is just incredible and everyone hangs on every word and she gets every built-in laugh there is.  And last night, all the non-what if songs worked great because I set up the show correctly.  There's only one What If that didn't really work, mostly because it was too short and it worked when I did it as a throwaway at Kritzerland, but not here, so that's going to be retired.
We got some great comments after the show.  One woman came up to me and said the most lovely things about me and what I do – it always means a lot to me when people take the time to do that.  And then, some of us went to the Coral Café, where I had my first real food of the day – the big boy breakfast – two eggs, two sausages, two bacon, ham, hash browns, and toast.  It was very good.  Then I came right home and here I am, writing these here notes.
Prior to all that, I got eight hours of sleep, got up, answered e-mails, did some work at the piano, picked up some packages, then just relaxed and rested my voice.  Then I shaved and showered and moseyed on over to the theater to do some testing of the sound.
I had Daniel come out to sing his first solo, because the first night I could barely hear anything from the mic and it was baffling since the levels we set were fine.  So, I'm listening, asking to raise the level, but it's just not right and then my ears finally realized the problem – the stage right speaker wasn't working.  And THAT is why the sound was screwy on the first night.  We think someone bumped the soundboard and that some wire came loose.  Richard Allen went to the booth, hit the board with his fist, and voila, the speaker came on.  So, the levels we set were fine – I did boost just a bit, but everything worked from that point on.  We did a little sound check, and then people began arriving.  I set up the show much better, and then the biggest laugh of the evening was just prior to act two beginning.  The actors were told two minutes, but I don't think they knew what that meant exactly.  So, the house lights went down – nothing – Richard is simply waiting to start.  About forty seconds go by and I know they don't know we've begun, so I just said in my loud voice, "I don't think the actors know we've started."  Huge laugh.  I said, "I think I'll go tell them." Huge laugh.  I went back and they were heading to the stage.  Then I came back to my seat and said, "What if?" and that got a big laugh and we began.
Today, I'll sleep in, then I have a lot of catching up to do – I have to read some scenes, need to work at the piano, need to start preparing for The Man Who Came to Dinner, I need to do some new liner notes for the next two releases, I'll eat, I'll hopefully pick up some packages, and then I'm seeing the show at the Group Rep in the evening.
The weekend will be all of the above and hopefully just a bit of relaxation, too.  Then on Monday we begin our The Man Who Came to Dinner adventure.  We don't have our lead actor for almost the entire week because his schedule shooting Supernatural got changed around a bit.  So, since he's in just about every scene of the play there won't be much to do.  Certainly, I'll do the opening of the show, which has a lot of going and coming and coming and going, and I'll do whatever scenes I can without Sherry, and then I'll start blocking with someone sitting in the wheel chair and he can pick that up at his first rehearsal.  I'm hoping we'll have tons of fun.
Well, dear readers, I must take the day, I must do the things I do, I must, for example, sleep in, catch up, read scenes and write notes on them, work at the piano, eat, hopefully pick up packages, then see a show.  Today's topic of discussion: It's Friday – what is currently in your CD player and your DVD/Blu and Ray player?  I'll start – CD, several Jackie Gleason albums on CD – two-fers – lush, baby, lushly lush.  DVD – I Thank a Fool.  Your turn.  Let's have loads of lovely postings, shall we, whilst I hit the road to dreamland, happy to have had a really good second show with a smaller but mighty audience.