A question for those commuters among you. Those who, like this writer, rely on public transportation to get them to where they want/need to go. Have you ever just missed a bus, late at night? You have a long, lonely wait at the bus stop until the next bus. Suddenly there is a somewhat unsavory character sidling up to you, asking questions, talking nonstop. What do you do? Ignore them? Hope they will go away or at least shut up? Or do you start a conversation, just to hear your own voice and to stop their seemingly unending stream of words? That is what happens to a Woman (Amanda Zarr) in the West Coast premiere of Hamish Linklater's The Vandal at Anaheim's Chance Theater.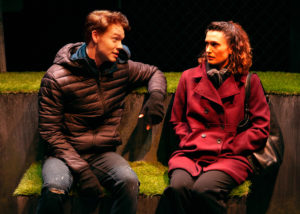 Sam Bullington and Amanda Zarr (all photos by Doug Catiller, True Image Studio)
The Woman has just come from a checkup at the hospital she says. The young Boy (Sam Bullington) says he was visiting the grave of a friend at the adjacent graveyard. He's quick to point out the canny city planning that placed the hospital next to the graveyard. He's full of stories, like never having known his mother because she died before he was born, his birth a result of a post mortem C-section. She also has stories as it turns out. The only other outpost in this bleak neighborhood is a local liquor store and the Boy is soon giving the Woman money to buy him a six-pack. She objects at first to buying liquor for a 17-year old but maybe it will quiet him down. At the liquor store there is another talker, a Man (Rob Foran), the owner. He wants to know if the Woman is buying the beer for his son because it happens every month, though it is usually a homeless derelict doing the purchasing. The Man and Woman verbally spar back and forth over her using a credit card clearly not her own. She admits the truth that she stole the card from a friend after the long illness of her deceased husband wiped her out financially. She learns that the Boy's mother is alive and living with her second family on Long Island. Beers and whiskey are drunk, Doritos are eaten, and more stories, true and embellished are told. The Boy finally drunkenly leads the Woman into the graveyard and then disappears when the Man shows up. The Man and the Woman finally connect as the long night ends.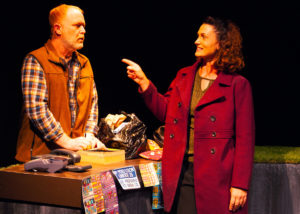 Robert Foran and Amanda Zarr
Linklater has written a lovely little paean to loneliness and the need for human contact. It's wordy yet succinct, a quickly evolving 80 minutes with plenty of humor as well as pathos. Kari Hayter has skillfully directed her trio of actors, imbuing the staging in the intimate Fyda-Mar Stage with intimacy and heart. There is a ghostly element to The Vandal, set near and in a graveyard, but you won't scare the secret out of this writer.


Chance Theater, 5522 E. La Palma Ave. in Anaheim. Ends Oct. 27. www.chancetheater.com