Well, dear readers, without further ado, not that we had any ado prior to this, so I'm not sure what further has to do with the price of fatty meats, but without any ado whatsoever, although we could say there's a to-do rather than ado, oh, now I've lost the thread of what the HELL I'm talking about because I got distracted, not by the usual King of Distraction, but by my very own self – hmmm, what WAS I going on about?  Oh, yes, without further ado let us make a to-do because the world premiere of the director's cut of The Creature Wasn't Nice DVD is now available for pre-order, with or without ado or to-do or ta da.  What a moment this is.  I know most of our regular discussion board dear readers took advantage of getting this via the Indiegogo campaign, but for anyone who didn't grab it there, you can now grab it on the Kritzerland site, where it is now live.  So, without further ado, and with much ado about something, here is the actual cover of the actual DVD.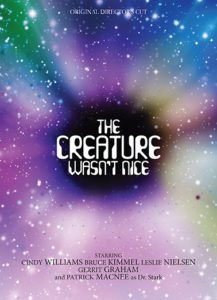 Do share this with anyone you think may be interested.  We'd love this to do well and be popular with the populace.
Yesterday was not a bad day at all.  First of all, I got ten hours of glorious and needed sleep.  Once up, I answered all manner of e-mails, I had some telephonic calls, then went to the mail place and picked up the little package that had arrived on Saturday.  Then I came right back home and listened to some music, did some work on the computer and at the piano, but mostly relaxed.
Then at five, Marshall Harvey arrived and we went to sup at nearby Casa Vega, which is nearby.  We got right in, although fifteen minutes later the jernt was completely packed.  We ordered some beef taquitos for a starter – as you know, I've been having that craving.  Marshall had something called enchilada suizas and it came with a cup of soup.  I had my usual combinacion platter of one beef taco and dos cheese enchiladas.  Mine came with a little salad.  The salad and soup arrived quickly, and my salad was of high quality.  What never arrived were the taquitos.  They arrived with our meal and our server was very apologetic and comped them, which was very nice and the right thing to do.  The beef taco was of high quality and the cheese enchiladas were also excellent.  The taquitos were very tasty, as well, and I assume Marshall enjoyed his meal, as he ate it all up.  I was quite stuffed after finishing everything but the beans.  I feel it is most important to never finish the beans, and the fact is I never even had a bite of the beans themselves, just the cheese on top of them.
After that, we came back to the house, and Marshall viewed the test disc of The Creature.  I wanted fresh eyes to see it and see if my assessment of it was accurate.  I think he was impressed that this new technology managed to blow up a 4×3 letterbox image to 16×9 without losing quality, which is pretty much the case.  I'd already compared the two and they were pretty much identical.  We both wish the image was sharper, but there was nothing to be done about because what's on the three-quarter-inch videotape is what's on it and there's certainly no improving the lack of sharpness.  But I'm so happy that people will get to see what the original film's intention was like.  I have no idea if people will like it any better, or if they'll still be happy with the yucky cut because that's what they grew up with – that will all be very interesting.  As dear reader ChasSmith said after being my guinea pig and viewing the director's cut (with a few embellishments to make it better), "Now it feels like a movie."  I showed Marshall a few of the extras and he enjoyed those.  So, after he left, I sent an e-mail approving the disc, which means early this week it goes to the pressing plant and we should have them within a couple of weeks.
Then I got everything ready for the announcement, whilst listening to the symphonies of Dvorak, conducted by Kubelik.  I'd only ever heard the famous ninth, so it's been fascinating hearing the early symphonies, which I'm quite enjoying, much to my surprise, as I don't usually go in for much of the stuff of that era, save for Brahms.  But these are very tuneful and beautiful, and I can't imagine anyone doing these better than Mr. Kubelik.
Today, I'll hopefully forward LOT of orders, I'll be up by eleven at the latest, I'll stop at Staples to get a notebook for my Dinner script, I'll eat and make notes, I'll hopefully pick up some packages, and then I'll relax until it's time to mosey on over to the Group Rep for our meet and greet and first rehearsal, although I probably won't do all that much this first night.
The rest of the week is rehearsals, meetings and meals, Halloween, and more rehearsals.
Well, dear readers, I must take the day, I must do the things I do, I must, for example, hopefully forward a LOT of orders, get a notebook for my script, eat and make notes, hopefully pick up packages, and then have a meet and greet and our first rehearsal.  Today's topic of discussion: Favorite Mexican dishes and favorite Mexican meals.  Let's have loads of lovely postings, shall we, whilst I hit the road to dreamland, where, without further ado, we'll have much ado about something, and hopefully the ado and the to-do will be about The Creature Wasn't Nice pre-orders.