Well, dear readers, it was another mildly frustrating rehearsal day – two of our actors were not with us, which makes things, well, impossible.  One had a car accident (she's fine and will be back on Tuesday night) and one had a hospital visit and was apparently released yesterday.  Whether he'll be back or not is unknown to me, but if it's going to go on like that I'm going to have to replace.  We worked for three-and-a-half hours, running as much as we could, but it's going so slowly right now that it's driving me a little crazy, and as you dear readers know, that is not a long drive.  I am determined that the pacing of this show be exactly what I want it to be and at some point very soon I'm going to be very strong about it.  I do have my time goals for each act and we're nowhere near them at the moment.  But I fixed some blocking and will be fixing more on Tuesday – as I watch I am realizing a few scenes are simply too static.  I've been afraid to move the wheelchair to much, but I'm going to add about ten moves over the three acts – there are very obvious places and he's doing well in the chair.  The good news is that there are no other shows running now, so as soon as they clear out the set in the theater, we'll be able to get down there and begin working on our actual stage.
Otherwise, yesterday was okay.  I got almost seven hours of sleep, left the house at nine and put gas in the motor car, and then moseyed on over to the theater.  After rehearsal, I went to my local pizza place and got pizza, came home and ate it all up – it was very good.  Then I got everything ready for our CD announcement.  Oh, and here it is.  The first CD is a reissue of an album I produced in 1994, so it's the twenty-fifth anniversary of its release and it's very wonderful to get this back out in the world as it's a very special album.  It's Colette Collage by Harvey Schmidt and Tom Jones, and it features a rather stellar cast of players, including Judy Kaye, Judy Blazer, Rita Gardner, Jason Graae, Jonathan Freeman, George Lee Andrews and more, and it features wonderful orchestrations by our very own dear reader Larry Moore.  We've spiffed up the sound a bit and used a better version of Harvey Schmidt's cover design.  He originally made five for us to choose from and naturally the people at Varese Sarabande chose the blandest of them, color-wise.  Doug Haverty glommed onto one of the snazzier versions.  The original liner notes by Tom Jones are reproduced and I've written a little anniversary bit, too.  Here's the new and, for me, improved cover.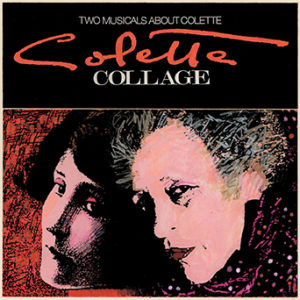 The second CD release is really interesting, I think, which is why I did it.  It's by a composer who lived in the worlds of both classical and film music, and a Pulitzer Prize-winning composer at that.  In film, he's most known for composing the music for the Oscar-winning UPA cartoon, Gerald McBoing-Boing.  His name is Gail Kubik.  Two of the classical works on this CD, Scenes for Orchestra and Scenario for Orchestra are, in fact, concert works adapted from two rejected film scores he wrote.  One was rejected from the Susan Hayward film I wrote about the other day, I Thank a Fool, and I quite like Mr. Kubik's score, which was, perhaps, a little too modern for the filmmakers.  That was definitely the case with his other rejected score, written for the Humphrey Bogart/Frederic March classic, The Desperate Hours, directed by William Wyler.  Interestingly, while the head of Paramount did find the score to modern, they kept Kubik's main title music and a few other bits while bringing in Daniel Amfitheatrof to write other cues.  These two long orchestral pieces contain all the music he wrote for each film.  The third piece is a delightful work for band.  Here's the cover.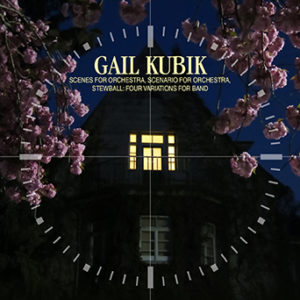 I began listening to the music of a composer I've never heard of – I guess I somehow found him on the Tube of You, the composer being Mieczyslaw Weinberg.  For whatever reason, there have been a flood of recordings in the past couple of years, so apparently everyone has either rediscovered or discovered him anew. Well, I'm completely obsessed with his music now.  Tons of it are on YouTube – I grabbed all of the recorded symphonies (he wrote twenty-nine, of which about sixteen have been recorded), some concertos and a couple of chamber pieces.  First off, the guy could have been a major film composer.  All his music has a real film music feel to it. I began with a recent Deutsche Grammophon recording by some flavor of the month female conductor whose name I will not attempt to spell – it has the second and twenty-first symphonies and it's great.  I've also heard symphonies one through four and they're great, too.  Check him out on the Tube of You.
Then I sat on my couch like so much fish and finished watching Mutiny on the Bounty, starring Marlon Brando and Trevor Howard.  I really like it a lot, still.  And the score by Bronislau Kaper is fantastic.  And then there was the time I played Mr. Kaper's piano for Mr. Saul Chaplin when the latter was interested in producing a movie musical I'd written called Sailors.  But that's another story.
Then I listened to more music, and that was that.  Oh, and in the you can find anything on the Internet subject: Someone made a post about actress Pat Carroll.  So, I posted that I adored her and that she'd played my mother on a short-lived late-night TV sitcom called Honeymoon Suite, and that Ted Knight had played my father.  Well, I'd never searched for anything on this show, but I found some photos of stars Morey Amsterdam and Rose Marie and then lo and behold and behold and lo, I found one of Pat and Ted.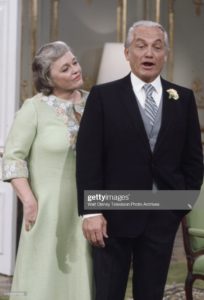 And then even more lo and behold, I found one of me and Tammy Shaw, who played my about to be bride.
Today, I can sleep in a bit, then I can have a ME day since it's Veteran's Day.  I'm not sure if there's mail or not.  Oh, I have stuff to do, certainly, and I'll certainly do it.  I'll eat, I'll hopefully pick up packages, listen to more music, work at the piano and the computer, hopefully get a LOT of orders, and then at some point I'll relax.
The rest of the week is meetings and meals and, of course, we rehearse for six days in a row, which I'm very much looking forward to so we can begin to lock in the pacing and performances.
Well, dear readers, I must take the day, I must do the things I do, I must, for example, sleep in a bit, have a ME day, eat, hopefully pick up packages, listen to music, work at the piano and the computer, and then relax.  Today's topic of discussion: What are your favorite films of Mr. Marlon Brando? Let's have loads of lovely postings, shall we, whilst I hit the road to dreamland, happy to have made a new composer discovery.