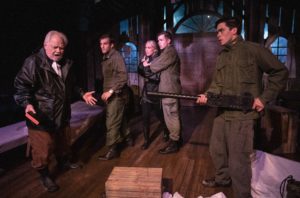 John P. Connolly, Tavis Doucette, Una Eggerts, Bryan Porter and Spencer Martin
(all photos by Darrett Sanders)
Cailin Maureen Harrison's Defenders is receiving its World Premiere at The Broadwater Black Box in Hollywood courtesy of Pandelia's Canary Yellow Company. Harrison attempts to blur the lines between myth and reality in her tale of three shipwrecked U.S. soldiers on the tiny island of Hrisey off the northern coast of Iceland. Stranded with a broken radio and having lost most of their supplies and weapons, the three members of the advance scouting team are on constant alert for the Nazis they believe have invaded the island. They have to rely on the kindness and aid of the island's reverend in whose abandoned church they have taken refuge from a savage and mysterious storm. The Lieutenant (Bryan Porter), a Wall Street banker in civilian life, is clearly in over his head. His trusty Sergeant (Tavis Doucette) faithfully follows every order, hoping to link his future non-military career to the Lieutenant's. The Reverend (John P. Connolly) and his teenage daughter Una (Una Eggerts) luckily speak English and are accommodating although the Lieutenant is slow to trust them. There are no Nazis on the island but it seems Mother Nature is not pleased to welcome the new defenders. Besides the raging storm (the great sound (Jesse Mandapat) and lighting (Dominick Kranowski) designs along with David Goldstein's set are the show's strongest assets), she opens up new hot springs, sends lightning strikes at soldiers and even stages a local earthquake. It seems the Lieutenant is a descendent of a long-ago pirate invader who enslaved the islanders. Mother Nature seems to have a long memory and carries a grudge. Or else it's still not nice to fool Mother Nature.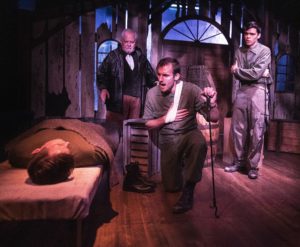 Bryan Porter, John P. Connolly, Tavis Doucette and Spencer Martin
Harrison has written a hot mess of an Icelandic set play. The spooky myth part doesn't really gel and neither does the frenzied military reality. The character of Private LeFleur (Spencer Martin) seems to be here to add a layer of Cajun mumbo jumbo superstition to the Nordic myths and to prove not all Americans are of the "ugly" untrusting variety. But Martin's Cajun accent is so thick at times he is barely intelligible. Reena Dutt's haphazard direction does not aid the over-the-top histrionics. Defenders makes for a long and unsatisfying 100 minutes in the theatre.


The Broadwater Black Box, 6322 Santa Monica Blvd. in Hollywood. Ends Dec. 8. www.onstage411.com/defenders