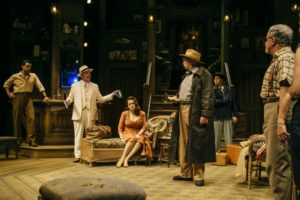 Danny Pino, Andy Garcia, Joely Fisher, Richard Riehle, and Tony Plana (all photos by Jeff Lorch)
Key Largo is one of the classic Warner Bros. gangster movies. The film was the fourth and final pairing of legendary screen couple Humphrey Bogart and Lauren Bacall. It also featured the fifth screen pairing of tough guys Bogart and Edward G. Robinson. And it won Claire Trevor an Academy Award for her supporting role as Robinson's alcoholic ex-moll, ex-singer Gaye Dawn. That is quite a history to overcome in adapting the Richard Brooks/John Huston film script to the stage. The 1948 film was actually based on a 1939 blank verse play by Maxwell Anderson. The film script not only abandoned the blank verse, it threw out most of the plot which featured Mexican bandidos, a Spanish Civil War deserter as its martyred hero and a lot of other characters. The new stage version sticks fairly close to the film script with all the action taking place in the lobby of the closed for the season Key Largo Hotel. Besides the blind owner (Tony Plana) and his widowed daughter-in-law Nora (Rose McIver), former army Major Frank McCloud (Danny Pino) finds exiled gangster Johnny Rocco (Garcia), his ex-gal pal Gaye (Joely Fisher) and his goons (Stephen Borrello and Louis Mustillo) in residence. They are awaiting the arrival of gangster Ziggy (Bradley Snedeker) from Miami to complete a drugs-for-money deal, before scurrying back to exile in nearby Cuba. However a hurricane has thrown off their timing.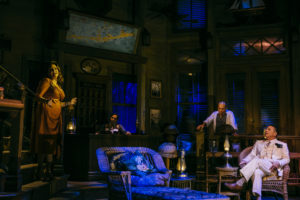 Joely Fisher, Stephen Borrello, Louis Mustillo, and Andy Garcia
The timing of Doug Hughes's direction and the character development are thrown off in this production. As written and as performed in a low-key style by Pino, McCloud comes off more comatose than disillusioned. McIver is a near total blank as Nora. She is at her best in the opening moments of Act Two when she is skillfully lit by Peter Kaczorowski's lighting. There is no spark of chemistry between these two characters. You really don't anticipate the fireworks that Bogie & Bacall generated but you do expect something besides mutual boredom. Garcia lacks any smooth charm as the manipulative gang boss. His only talent seems to be his booming vocal quality as he yells nearly all his dialogue. Fisher does drunk well but misses most of the pathos of her character. She does redeem herself in her a cappella rendition of "Moanin' Low".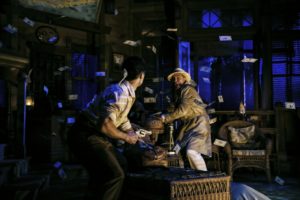 Danny Pino and Andy Garcia
The real star of the show is John Lee Beatty's amazingly detailed and beautifully constructed scenic design which also artfully begins to self-destruct during the hurricane. Great storm tech is also provided by Alex Hawthorn's sound design as well as Kaczorowski's lighting. Outside of its technical elements, Key Largo is missing a lot of key ingredients.


Geffen Playhouse, 10886 Le Conte Ave. in Los Angeles. Ends Dec. 10. www.geffenplayhouse.org