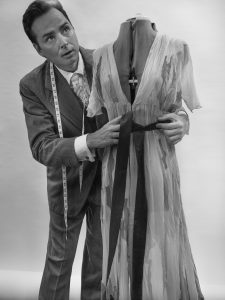 Nick Hardcastle as Orry-Kelly (all photos by Tony Duran)
Orry George Kelly was born in the small coastal town of Kiama, NSW, south of Sydney, Australia in 1897. He knew he was different from other boys; his own father bred a bright pink carnation and named it Orry. But his father, a tailor by trade, also introduced young George to the sewing machine. Kelly first moved to Sydney where he became part of the theatre scene and finally to New York in 1923 where he eventually began designing sets and costumes for the Shuberts. It was in New York that he met a struggling actor from England by the name of Archie Leach. They became roommates and lovers. After moving to Hollywood, Leach ended their affair and friendship as he became Hollywood leading man Cary Grant. After being hired by Warner Bros. to design costumes for films. and encouraged by Jack Warner to change his name to something French and exotic, that Kelly added a hyphen and became Orry-Kelly. Most people today are not familiar with his name unless they take the time to read the credits while watching films on TCM. Orry-Kelly designed costumes for 295 films, winning three Academy Awards during the 1950s. He dressed stars from Bette Davis and Jean Harlow to Marilyn Monroe and Tony Curtis.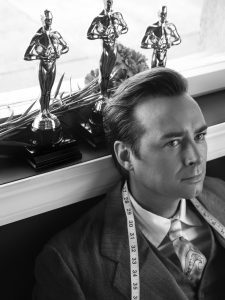 His is a fascinating life story, rich in Hollywood gossip. Acclaimed Australian filmmaker Gillian Armstrong made a documentary on her countryman leading to the publication of his long secret memoir, Women I've Undressed. Another Australian, producer/writer/actor Nick Hardcastle, has adapted the book into a stage piece, Orry, that had a too short two-week preview showing at Lee Strasberg Theatre in Hollywood. With tongue planted firmly in cheek, Hardcastle invites the audience to view Orry before his internment at Forest Lawn in 1964.Jack Warner delivers the eulogy on film and the projections on John Iacovelli's scenic design show everything from Australian blowholes to Oscar-winning frocks. Hardcastle delivers the right amount of wit and caustic humor and makes a delightful narrator as Orry takes us through his life and career. He is aided immensely by Danielle Heaton as "The Soubrette", who sings as Fanny Brice and others. There is a large amount of music in the show and Anthony Zediker accompanies the cast admirably from his place at the Forest Lawn piano. Wayne Harrison has directed the show at an even and quick pace, and the 90 minutes fly by much too fast. Orry is an utter delight and when it hopefully returns, you will definitely want to spend some quality time with Orry, the man and the show. It is probably the most fun you will ever have in a Forest Lawn viewing room outside of a casket.