Well, dear readers, we finally had our first rehearsal on our stage with the bones of the set.  So, there was no way we were going to be able to do what I hoped – run the entirety of act one twice.  The reason for that was and is simple: Everyone had to get used to entrances and exits, how much time it took to travel, and I had to continually adjust blocking for our new larger, wider, and deeper stage.  I did this on the fly the first time through, and of course I ran the opening several times to get that timing right.  But, not so many calls for lines, which was great, and everyone is adapting quickly and realizing that the energy used in the upstairs space is different than it needs to be in this larger space.  I can see the glimmer of what this act will play like, but it's going to take a lot of effort in terms of pace to get there.  I'm not sure that some actors have ever been asked to play this fast, but that's the way comedies like this work.  No pauses, no fumfering, no adding ums and ohs and ahs – just cranking out the brilliant dialogue and holding for laughs, should they occur. So, we ran act one once, and then ran act one scene one in its entirety.  We won't be back to it until Friday.
Prior to that, I got the sleep I've been needing so badly, all ten-and-a-half hours of it.  I fell asleep at three and didn't awaken until one-thirty.  That means I had a lot of stuff to do very quickly, which I did very quickly, whilst listening to all sorts of music.  I had a bagel to tide me over, since there really wasn't time to go eat.  I answered lots of e-mails and then got the news that A Carol Christmas was nominated for sixteen Broadway World Awards.  Now, it's a popularity contest and drives a lot of traffic to their site.  The reality is simple: Whoever can coerce the most amount of people to vote wins.  We are nominated in every category for local musical production and in all the design categories and Kritzerland has a nomination for best special event show.  So, if you feel like it, do visit their site and vote for us in each category – just look for A Carol Christmas.  Here's the handy-dandy link:
https://www.broadwayworld.com/los-angeles/voteregion.cfm?fbclid=IwAR0Wxlf21Ldg4Z8feewsiqfTsf6e-y14Dfi4muMNp3Xn46xVnZCKzEcU9Ww
Then I shaved and showered and moseyed on over to the mail place, where I picked up a new DGA screener and a couple of packages, then I went to the theater and we had our first rehearsal on our stage.
After that, I stopped at McDonald's to get some food, came home, ate it all up, and then caught up on everything, whilst listening to more Weinberg and Reizenstein, which is also the name of my accountants.
Today, I can sleep until ten or eleven, then I'll do the usual morning things, get the Facebook event page up for the December 15 Kritzerland holiday show, do some work at the piano and on the computer, eat, hopefully pick up some packages, and then we have our rehearsal.  Tonight, we'll do for act two what we did for act one, but I really want to run this act twice.  Hopefully, there won't be too much blocking to adjust.  Here's the flyer for the Kritzerland show.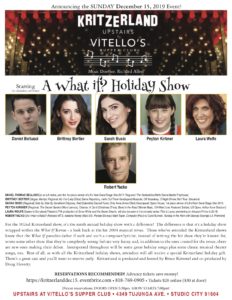 Tomorrow, I have a working lunch meeting at noon o'clock, then we do for act three what we did for acts two and one.  That's a much shorter act, so I'm hoping we can run it twice and maybe even three times.  Friday night, we do a full-out run-through and I'm hoping we get through it without stopping.  Then we'll work problem scenes.  Saturday and Sunday will both be run-throughs, then working problems and kinks out, and then perhaps running it a second time.  I'm sure there'll be a nice meal at some point over the weekend.  Then we work straight through to Thanksgiving, our only day off.
Well, dear readers, I must take the day, I must do the things I do, I must, for example, sleep until ten or eleven, do stuff, get the Facebook event page up, eat, hopefully pick up packages, work at the piano and computer, rehearse, and then relax.  Today's topic of discussion: It's Ask BK Day, the day in which you get to ask me or any dear reader any old question you like and we get to give any old answer we like.  So, let's have loads of lovely questions and loads of lovely answers and loads of lovely postings, shall we, whilst I hit the road to dreamland, happy to have had sixteen Broadway World nominations.  Go vote now and tell them Bruce-O sent you.