Alex Hairston (Disco Donna) and the Company (all photos by Matthew Murphy for MurphyMade)
Donna Summer, as much as she detested it, was the acknowledged Queen of Disco in the late 1970s. She finally got to display her real vocal prowess with her recording of Jimmy Webb's "MacArthur Park" which was also her first No. 1 hit on the Billboard charts. During her nearly 40 year recording career, the singer/songwriter charted 42 hit singles on the US Billboard Hot 100, 14 of those reaching the top-ten. It was inevitable that Broadway would create a jukebox musical tribute to her as they have recently done for Carole King (Beautiful) and Gloria Estefan (On Your Feet). Summer The Donna Summer Musical is currently at the Hollywood Pantages Theatre.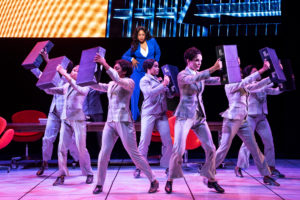 Dan'yelle Williamson (Diva Donna) leading "She Works Hard For The Money"
The show seems to be fueled by estrogen. There are three different Donnas—the young Duckling Donna (Olivia Elease Hardy), the flashy dance queen Disco Donna (Alex Hairston) and the more mature mothering Diva Donna (Dan'yelle Williamson)–and the chorus is largely female. Yet it took three men (Colman Domingo, Robert Cary and Des McAnuff) to write the threadbare book (with an assist from Summer's widower Bruce Sudano as Story Consultant). Early on, Summer claims to be presenting "the concert of a lifetime" but it turns out to be more of a concert with annoying dialogue and half-hearted attempts at staging scenes. We often don't get to hear the songs in their entirety which lessens their impact, but often they are broken up and forced to support the staged scenes. The worst of these occurrences is the use of the classic Summer/Streisand duet "No More Tears (Enough is Enough)" to flesh out a spate of spousal abuse. Years of sexual abuse by her pastor is glossed over and merged with a rendition of "Pandora's Box". Her controversial born again Christianity and the denunciation of her large gay fanbase barely rate a footnote. Also rushed is the seminal and sensual recording of "Love to Love You Baby" when Summer asked the record producers to dim the lights, lower the microphone and not watch as she writhed her way through the song on the floor.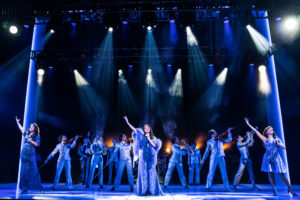 Dan'yelle Williamson (Diva Donna), Alex Hairston (Disco Donna) and Olivia Elease Hardy (Duckling Donna)
The three Donnas are in excellent voice as is the chorus. Steven Grant Douglas, as second husband Bruce Sudano, duets on "Heaven Knows" and others. The music sounds great thanks to Garth Owens's stellar sound design and Ron Melrose's arrangements sound fresh and electric as played by the five piece band led by conductor/keyboardist Amanda Morton. Robert Brill's scenic design is mostly light boxes upon which Sean Nieuwenhuis's projections are displayed. Paul Tazewell's costumes are appropriately sparkly and sequin-y. Howell Binkley's arena style concert lighting design is typically eye-popping and blinding.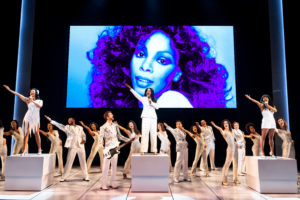 Dan'yelle Williamson (Diva Donna), Alex Hairston (Disco Donna) and Olivia Elease Hardy (Duckling Donna)
Sergio Trujillo's choreography is lively and really captures the 1970s disco scene. Director Des McAnuff, who created the crown jewel of jukebox musicals with Jersey Boys, keeps the show moving quickly through its 100 intermission-less minutes. He also knows how to build a show so the final two numbers—"Hot Stuff" and "Last Dance"–has the audience finally giving in and dancing in the aisles and at their seats. That is one sure way to guarantee a standing ovation for Summer The Donna Summer Musical.


Pantages Theatre, 6233 Hollywood Blvd. in Hollywood. Ends Nov. 24. www.hollywoodpantages.com