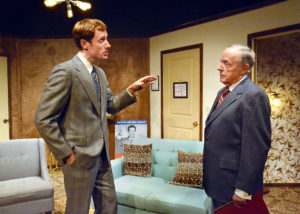 John Ruby and Mark Belnick (all photos by Ed Krieger)
When Gore Vidal's play The Best Man premiered in March, 1960, it seemed to presage the upcoming Democratic Presidential Convention. The two main characters–Governor William Russell, an intellectual, was modeled on persistent Democratic presidential candidate Adlai Stevenson while the brash, young contender Senator Joe Cantwell was an amalgam of John F. Kennedy and Richard Nixon. Vidal admired and supported Stevenson while he detested both of the grandstanding Senators. Vidal revised the play in 1976 but did not seem to change much of the structure, just adding more modern references to Presidents Reagan, Ford, Johnson, Carter and the Women's Rights Movement. Wasatch Theatrical Ventures (WTV) is currently presenting the play at The Lounge Theatre in Hollywood, just in time to whet your appetite for the 2020 Presidential campaign. It's a great history lesson in the way it shows the basics of politics—lies, mudslinging, smear campaigns, personality over issues—have changed very little in the past 60 years.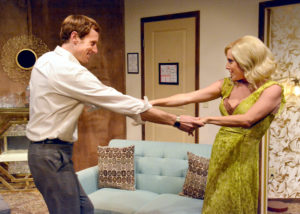 John Ruby and Aubrey Saverino
As great as it is to hear intelligent dialogue spoken by fully formed characters in a twisty political thriller, this WTV production misses hitting the bullseye. Director Gary Lee Reed's pacing needs a big shot of adrenalin. Most of his cast seems to have chosen to glide slowly along and some were still struggling for their lines after opening night. John Ruby had the cocksure win-at-any-cost mindset of Cantwell and his energy really is needed in this cast. Ian Patrick Williams adds a touch of humor and style to the character of former President Hockstader, whose blessing, counsel and especially endorsement is eagerly sought by both candidates. Martha Hackett invests the beleaguered political wife, Alice Russell, with the appropriate amounts of charm, grace and wariness. Aubrey Saverino tries too hard as Mabel Cantwell, the devious, ambitious Southern Belle Lady Macbeth. Rachel Winfree has the busybody nature of Committeewoman and possible kingmaker Mrs. Gamadge, but she lacks sharpness in her more pointed dialogue. Vidal has imbued his characters with a wry sense of humor but for the most part, this cast flattens the comic elements.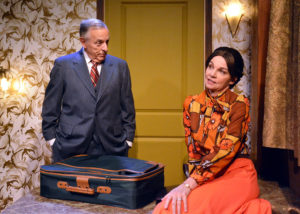 Mark Belnick and Martha Hackett
The main problem in this production is Mark Belnick in the leading role of William Russell. Russell is said to be sexually insatiable with a string of mistresses and scandals just ripe for exposure, yet Belnick comes across as totally lacking charisma and seemingly the energy to even loosen his tie. This grave miscasting sinks this production to a lower level, one of curiosity piece rather than thrilling and barbed political discourse. Brad Bentz has desinged the most substantial scenic design I think I've ever seen at The Lounge while Shon LeBlanc has dressed his ladies in some great period fashions. Hopefully the cast can pick up the pace but until then this is only a mediocre production of The Best Man, not the best as written by Mr. Vidal.


The Lounge Theatre, 6201 Santa Monica Blvd. in Hollywood. Ended Nov. 3. www.onstage411.com/bestman