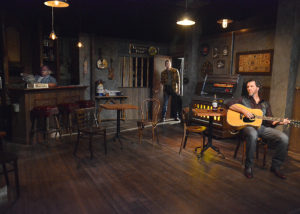 Leonard Earl Howze, Christopher Fordinal, David Atkinson (all photos by Ed Krieger)
Preacher (David Atkinson), a mature, grizzled man, sits at a table in a small, deserted bar. After taking another big slug of whiskey from the near empty bottle on the table, he picks up his guitar and begins to sing what could easily pass as his theme song, "I'm So Tired of It All". The young, enthusiastic Harley (Christopher Fordinal) soon enters with his own guitar in its case. He is on a mission to pawn his guitar, giving up on his dream of being a country-western singer-songwriter. He needs the money for food and rent for him and his young, pregnant wife. But he could not resist the chance to visit the bar, located conveniently near the pawn shop, where his C&W idol Floyd Whitaker died while performing. There are many more such convenient moments in Tim Alderson's World Premiere Salvage at The Lounge Theatre in Hollywood, but they are perfectly in tune like a good, heart-breaking C&W ballad.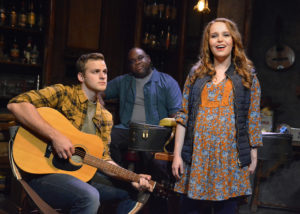 Christopher Fordinal, Leonard Earl Howze, Nina Herzog
Slowly, bit by bit, the truth emerges. Preacher is not only a disgraced preacher (too much fraternizing with the female members of the church choir) but also a failed singer-songwriter himself. He, Floyd and the cantankerous bar owner Johnson (Leonard Earl Howze) started out as a performing trio. When Preacher had a chance to break out on his own, he faltered while Floyd stepped up and became a star and a legend. As for that legend, he suffocated on his own vomit while drunk at the bar. Harley's wife Destiny (Nina Herzog), whose name may be too much of a coincidence to swallow, shows up twice and plays an important role in the growing bond between Harley and Preacher.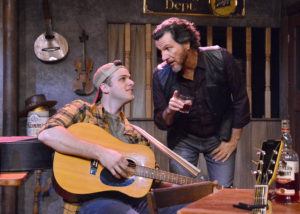 Christopher Fordinal, David Atkinson
Damian D. Lewis has skillfully directed his quartet of actors who give understated and poignant performances in this 90-minute play with music. Atkinson and Fordinal do the bulk of the singing, accompanying themselves on guitar. Herzog lends her lovely voice on a couple of tunes. Only one of the 11 songs was written specifically for the show, the rest having mostly been previously un-performed. Alderson's script may be a bit too threadbare at times, but he really displays a strong talent for picking the right song for the right moment to not only move the plot along but to enhance the characters. Harley's "House of Broken Dreams", Preacher's "I Killed Jesus" and the finale "Rivers of Hope" all hit the spot musically and thematically. The songs by Mark Heard, Pat Terry, Randy Vanwarmer and Alderson make a great score for this short, bittersweet C&W song come to life.
The title, Salvage, can have several meanings—the salvage of dreams, the salvage of friendships, the salvage of a lost soul. Salvage the play is worth salvaging in the landscape of local theatre. Seek it out.


The Lounge Theatre, 6201 Santa Monica Blvd. in Los Angeles. nds Jan. 19. www.Onstage411.com/Salvage