Well, dear readers, at approximately three in the morning, after losing the Ovation Award, having a lovely meal at the Smoke House, and writing these here notes, I finished my new book, book number twenty. The irony is that the first batch of pages I'd written was 311, which is exactly the number of pages in the second batch.  Now, 622 pages may seem like a lot, but remember that the manuscript is double-spaced.  That said, a normal book in the Adriana Hofstetter series comes in at about 270 double-spaced pages, which comes out to about 230 pages in an actual book.  But this book's layout is a bit different so I don't think the actual book will be over 400 pages, but I actually don't know that for certain.  So, I did this book in two weeks.  That's nutty, I know, but as I've said, it will make sense when you know what the book is, which I'll actually reveal pretty soon, although I'm surprised no one's actually figured it out.  Any guesses?  But I hadn't futzed and finessed anything since printing out the first 311 pages.  So, there was that to do.
Yesterday, I got about eight hours of sleep, got up, and spent the first part of the day futzing and finessing about 150 pages.  I did pick up one package, and I got some lox and bagels from Jerry's Deli so I could eat here and futz and finesse.  Then it was time for our first Kritzerland rehearsal for Sunday's all young folks show.  The young folks came, one after another, and ran their two songs (nine performers and one additional fellow who's just doing a duet with one of the performers).  It's a very talented group and all but one of them have done Kritzerland shows before, so they came prepared and they all did a good job at this first rehearsal.  We began at 3:20 and finished at 6:30 and I then had to hurry on over to the theater for our play rehearsal.
We were without one cast member, but we still ran all of act two and some of act one.  These are wonderful actors and it's just a pleasure to watch them, offer little suggestions, and futz and finesse the staging.
After that, I came right home and finished futzing and finessing about thirty minutes ago.  I then began printing out the pages, which, given the number of pages, takes quite a bit of time.  Whilst the printing is going on, I am writing these here notes, in case you couldn't tell, as well as listening to more music by the marvelous composer, Geirr Tveitt – actually, the first music I've listened to for three days, which is a bit unusual, as you know.  And here is a photograph of the 622 page stack.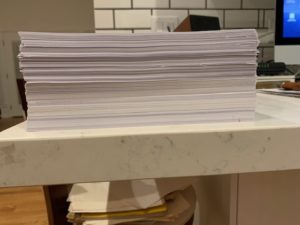 Today, I'll be up by 10:30 and I'll take the pages to Staples to be Xeroxed.  While they do it, I'll go grab lunch, then come back and pick it up and deliver it to Muse Margaret.  I'm hoping she enjoys the second half as much as she did the first.  I'm especially hoping she likes the way the ending came out.  I'll hopefully pick up some packages, and then I have to do the show order and commentary, which will probably take most of the afternoon.  Then we have a play rehearsal.
Tomorrow, I have a work session for the film music concert, which I'm told has sold out both of its performances.  If I've finished the Kritzerland commentary, then I'll start in on the film music commentary.  Then it's another play rehearsal.  Friday is our second Kritzerland rehearsal and another play rehearsal, Saturday morning is a play rehearsal followed by a stumble-through, and then I can hopefully have the evening to myself.  Sunday, I have to be up very early because we have a ten o'clock sound check.  Then we do our show.  I'm sure some of us will have a bite after.  I've also been invited to a cabaret show at The Federal that evening, but I honestly don't know if I'll have the whatever-it-takes to attend, although I think Monday and Monday evening can be a ME day completely.
Well, dear readers, I must take the day, I must do the things I do, I must, for example, be up by ten-thirty, Xerox pages, eat, hopefully pick up packages, do a show order and write commentary, and have a play rehearsal.  Today's topic of discussion: It's Ask BK Day, the day in which you get to ask me or any dear reader any old question you like and we get to give any old answer we like.  So, let's have loads of lovely questions and loads of lovely answers and loads of lovely postings, shall we, whilst I hit the road to dreamland, happy to have finished my twentieth book.