(all photos by Dean van Meer
Disney Theatrical Productions has been turning their extensive library of animated films into big Broadway musicals since 1994 when they premiered Beauty and the Beast. They have had a few failures with Tarzan and The Little Mermaid but also created the behemoth that is
The Lion King, which has been playing since 1997 with no signs of slowing down. With a domestic box office total of over $400 million in addition to double that amount from the international box office, not to mention a song that would not die, it was inevitable that Disney would bring 2013's Frozen to Broadway which they did in 2018. The National Tour is currently at the Hollywood Pantages Theatre.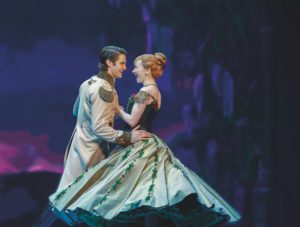 Austin Colby and Caroline Innerbichler
Screenwriter Jennifer Lee has turned book writer and has given Disney a live action cartoon for the stage with paper thin characterizations, childish, slapstick humor and the barest of plotlines. Lee attempted to mine the girl power vein that Winnie Holtzman so successfully tapped in Wicked. Even though Anna and Elsa are sisters as well as princesses, they can't hold a broomstick to witches Elphaba and Galinda. Lee has made a few changes from film to stage. The magical trolls are now the "Hidden Folk" and resemble a troupe of fairies on loan from A Midsummer's Night Dream.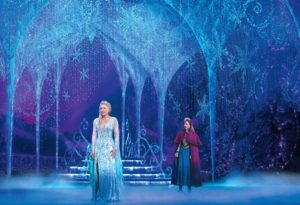 Caroline Bowman and Caroline Innerbichler
The husband and wife songwriting team of Kristen Anderson-Lopez and Robert Lopez nearly tripled the amount of songs from the film, including a new sisterly duet, I Can't Lose You," which was added to the show's score for the first time in Hollywood. But none of the dozen new tunes make much of an impression. The second act opens with the strangely weird "Hygge," which features a towel-wearing chorus doing a conga line in and out of a sauna in a frozen wasteland. Caroline Bowman as Elsa does a knockout job of singing "Let It Go" to close Act One but the song has become too familiar and has lost its gut punching power.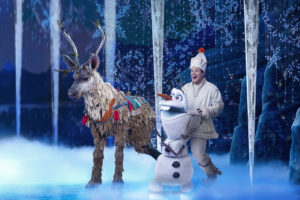 Collin Baja and F. Michael Haynie
The cast is in good voice. In addition to Bowman, Caroline Innerbichler as Anna, Austin Colby as Hans and Mason Reeves as Kristoff head the cast. F. Michael Haynie works the Olaf snowman puppet while Collin Baja inhabits Sven the reindeer's outfit.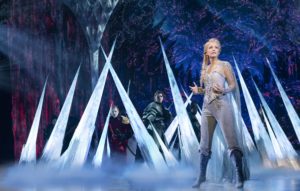 Caroline Bowman
The direction by Michael Grandage is pedestrian and uninspiring. Rob Ashford's overly athletic choreography consists mostly of twirling and lifting. Christopher Oram's costumes are lush but his sets are mostly just large and spare. A lot of the magical ice effects seem to be more a result of Natasha Katz's lighting design. Magic is what is lacking throughout much of this production. I did not think it very magical when Elsa's clothing blew off her body as she "let it go". Instead I thought they finally found a use for that wind machine Gypsy Rose Lee's mother bought to aid her daughter's burlesque routine. However, the little girls in the audience loved it.


Hollywood Pantages Theatre, 6233 Hollywood Blvd. in Hollywood. Ends Feb 2. www.hollywoodpantages.com