Well, dear readers, Kritzerland 103 went very well indeed and we ended up with a decent house.  Everyone had an excuse to not show up to this one, which is weird to me since the young person shows normally sell out. A lot of people who specifically told me that a brunch show would be great for this show then said they could have come if it were the evening.  Well, what can you do?  The entire front half of the room was pretty full and some of the back half and the folks that were there were great.  We all got there by ten and did a sound check that took a bit over an hour.  There was some miscommunication about when doors would open – I thought 11:30, but the ticket site said 12:00, so they split the difference and opened around 11:40.  I had my little Caesar salad before the show.  And then at 1:00 we began, right on time.  I could tell they were a good audience immediately and the patter went very well.  Then Peyton Kirkner opened the show with my song Opening Numbers, and even though she went up on one lyric, she covered it perfectly and got a big laugh in doing so, and the nature of the song itself allows for that kind of thing and I think most people thought it was really part of the song.  Here she is.  All photos are by Karl Sonnenberg.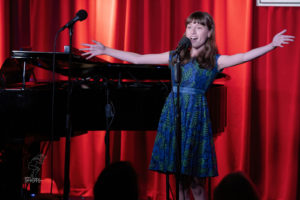 Then it was Mackenzie Wrap – I have her two Jerry Herman songs from Mack and Mabel, as our little tribute to the late Jerry Herman.  She did Look What Happened to Mabel as our second number.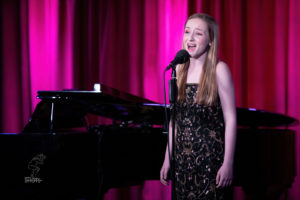 Then Marissa Margolis did 44 Sunsets from The Little Prince.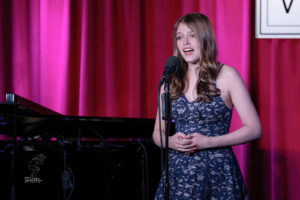 After that, it was Autumn Jessel doing Chin Up by the Sherman Brothers.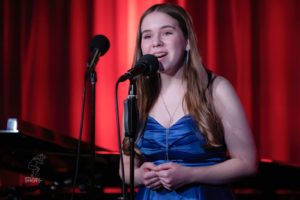 She was followed by Peyton's brother Jack doing my song Nerd, and I'm not sure there will ever be a better person to sing it.  His photograph should tell you all you need to know.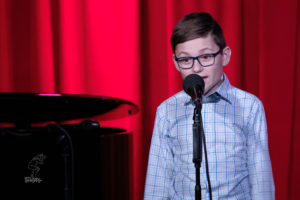 Then came Oliviana Marie, just turned seventeen, and her friend Sam Lindowski, doing a song from a fifteen-minute musical called Valentine's Day, which won the ShowSearch award.  The entire show was written by her including the score, and this duet went over like gangbusters.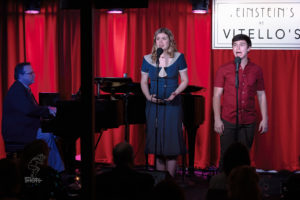 Olivia Knox was next with Here I Am from Henry, Sweet Henry and she was followed by nine-year-old Sophie Petersen, daughter of Eric Petersen.  She slayed the audience doing Born to Entertain from Ruthless.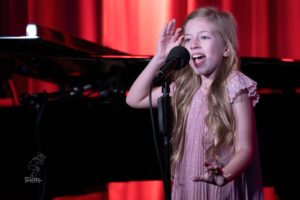 Then it was Brooklyn Vizcarra doing I'm Not That Girl from Wicked.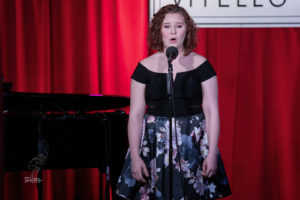 Olivia Knox was back with Frank Mills from Hair.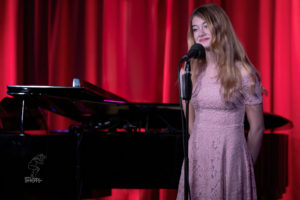 Then Autumn Jessel returned with Far from the Home I Love from Fiddler on the Roof.  Then it was Oliviana Marie again, this time singing my song, When You're Waiting for Love.  Then Peyton came back and sang my song from Welcome to My World, He Was Grandpa.  She was very in her head about the high notes, and I sat her down and told her that she had to abolish the word "can't" from her vocabulary, that if she trusted herself that those notes were all there, and that the only word she needed to think about coming on was CAN.  And guess what?  She did it brilliantly and many people were moist eyed over her performance.
Marissa Margolis came back and sang Getting Better Every Day from my show Stages.  Then Mackenzie Wrap did the torchiest torch song, Time Heals Everything, and she was followed by Brooklyn Vizcarra doing our final song, You There in the Back Row.  Very proud of all of them.
Afterwards, Robert Yacko and I went downstairs, and I had another little Caesar salad and some garlic bread – very good.  Then I came home, listened to music, did more cleanup work on the book, and then finally moseyed on over to The Federal to see a club act.  Lots of Group Rep folks there.  After that, I came right home, finished the cleanup on the book and now I'm ready to proof, and I also sent the book to a proofer, plus a proofer got a hard copy at the Kritzerland show.
Today, I am sleeping in and I don't care who knows it.  Then I'll go eat and proof, then come back and just relax and do nothing, other than perhaps starting to write the concert commentary.  I'm sure I'll watch a motion picture of some sort.
Then the rest of the week is meetings and meals, play rehearsals, concert rehearsals, a designer run-through, the two concert performances, and a Sunday morning run-through of the play.  Then things get a lot easier.
Well, dear readers, I must take the day, I must do the things I do, I must, for example, sleep in, eat and proof, relax, start writing the concert commentary and watch a movie.  Today's topic of discussion: What are your current favorite candy and dessert obsessions?  Let's have loads of lovely postings, shall we, whilst I hit the road to dreamland, happy to have had a wonderful Kritzerland 103.