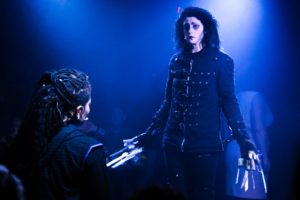 Inventor and Scissorhands (all photos by Bryan Carpender)
Scissorhands, a musical adaptation of the 1990 Tim Burton fantasy film Edward Scissorhands, returned to Rockwell: Table & Stage for the holiday season. Although not specifically set during the holidays, its themes of family/community and loving acceptance leave audiences with a warm and fuzzy feeling. Writer/director Bradley Bredeweg skillfully adapted the offbeat tale that combines elements of horror, sci-fi, parody and romance.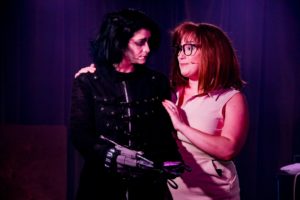 Jordan Kai Burnett and Emma Hunton
Burton paid homage to the tropes of the mad scientist attempting to create life a la Mary Shelley while also skewering the pastel shades of mindless suburbia a la John Waters. The result was touching and humorous and Bredeweg maintained that tone while adding over two dozen songs ranging from Christmas carols to Lady Gaga and Madonna. Musical director/arranger Gregory Nabours on piano led a four-piece band through the nearly sung-through show, from the haunting opening strains of "Silent Night" to the curtain call's "Shake It Out". The talented cast of eight easily handled the wide variety of vocal challenges.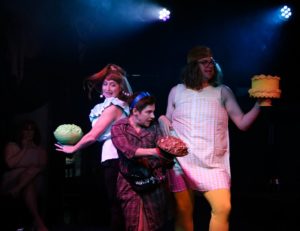 Carly Casey, Daisy Eagan and Ryan O'Connor
Bredeweg's choice of songs worked for the most part with a highlight being the meet cute number between Scissorhands and his crush, Kim—"I Want To Hold Your Hand". Abba's "Money, Money, Money" worked well in the bank loan scene while Lady Gaga's "Telephone" and "Let's Have a Kiki" by the Scissor Sisters worked very well for the gossipy, party-loving neighborhood ladies.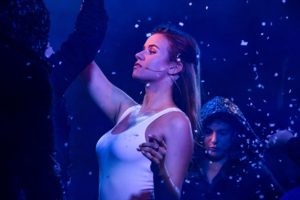 Natalie Masini
Jordan Kia Burnett as Scissorhands deftly evoked the androgynous charms of the young Johnny Depp. Emma Hunton was the heart of the production as the loving and motherly Peg. Dionne Gipson as the Inventor provided some power vocals for "Dream On" and "Higher Ground". Keir Kirkegaard provided menace as the jealous and bullying Jim. A terrific trio brought the ladies of the neighborhood delightfully to life—Carly Casey as the sex-obsessed Joyce, Daisy Eagan as the religious fanatic Esmeralda and Ryan O'Connor as foodie Helen. Natalie Masini created an ethereal and lovable Kim. Bredeweg's clever staging in-the-round worked perfectly, even as Scissorhands used his blades to work magic on shrubbery, hair and most especially the ice sculpture that gave this production that "oh wow" moment.