Well, dear readers, I am sitting here like so much fish, having just finished a chocolate chip muffin (I can't remember the last time I've had a muffin of any kind), and pondering the imponderables, which are, in a word, imponderable.  That begs the question of why one should ponder the imponderables at all.  Whilst the music of Hilding Rosenberg wafts over me like corn pudding I'm in the mood for notes.  So, shall we have some?  Methinks we shall.
Yesterday was almost a day.  I didn't get to bed until almost four in the morning, I woke up at ten, but knew that wasn't enough sleep, so I stayed in bed, fell asleep and didn't arise until one.  So, that's nine hours of sleep, I guess.  Once up, I had a lot of e-mails to answer, I had some telephonic conversations to have, and I went and got Taco Bell as I needed something quick to bring home.  The helper dropped our latest CDs off – I'd been alerted that there was a problem with the Franz Reizenstein booklet and indeed there was – pages missing, pages repeated, a total debacle.  I've alerted the printing place – this is the second time they've done this and they need to get their QC act together and I'm not going to pay the price for their lack of it.  The last time it happened they reprinted for free, but we had to pay to get corrected booklets to people.  And that's what I'll be telling them – they have to pick up that cost for however many orders there are – they can take some money off our current invoice or whatever but this is on them.  I did proof about fifty pages, so that was good.  Another 150 pages to go and then I can enter my own fixes.  Then it was time to mosey on over to the theater.
More of the set was up – in fact, it's all up but just not complete yet.  It's very simple but just looks really good, I think.  For me, simple is always best.  We did our run-through, which was very smooth and good, and I let everyone go early.  As of that run-through, all my notes come via e-mail.  There weren't all that many, really, and most had to do with upping the vocal energy just a little bit.  At this point, any adjustments that come should be just subtle shifts, nothing major, because I'm basically extremely happy with the way the show plays.  And I've been surprised at how we're knocking off a minute at each run-through – surprised because nothing seems rushed or like we're steamrolling through.
I stopped at Gelson's and got two muffins, one to eat right away and one for today, but they clearly misunderstood me because when I got home there were three muffins.  I shall try not to eat another this evening or, if I lose control, I'll try to just eat the muffin top.  I also got a small chicken tender and some seafood salad for a snack.  Then I came home, answered e-mails, and sent the notes to the cast.  Then I relaxed and listened to music.
Before we go any further, here is a lovely photograph of our merry troupe at the Autry for the Elmer Bernstein concert.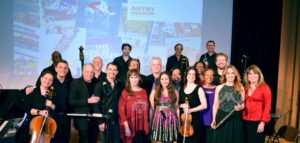 Today, I'm going to try and be up by eleven at the latest.  I'll proof for most of the day, eat, hopefully pick up some packages, and then we'll have our run-through, with hopefully more of the set completely complete.
Tomorrow, I have a late lunch meeting and then I'll be at the theater doing tech/lighting stuff until the cast arrives at seven.  We'll run the show, basically doing a light-over.  Since the stage manager will just be learning the show, I'm sure it will be rough, and I'm sure the sound cues will be even rougher, but we won't stop for mistakes, we'll barrel through.  Saturday morning, we'll return and do a run-through at ten, then we lose one of our cast until around six.  So, we'll use those hours to get everything right, tech-wise, basically a cue-to-cue sans cast.  Then at six-thirty we'll do a second run-through with no stops.  Sunday, I'm thinking the first run will start at eleven, which will wrap at one.  Then an hour break, and then run two with costumes.  Monday is off, then Tuesday we play our invited dress, Wednesday and Thursday we preview, and Friday we open.
Well, dear readers, I must take the day, I must do the things I do, I must, for example, try to be up by eleven, proof, eat, hopefully pick up packages and an important envelope, and then have a run-through.  Today's topic of discussion: Muffins, baby, muffins.  What are your favorites, least favorites, best you've ever had, and what makes a muffin good? Let's have loads of lovely postings, shall we, whilst I hit the road to dreamland, happy to have eaten an imponderable chocolate chip muffin.