Well, dear readers, yes, these here notes should have already been posted, but alas I was completing an interview (written questions) about Doug's play.  So, that's completed and sent and now I am writing these here notes so quickly that it will make your head do a Linda Blair, if you get my meaning and I know you do because you dear readers are smart, Linda Blair-wise.
Yesterday, I got about eight hours of sleep, got up, did the usual things, had some telephonic calls, did some recording at the piano of the incidental music I've written for the play, then I went to Jerry's Deli and had a roast beef sandwich and no fries or onion rings, proofed another seventy pages of the book, then picked up packages and came home.  Once home, I finished writing the concert commentary, which took most of the rest of the afternoon. Then I had to get ready for rehearsal.
Last night, we had another run-through and it was very good, especially the second act, when things just really cooked.  Both acts' final scenes are very emotional and they're both between the same two characters and these two actresses are just superb.  Maria Kress plays the mom of a legally blind girl, an overprotective mom who simply doesn't want to let her daughter go.  Kait Haire plays the daughter as an adult.  Peyton plays the daughter as a fourteen-year-old and is really growing as an actor in this play, which is why we all felt it was so important for her to do it.  Bobby Slaski plays a fellow teacher at Kait's school and is terrific with incredible charm and humor.  Lloyd Pederson, who played Mr. Death in A Carol Christmas, is doing a great job as an irascible oldster that Peyton befriends and who becomes her one and only true friend.  And Clara Rodriguez is the principal of the school Peyton attends and she's bringing a lot of warmth to the character – that kind of role is tricky and she's just navigating it perfectly.  And happily, there were much fewer calls for lines. Here are three rehearsal photographs.  First, Bobby Slaski and Kait Haire.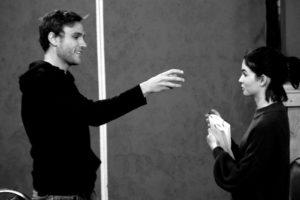 Here's Peyton Kirkner and Maria Kress.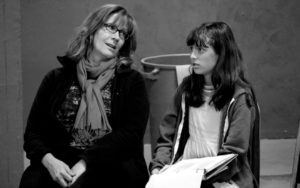 And here's Lloyd Pederson.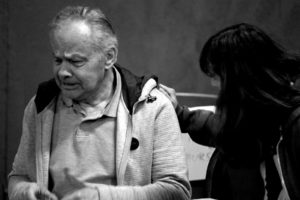 After that, I stopped at Gelson's and got a tiny bit of mac-and-cheese and a small cube steak, came home, made the cube steak and ate it and the tiny amount of mac-and-cheese – both items were very good.  Then I hunkered down and answered the interview questions and got them where they needed to go.  And then I began writing these here notes, and I believe that is what I've been doing.
Today, I have to be up by eleven, I'll proof another seventy pages or so, then I have to get ready and be on my way to the concert rehearsal, which is at three. I'll leave there promptly at six and mosey on over to the Group Rep, which is about fifteen minutes from the Autry, where we're doing the concert.  Then we have our designer run-through for our designers.
Tomorrow, I have to rest all day, especially my voice, which is not reacting well to all these allergies I'm having, and then I'll go to the Autry at about five-thirty and our show is at seven.  Saturday morning, we're without Peyton, so no run-through for us, but we can work all the scenes where people are struggling with lines and that will be very helpful.  Then I go to the Autry and we do our matinee show.  That will be followed by a meal at a nearby eatery.  And then I'm coming home and relaxing like crazy.  Sunday, we have a run-through, notes, and if I think we need it, we'll do a second run-through.  We're off on Monday, then we do run-throughs every night.  On Friday, I dry tech the show with our lighting designer.  This is a somewhat heavy lighting show, so we'll see how all that goes.  Then the cast comes in and we run the show without stopping, and barrel through any sound and lighting mishaps.  Then on Saturday, we only have the morning to run the show, then we lose an actor until the early evening, so we'll use the rest of the day to iron out tech problems and then we'll reconvene around six-thirty to run the show again.  Sunday will be a dress/tech and we can certainly get two run-throughs in that day, and that should put us in very good shape for our invited dress on that Tuesday.
Well, dear readers, I must take the day, I must do the things I do, I must, for example, be up by eleven, proof, have a concert rehearsal, followed by a designer run-through, followed by some food.  Today's topic of discussion: Who were your favorite cowboy actors of the Golden Age, especially on television? Let's have loads of lovely postings, shall we, whilst I hit the road to dreamland, happy to be posting the late, later notes.