Well, dear readers, we closed The Man Who Came to Dinner yesterday afternoon.  It was a helluva run, very successful for the theater, and I was and am very proud of the production.  I was determined to make this production as fast-paced a version of this show as there has ever been.  I don't know if I was successful, but the three acts usually came in at two hours and ten minutes or thereabouts, with acts one and two consistently running around fifty minutes each, and act three usually running around thirty.  I was also determined to have some things in the show that were completely unique to us, whether in the blocking or the business or whatever.  And happily, those moments in particular garnered the biggest laughs in the show.  One of them belonged to Miss Preen, but most belonged to Banjo.  I'm guessing if anyone who saw us ever do the show, they will use at least one of the bits.
The cast did a fine job and were fun to work with.  Just before the show began, I was summoned backstage and given a nice and amusing gift – a stopwatch – given my merciless quest to get the acts down to a manageable run time.  It was very sweet.  I also got a couple of very nice cards.
My pre-show speech was the best that ever went.  I began with welcoming the audience, as I always do, and then I said I'd been asked to do a pre-show speech and that I'd try to keep it quick.  Then I added, "But old Jews and quick is an oxymoron.  But to that end, my thoughtful cast has just given the wonderful gift of a stopwatch," which I then pulled out.  The show played beautifully, with Jim Beaver giving his best performance.  Everyone was on high energy, and, as he had been the previous evening, Barry Pearl was hilarious.  Here's a photograph of him and cook Sarah and Whiteside during one of our bits.  Sarah brings Whiteside a little pastry and Banjo eats it.  That's the bit, which takes about two seconds.  Not here.  I knew what I wanted from the get-go – a cream puff with a ton of whipped cream between the pastry, and then I let Barry run with it.  It was different every night and hilarious every night but Saturday night and yesterday afternoon the bit went on and on and on, with the laughs building and building and building.  There's nothing more fun than watching a great comic actor make a meal out of a bit, or in this case, a literal meal.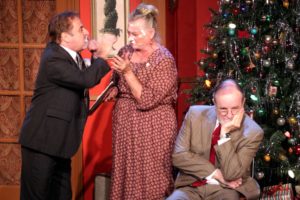 After the show, Barry and I went to the Smoke House to celebrate.  I had fish and chips, which was fantastic, a Caesar salad, and three pieces of the garlic cheese bread.
Prior to all that, we had our morning rehearsal.  I ran all of act two, and we found some wonderful bits of business, and it's looking very good.  Then I ran most of act one – we were stopping and starting every now and then, but mostly I'm just running stuff and the actors are getting more and more used to the style and the words, which is the idea.
After the Smoke House, I came home and dove right into the book, doing forty pages in about four hours, so that felt good.  And Doug and I got e-mails from the Ovation Awards, which contained our tickets.  They have us sitting together.  If the seat locations are any indication (Row R on the right), I don't know that it bodes well for winning anything.  I would think they'll put all the winners (and they've known who those are) up front.  However, the first few awards will tell that tale, I suppose.  Anyway, do send your strongest most excellent vibes and xylophones and we'll see what happens.
Today, I'll be up by eleven, and then I'll spend the first two hours of the day going back and futzing and finessing the last four days of writing.  Once done with that, I'll start new pages.  I'm definitely in the home stretch and might well be done by Wednesday, depending on the variables.  Then I'll shave and shower and get ready, drive to the Haverty house to meet up with wife Dorathy and daughter Hartley, and we'll then Uber to the ACE Hotel in downtown LA.  I will, of course, have a full report.
Tomorrow, I'll do book stuff right up until the first Kritzerland rehearsal begins.  Then that happens, and I have to leave right after for our evening play rehearsal.  When I get home from that, it'll be back to the book.  Wednesday is hopefully finishing the book or at least being extremely close, then we have our evening rehearsal, Thursday is more of the same, Friday is our second Kritzerland rehearsal, Saturday is our stumble-through, and Sunday is sound check and show.
Well, dear readers, I must take the day, I must do the things I do, I must, for example, be up by eleven, futz and finesse, write, hopefully pick up packages, write, shave, shower, and then attend the Ovation Awards.  Today's topic of discussion: What are your favorite ice cream flavors, what's the first flavor you ever remember having, and which store-bought brand is your favorite.  Let's have loads of lovely postings, shall we, whilst I hit the road to dreamland, happy that we went out on a high with The Man Who Came to Dinner and that it was so successful.  And don't forget those strongest and most excellent vibes and xylophones.