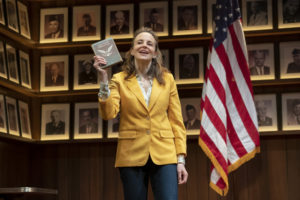 Maria Dizzia (all photos by Joan Marcus)
Heidi Schreck's What the Constitution Means to Me arrives as the Mark Taper Forum with a lot of advance hype—Tony Award and Pulitzer Prize nominations, etc. It certainly is relevant given the current political climate in the United States with a President and a major political party seemingly treating the U.S. Constitution as just an ancient piece of paper except when it comes to their precious Second Amendment. As much as I admire what Schreck is saying in her play, I am not pleased by the execution she and director Oliver Butler have chosen to present it.

Mike Iveson
As a 15-year old, Schreck traveled the country competing in debates about the Constitution sponsored by local American Legion posts. She often won the cash prize, enough to pay her way through college. Schreck has basically written a monologue but with too many interruptions and tangents. In might have played better on Broadway where Schreck told her own story. At the Taper, we have an actress, Maria Dizzia, playing Schreck. She at times steps out of the Schreck character to add her own commentary. Mike Iveson, who plays an American Legion host and timekeeper, eventually steps out of that character to tell his own specifics. And then an actual 15-year old (Rosdely Ciprian alternating with Jocelyn Shek) appears and debates the Schreck character or is it the actress she debates; by then it is so muddled it doesn't really make sense, it just adds to the running time. At nearly two hours with no intermission, it is a long sit, although ushers do reward you for your endurance with your own pocket copy of the Constitution.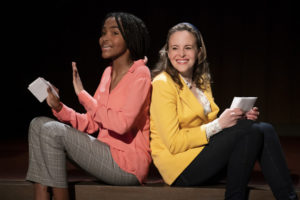 Rosdely Ciprian and Maria Dizzia
For this viewer, the show would have worked much better as a one-person monologue. Schreck has a lot of insightful commentary on the way the Constitution has been interpreted and used and mis-used in the over two hundred years since its adoption. She also has an amazing story to tell of four generations of women in her family and the abuse they endured and how the Constitution abetted their abuse and aided in their breaking with the past. I applaud Schreck's political passion; I just wish she could have found a better way to deliver it to a populace that needs to hear it. Although, unfortunately, the ones who really need to hear it the most, like most members of the GOP, will probably never be in the audience.


Mark Taper Forum, 135 N. Grand Ave. in Los Angeles. Ends Feb. 28 www.CenterTheatreGroup.org