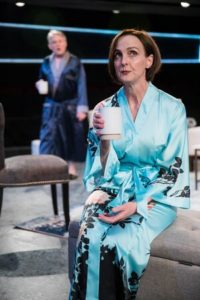 Bruce Ladd and Treva Tegtmeier (all photos by Larry Sandez)
A middle-aged couple wake up one morning naked in bed. The woman gently removes his hand from her breast, dons a handy silk robe and is off to the kitchen to make coffee. The man soon follows. But they seem unsure with each other; they don't know each other's names for starters. Heck, they don't know their own names. Thus begins Lee Blessing's A Body of Water, currently receiving a stellar production of its World Premiere new ending at Actors Co-Op in Hollywood.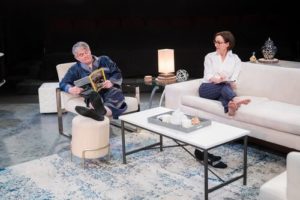 Are they a married couple or just a couple having a tryst? And where are they? They are in a very luxurious and tastefully decorated house (great scenic design by Rich Rose) that seems to be surrounded on all four sides by water. And how did they get there? There doesn't seem to be a car outside, or even a road that they can see. He thinks they may have been dropped off by helicopter; an idea she finds ridiculous. He suggests they check out each other's bodies, thinking it might jog their memories. She reluctantly agrees but first fetches a pair of tongs from the kitchen.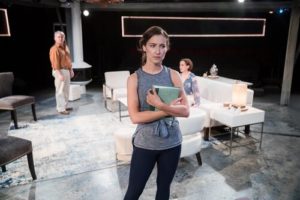 Bruce Ladd, Ivy Beech and Treva Tegtmeier
Their bodies reveal no hidden memories but soon an angry and frustrated young woman shows up, disappointed that they are at this stage again today, like they were yesterday and all the days before. She says her name is Wren and she is their daughter. She provides them with their IDs and they find out they are Moss and Avis; he's a judge, she runs a wound clinic. Have they suffered a trauma that has caused them both to have recursive amnesia, where they start each day with a blank slate and the need to fill in the missing pieces. Or are they just faking it? Wren loses her patience, saying they are suspects in the murder of their young daughter and she is their defense attorney. Or is she just playing some sick and twisted game on her parents? Her story, their stories change minute to minute. As the day(s) progress their sense of uncertainty, of dread increases. Is Wren really their daughter and trying to help them or are they really murderers and trying to cover up their crime. Blessing gives no clear answer to the existential questions his 90-minute play and its characters pose. Each audience member is free to come to their own conclusion.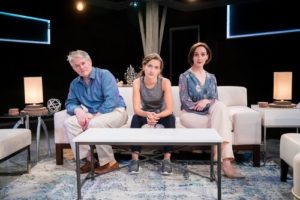 Director Nan McNamara keeps the tension ratcheted on high, She skillfully guides her talented trio of actors as they precariously walk the tightrope of drama Blessing has created. There is not a false move. The concern and fear the audience comes to feel for this couple is carefully nurtured and yet the unexpected comic moments also help to break the tension, if only momentarily. Bruce Ladd as Moss and Treva Tegtmeier as Avis are a perfectly matched twosome, easily etching that nervous, bashful morning after sex vibe as well as that seemingly unbreakable bond of a long and loving relationship. Ivy Beech storms onto the scene, alternately frustrated to have to repeat herself day after day to her parents or are they her clients? Is she trying to save her clients or to shock her parents into remembering some traumatic experience that they still can't face? See Lee Blessing's A Body of Water yourself and make your own decision.


Actors Co-Op, 1760 N. Gower St. in Hollywood. Ends March 15. www.actorsco-op.org