P3 Theatre Company, in the Ernest Borgnine Theatre in the Scottish Rite Event Center in Long Beach, is currently presenting the West Coast Premiere of Tony Santamauro's two-hander Day After Day (The Life and Music of Doris Day). For those audience members of a certain age, this song-packed show is a stroll down memory lane. For those too young to have experienced Miss Day in her prime, it's a great introduction to the many songs this talented songstress recorded on vinyl and celluloid over her 35-year career.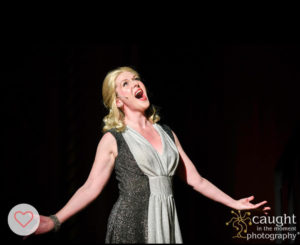 Deborah Robin
Day had her first hit recording with "Sentimental Journey" in 1945 when she was the lead singer for Les Brown and his Band of Renown. She went solo in 1947 and had hit after hit, eventually receiving one of the first million dollar a year contracts with Columbia Records. Her film career began at Warner Bros. with 1947's Romance on the High Seas and included a trio of nostalgic musicals with Gordon MacRae. Her best and top film during her contract days was the original musical Calamity Jane. After leaving Warners she gave probably her best performance as 1920s torch singer Ruth Etting in the musical biography Love Me or Leave Me. After teaming with Rock Hudson for 1959's sex comedy Pillow Talk, Day began a series of comedies with such leading men as Hudson, Cary Grant, David Niven, James Garner and Rod Taylor that made her the top female box office draw for seven consecutive years, four of those at the top of the list, a feat equaled only by only one other female star–tiny tot Shirley Temple.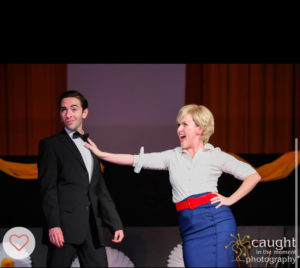 Zach Appel and Deborah Robin
The first act of Santamauro's play, which he also co-directed, is basically "and then she recorded this song" while Act Two is "and then she made this film with this guy and sang this song". This by-the-book bio approach is acceptable mostly because of the talented Deborah Robin inhabiting the Day persona. She artfully recreates Day's sunny, optimistic zest for life as well as doing pitch perfect vocals that sound amazingly akin to the original. Zach Appel appearing as the Narrator and various men in Day's life, gives great support. They share a show-stopping number with "There Once Was a Man" from the film The Pajama Game. He also provides the bio material in interesting tidbits, often performing one of Day's songs while the actress herself is offstage doing a costume change. Co-director Christy Mauro-Cohen's voluminous costume design, evoking the style of three decades, is one of the show's high points. One of the low points is the un-credited choreography which is overly energetic and often looks like it was spontaneously and haphazardly created in the moment. Pianist Elizabeth Curtin leads the great three-piece on-stage combo and David Cohen's musical direction really brings all the great standards to vibrant life behind the vocals. There are songs a-plenty in the show but curiously missing is any mention of Day's final musical film, Jumbo, in which she did memorable renditions of the Rodgers and Hart score. But these are minor quibbles if you are a Day fan and tempted to hum or sing along with your favorite tunes. You are finally given that chance to join in with a finale of the seemingly immortal "Que Sera Sera." Miss Day left us nearly a year ago, but her voice and all the songs she introduced will never leave us.


P3 Theatre Company, 855 Elm Av. in Long Beach. Ends Feb 22. www.p3theatre.biz