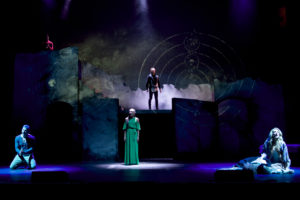 Act One Finale (all photos by Barry Weiss)
Valentine's Day 2020 at North Hollywood's El Portal Theatre proved not to be so much for lovers as it was for revenge seekers. Shakespeare's best buds Hamlet and Laertes both sought revenge for the death of their fathers in the 21st Century re-imagined version of Hamlet The Rock Musical. Book writer/composer/lyricist Cliff Jones's rock opera take on Shakespeare's classic play has had a long and tortuous creative path. It started life as Kronborg: 1582 and was first heard on Canadian radio in 1973. It was staged in 1974 and received a tour of eastern Canada. In 1976, revised and retitled Rockabye Hamlet, directed and choreographed by Gower Champion, it played a total of 21 previews and 7 performances on Broadway. Revised and retitled once again, Somethings Rockin' in Denmark opened at Los Angeles's Odyssey Theatre Ensemble in 1981 where it had an 18-month run. There have been other revised versions since the turn of the century and now, produced by David Carver Music and with additional music & lyrics by Craig Fair, Hamlet The Rock Musical hopes to launch a National Tour after its brief run at the El Portal.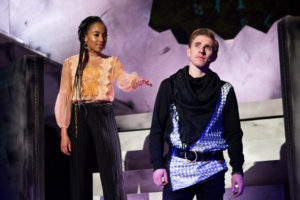 Fatima El-Bashir and Payson Lewis
A lot of money has been spent on the production. Nick Iwaskow's scenic design gives the appearance of a dark and forbidding castle. His and John A. Garofalo's lighting design is top notch as is Leon Rothenberg & Jonathan A. Burke's sound design. Mylette Nora's costumes are a blend of traditional mixed with eye-popping punk style. The nine-piece orchestra conducted by music director Doug Oberhamer really does rock the score. The cast of 16 all prove to possess strong voices, several displaying rock 'n' roll sass as well as operatic power. Payson Lewis (Hamlet), Kevin Bailey (Claudius), Carly Thomas Smith (Gertrude), Ian Littleworth (Laertes) and Fatima El-Bashir (Ophelia) lead the cast.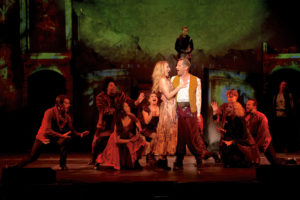 Carly Thomas Smith, Kevin Bailey and their courtiers
Yet there is still a lot that is rotten or at least not well in this version of Denmark's famous moody prince. Jones's music has that rock opera feel, probably inspired by the earlier Lloyd Webber score for Jesus Christ Superstar, but his lyrics are either just Shakespeare's dialogue set to music or they feature a lot of repetition such as in "Hello, Hello". Fair does not take credit in the program for any of his additional music & lyrics (and the score is vastly changed from the Broadway version) but I'm sure the rap inspired take on Laertes's "Don't Unmask Your Beauty To The Moon" can be blamed on him. Alas, poor Yorick does not get a song as there are no grave diggers in this Elsinore, just very tiny coffins for very tall people. The musical's website makes much ado about Leata Galloway's show-stopping standing ovation rendition of Gertrude's "All My Life" during the Broadway run yet that song is not in the current score. However Ms. Thomas Smith delivers her own show-stopping ballad with "No Use Pretending". The climatic swordfight is strangely replaced by a "joust" without horses or lances, just poisoned-soaked spears. Janet Roston's choreography alternates between robotic moves and twerking or a combination of both. Director Bill Castellino has staged the proceedings more as a somber grand opera than a rock concert celebration. I did see his 1981 version of the show at the Odyssey and I remember it as much more fun. Or maybe my memories of nearly 40 years ago are foggy. But a sense of fun is the one thing that is in short supply in Hamlet The Rock Musical.


El Portal Theatre, 5269 Lankershim Blvd. in North Hollywood. Ends March 23. hamlettherockmusical.com