Well, dear readers, we had our opening night and it went very well, with only a couple of technical flubs – an early light cue and a bulb blew out for the second time in two days, so that's being addressed for tonight's show.  The cast did splendidly, and we had a really attentive and wonderful audience – lots of laughs, some tears, and it really does move along at a steady clip.  At the after party, I got many lovely compliments on the direction and staging, for which I was very appreciative.  I'm all about clarity, making sure the audience always understands what's going on and there's a device in the play that was very confusing to me on the page and over which I puzzled for several weeks before we began rehearsals.  But from the second I finished the play I knew what I wanted for its final image – it's not written that way, but I just saw it in my head and knew it would be just right.  And funnily, that ultimately led to finding the solution for the device.  I tried the solution at the end of act one and it worked very well and so I just kept adding it whenever the device happened.  I ate a bit of pasta at the partay, chatted with some people, was happy to see the cast getting such wonderful kudos that are so well deserved, and then I took my leave.
As always, I was very proud of our very own Peyton Kirkner, who nailed everything, including all her laughs.  And her older self, Kait Haire is someone I would work with anytime, anywhere, a wonderful, intuitive actor who is simply luminous.  Bobby Slaski is a real find – Doug Haverty's wife absolutely loves him and with good reason – handsome, funny, goofy, warm, and the chemistry with Kait is wonderful.  Maria Kress as the mom has to really run all gamuts and she negotiates that with absolute razor-sharp precision, with her mood swings turning on a dime, rather like – my mother.  Lloyd Pederson is winning as an old codger and he gets several of the nice laughs, and Clara Rodriguez is winning as a school principal.  Here are some actual photographs.  Here's Doug introducing the play, and the curtain call.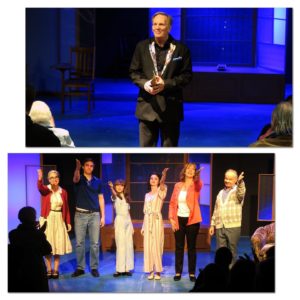 Here I am with Robert Yacko.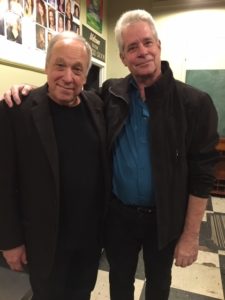 Here I am with Bobby Slaski.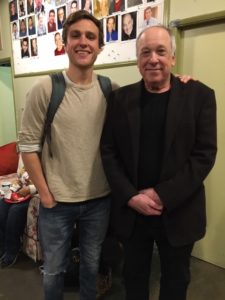 Here's Doug, sound designer Steve Shaw, and li'l ol' me.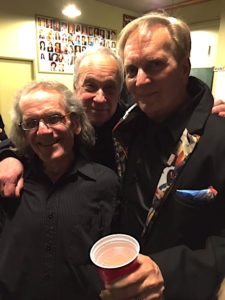 Prior to all that, I got nine hours of sleep, answered lots o' e-mails, coughed up a lot of disgusting phlegm, then I went and had a proper lunch – roast beef sandwich and no fries or onion rings – got Claritin-D at CVS, and picked up some packages.  Then I came home and wrote all the opening night notecards.  Then I relaxed until it was time to get ready and then I moseyed on over to the theater.
Today, I'll sleep in, then I have to have a telephonic call, then deal with some merde, then attend our evening show.  Tomorrow, I'll attend the matinee, and relax afterward and, of course, attend our Annual Oscar Bash and since there's no way for me to watch it I'll expect all the lurid details.  Then Monday begins a week that I am dreading, but I suppose we'll see how it all goes.  Some miracle vibes and xylophones would be greatly appreciated by the likes of me.  Beyond that, I'll be entering fixes, mine own and one of the proofer copies.  I have several meetings and meals as well, then on Thursday we have a put-in rehearsal for our adult female understudy, who plays the third weekend of the run – it's such a big role that we figured two put-in rehearsals would be better than one.
Well, dear readers, I must take the day, I must do the things I do, I must, for example, sleep in, have a telephonic call, deal with merde, eat, hopefully pick up packages, and then attend our evening performance.  Today's topic of discussion: What are your favorite kinds of meat sandwiches, and for our vegetarians, your favorite vegetarian sandwiches?  Let's have loads of lovely postings, shall we, whilst I hit the road to dreamland, happy to have had a lovely opening night for In My Mind's Eye.