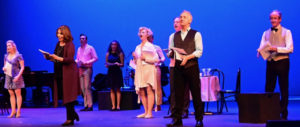 The Cast (all photos by Alan Weston)
Musical Theatre Guild presented a staged concert version of It Shoulda Been You for one night only at the Alex Theatre in Glendale on Sunday, February 16. Even though nearly everyone has been in a wedding or at least attended a wedding, it's easy to see why this particular musical only ran 137 performances on Broadway in 2015. Book writer Brian Hargrove never met a wedding, Jewish or WASP cliché he didn't like and didn't use in this long one-act musical. Even though his lyrics are a bit better, combined with Barbara Anselmi's music most of the nearly 20 songs in the score are instantly forgettable. The star power of director David Hyde Pierce and stars Tyne Daly and Harriet Harris as the opposing matriarchs was not enough to save the show then.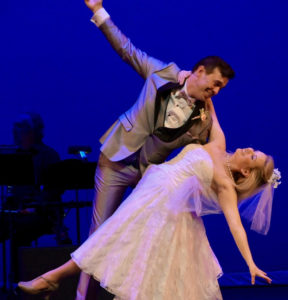 Zachary Ford and Ashley Fox Linton
Anselmi's concept takes place on one hectic, event-filled day when the wealthy, very Jewish Steinbergs are marrying off their youngest daughter to the even wealthier, very WASPish Howards. Culture Clash everyone. The burden of making sure everything goes smoothly falls on older, unmarried daughter Jenny who is berated unceasingly by her domineering mother. The problems Jenny encounters range from a smudge on the wedding dress to an ex-boyfriend crashing the wedding to a last minute prenup. Hargrove's increasingly convoluted plot keeps spinning until a happy ending happens for all.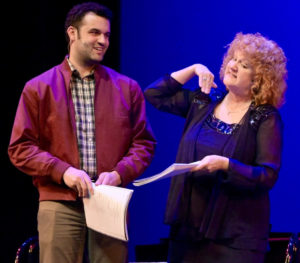 Travis Leland and Pamela Hamill
As usual with MTG productions, this was probably the best sung version the show has ever received. Josh Grisetti from the cast of the Broadway production directed and kept the show moving along. Ashley Fox Linton and Zachary Ford as Rebecca and Brian made a lovely top of the wedding cake bride and groom couple. Julie Garnyé ably shouldered the central character as the zaftig, unmarried Jenny. Travis Leland as Marty, the ex with a purpose, charmed everyone. Helen Jane Planchet and Adam Lendermon as the wedding couples' best friends had fun with the double meaning of their wedding reception song, "Love You Till the Day". Pamela Hamill and Thomas W. Ashworth, as respectively horny Aunt Sheila and drunken Uncle Morty, had their moments.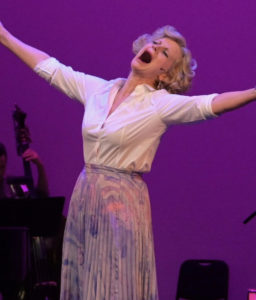 Barbara Carlton Heart
The fathers, Anthony Gruppuso as Murray and Bryan Chesters as Howard, mostly served as punching bags and arm adornments for the mothers. And boy, what MOTHERS Hargrove created; they are this wedding's true Bridezillas. Eileen Barnett fully embraced the full richness and vulgarity of her character Judy, giving Gertrude Stein's Molly Goldberg and Nancy Walker's Ida Morgenstern some real competition for Jewish Mother of the Year. Barbara Carlton Heart, as the ever-tippling Georgette, brought down the house with "Where Did I Go Wrong?", her lament about losing her 30-year old son to another woman. Jason Graae, as Albert, sort of a Fairy Wedding Planner—granting every wish before it was even made—stole his every scene.


Next up for MTG is Kismet on May 3. www.alextheatre.org