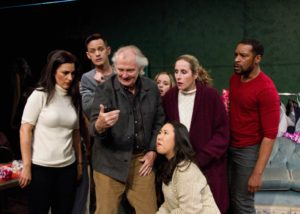 The Company (all photos by Karianne Flaathen)
The 6th Act is currently presenting the World Premiere of co-artistic director Matthew Leavitt's The $5 Shakespeare Company at Theatre 68 in North Hollywood. The comedy is a self-professed "heartfelt love letter to all things 99-seat theatre". The 90-minute no intermission work "earnestly and hilariously exposes the trials and tribulations of doing intimate theatre in Los Angeles". Leavitt definitely knows the scene as anyone who has ever set foot on a 99-seat theatre stage can attest. Even the audiences for such venues can nod their heads knowingly and laugh along with the foibles of this group of thespians dedicated to their stagecraft while awaiting that audition for the film role or TV pilot that will really launch their career.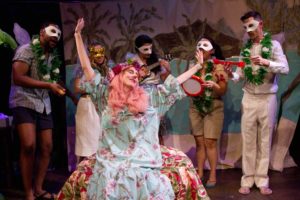 Kenajuan Bentley, Natalie Lander, Carolina Espiro, Liza Seneca (front), Cindy Nguyen and Emerson Collins
The cast of characters include:
Jacob (Adam J. Smith), a former sitcom star whose on set tantrum led to his current position as Artistic Director of this ragtag group;
Lillian (Liza Seneca), an actress of a certain age thrilled at the chance to play such meaty roles even though the company did not choose her as their leader as they should have;
Everett (Emerson Collins), the out and proud gay actor who would kill for the chance to play the female roles like the actors Shakespeare originally wrote them for;
Spencer (understudy Sami Kolko Zwick), the dilettante waiting for her contacts in a Hollywood cult to really launch her career;
Chester (Andy Robinson), the aging actor who, although having memory issues, longs to finally do his King Lear;
Randall (Kenajuan Bentley) and Elena (Carolina Espiro), conducting a showmance even though its forbidden by company rules;
Camille (Cindy Nguyen), the untalented company mascot whose father bankrolls the group;
Louis (Luke McClure), the "serious" actor who no one takes seriously; and
Noel (Jamie Zwick), the muscle bound hunk whose words don't fall trippingly from his tongue.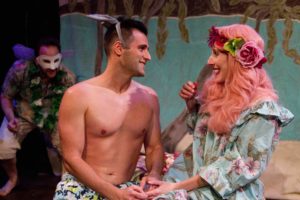 Adam J. Smith, Jamie Zwick and Liza Seneca
Leavitt has written some fun characters and the cast ably inhabits their roles under the assured direction of Joel Zwick. Besides painting a truer-than-life exhibit of the 99-seat theatre scene and its inhabitants (doing A Midsummer Night's Dream in Hawaiian shirts, muumuus, leis and flip flops) Leavitt also pokes some satiric jibes at Scientology. Cell phones on stage, oiled hunks causing their leading ladies to break out in hives, cheap props and cheesy costumes—they are all here. Leavitt has written too many heartfelt speeches and false endings in the final ten minutes and should do some judicious trimming. Until then sit back, relax, laugh, enjoy and hope that your 99-seat theatre experience is as much fun as it is for The $5 Shakespeare Company.


Theatre 68, 5112 Lankershim Blvd. in North Hollywood. Ends March 8. https://fivedollarshakespeare.eventbrite.com