Well, dear readers, there are days and there are days and yesterday was barely a day and here's why: I fell asleep around two in the morning and set the alarm for ten-thirty.  Check.  But, as has been happening more and more lately, the cell phone rang with a spam call at around eight.  Somehow, and I should figure it out, it rings on my iPad and when it does so it screws up the alarm, which then doesn't go off.  I heard it ring and fell back asleep and the next thing I knew is I woke up, thinking the alarm probably hadn't gone off and that it was most likely around noon, which wasn't going to make me happy.  But it wasn't around noon – it was four in the afternoon.  Fourteen hours I slept and in so doing missed almost the entire day.  I couldn't believe it.
I got up, got dressed, and caught up on a whole slew of e-mails.  Then I entered some fixes, had a brief visit with Grant Geissman and paid a bunch of bills, but not all – got to pay 'em all and hopefully I can do that today or tomorrow at the latest.  Then I caught up on other stuff, then went to Gelson's rather than go sit for an hour in a restaurant.  I got the ingredients for faux chicken stroganoff, came home, made it, ate it, and then spent the next four hours entering fixes, maybe 100 pages of 'em.
I listened to a lot of music whilst doing all that.  I took a couple of breaks, too.  And that was that.  And that is why section one of these here notes is so damn short – I missed an entire damn day.  Damn them, damn them all to HELL.
Today, I'll arise by eleven at the absolute latest, I'll enter fixes all the livelong day until I get food, then I'll mosey on over to the theater at seven for our put-in, just for blocking tonight.  I'll leave by nine, I hope, and then come home and enter more fixes.  I need to finish this batch because the next batch has arrived and that's yet another six hundred-plus pages to do.  I gotta tell you.  We've gotten more nice reviews for the show and here's a nice little quote sheet of them for your mental delectation.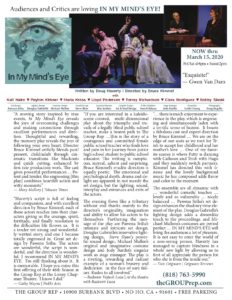 Tomorrow, I must settle on a piano player for the Kritzerland show.  Everyone has schedule problems and it's driving me crazy.  I gotta tell you.  Otherwise, it's entering fixes all day, and then maybe attending our show in the evening.  Oh, and wishing everyone a Happy Valentine's Day.  The weekend is all fixes all the time and definitely attending the Sunday matinee for our talk-back. Then the hope is that next week we can start designing the book – prior to that I have a ton of stuff to scan that we'll use to illustrate stuff in the book.  I also saw several cover ideas, one of which I quite like right off the bat.  So, I sent all those to Muse Margaret for her opinion.
Well, dear readers, I must take the day, I must do the things I do, I must, for example, be up by eleven at the latest, enter fixes, hopefully pick up packages, eat, enter more fixes, and then do a put-in, after which more fixes and relaxing.  Today's topic of discussion: What are the most hours of sleep you've ever gotten? Let's have loads of lovely postings, shall we, whilst I hit the road to dreamland, hoping there will be no more disappearing days for a while.