Well, dear readers, this crud simply doesn't want to let go, this crud wants to hang out and hang on to this crud I say enough already, get the HELL out, who needs ya, bub?  I tell you, I have had it with this crud and I don't care who knows it.  And this crud is deceptive.  You think it's done and then it comes back, like a bloody boomerang.  I gotta tell you.  But I was cheered up by seeing our second performance last night, every bit as good as our first, albeit with a smaller audience of about thirty-eight or so, which actually isn't bad for this theater on a Saturday night of opening weekend.  The show is running exactly the same run time at every performance, which is what I strive for.  And while our smaller audience wasn't too vocal, they really liked it a lot – lots of lovely comments after.
Prior to that, I slept eleven hours, but I must say I am now actively bored of sleeping that long, so that's going to stop.  In fact, after tonight's dose of Ny-Quil, I'll probably cut back on all that stuff.  Once up, I answered e-mails, had a lovely telephonic conversation, then went and picked up a package, stopped at Popeye's and got some chicken strips, mac-and-cheese, and cole slaw.  I came home and tried the mac-and-cheese, which was inedible and was tossed instantly in the trash, then I ate the chicken strips, and those were quite gross and rank, so only ate a few and tossed the rest.  The cole slaw was average.  The strips actually made me nauseous.  So, lesson learned and learned was the lesson, not necessarily in that order.
Then I relaxed, got an obnoxious text that I did not bother responding to, and then I entered more fixes for the new book, about eighty pages of 'em.  Then I got ready and moseyed on over to the theater.
It's so nice now to be able to just sit back and enjoy the actors and watch the whole thing AS a whole, with no taking of notes or getting irritated at this or that.  Everything is pretty seamless, which was my goal – cinematic – and the flow is really good.  I've also gotten lovely compliments on my incidental music.  I didn't really know anyone in the audience tonight, so after the show I just popped backstage to say good show, but I didn't catch Peyton, who ran out as soon as she was out of costume, and a couple of others were on their way out.  I never used to do that in my acting days.  I loved hanging out and talking to anyone who wanted to meet me.  But that was a different time, I suppose, and I suppose that was a different time.  Here's a photograph from my favorite scene in the play, where past and present intertwine in a beautiful way – it's my favorite staging in the show, and the actors do it all perfectly.  Left to right: Bobby Slaski, Kait Haire, Lloyd Pederson, and Peyton Kirkner.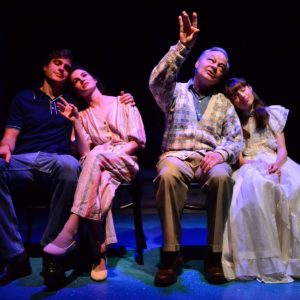 Today, I'll be up by eleven and to the theater by one-thirty for our two o'clock matinee.  I'm thinking maybe some of us will go out for a bite after, but I don't know that for certain.  Then I'll come home, relax, maybe watch something, listen to music, and enter more fixes.
Tomorrow, I have major catch up to do – planning the March 1 Kritzerland, entering fixes, finessing a couple of songs, sending script notes for the musical I'm working on, and hoping miracles come sooner than later.  The rest of the week is meetings and meals, going and doing and doing and going, getting more proofer fixes, and doing whatever needs doing.
Well, dear readers, I must take the day, I must do the things I do, I must, for example, be up by eleven, see our matinee, perhaps have a proper dinner afterwards, relax, enter fixes, maybe watch something, and listen to music.  Today's topic of discussion: It's free-for-all day, the day in which you dear readers get to make with the topics and we all get to post about them.  So, let's have loads of lovely topics and loads of lovely postings, shall we, whilst I hit the road to dreamland, hoping the deceptive crud takes its leave for good.