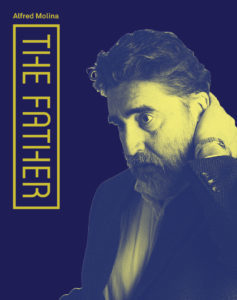 As life expectancy continues to grow, so does the concern for the wellbeing of our aging population. It's a subject that hits close to home for everyone—whether it is providing care for a parent or thinking about our own future as we reach retirement age and beyond. Anne, a daughter, is confronted with that situation in Florian Zeller's The Father, currently at the Pasadena Playhouse. Christopher Hampton has provided the English translation for this 90-minute intermission-less play by the French playwright. The power is in the words and emotions presented, no matter the language.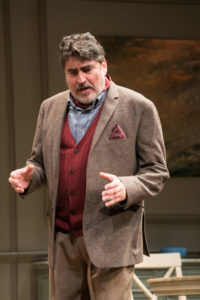 Alfred Molina (all photos by Jenny Graham)
Andre (Alfred Molina in a powerful and harrowing performance) is a retired engineer or was he a tap dancer or was he a magician? His career and his view of his life change from scene to scene. Did he just curse and threaten a caregiver (his third) with a curtain rod as his daughter Anne (Sue Cremin) says or has he even had a caregiver? Is he still living in his comfortable Parisian apartment or is he staying in a room with his daughter and her husband? Is his daughter still married and if not, who is this man who physically abuses him when she is out of the room? Is he being abused? Has his watch been stolen by one of the caretakers as he claims or has he just forgotten where he hid it for safekeeping?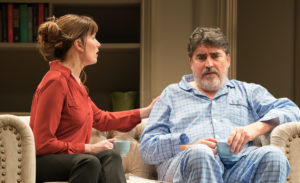 Sue Cremin and Alfred Molina
Zeller and Hampton have crafted a wonderful jigsaw puzzle of a play and director Jessica Kubansky has skillfully fitted all the intricate pieces together with superb craftsmanship. Her cast, headed by Molina and Cremin and including Robert Mammana, Michael Manuel, Lisa Renee Pits and Pia Shah delicately create the various permutations of their characters. David Meyer's subtly devolving scenic design aids immensely in creating the sense of distortion caused by memory loss. John Zalewski's brittle and archaic sound design punctuates the many scene changes, perfectly evokeing that dislocation between reality and memory. See The Father; you won't soon forget the experience.


Pasadena Playhouse, 39 S. El Molino Ave. in Pasadena. Ends March 1. www.pasadenaplayhouse.org