Well, dear readers, we had us a fun Annual Oscar Bash last night, even though the Oscar Bashes of old can never be topped simply because people have grown bored of the Oscars.  But you must remember, social media did not exist in our glory Oscar Bash days, when we'd have 2,000 posts and everyone attended.  Still, we did manage to have well over 400 postings, so that's not bad.  As to the show itself, of course I wasn't watching it, but I did see the opening number on YouTube and found it rather terrible.  But mostly it was as predicted, with not a humungous number of surprises.  I know the thinking was that 1917 would win best picture, but I never thought it would.  But it was a fun night around these here parts.
Prior to that, I got seven hours of sleep, got up, answered e-mails and did a few things, and then I shaved and showered and moseyed on over to the theater for our matinee.  It was a bigger house than I'd expected – about forty-three, which isn't bad for the first weekend and especially for an unknown play.  We're all hoping the word of mouth is excellent.  In any case, I was very pleased that we had three excellent performances for our opening weekend.  The show is playing really well, the running time of each act is the same for each show, we're done in less than two hours WITH the intermission, and the actors are fantastic.  Here are some more lovely color photographs from the play.  Here's Kait Haire and Bobby Slaki.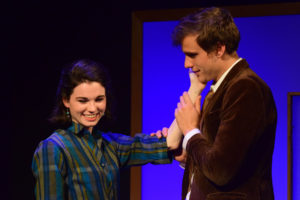 Here's Clara Rodriguez and Maria Kress.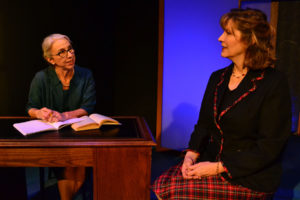 Here's Maria Kress, Peyton Kirkner, and Lloyd Pederson.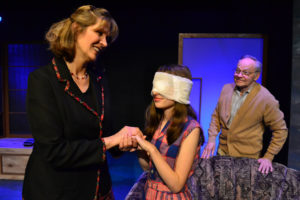 Here's Kait Haire and Peyton Kirkner as younger and older versions of the same character.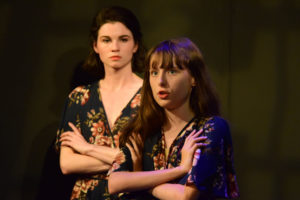 And here's Lloyd Pederson and Peyton.  Peyton (and Kait) plays a legally blind young girl with aspirations to become a teacher.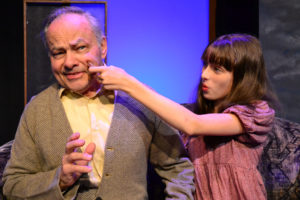 After the matinee, I went to Green Apple Bistro, where I've had several good meals.  I ordered orange chicken extra crispy and cashew chicken.  I think I'd avoided the latter and I should have avoided it again, as it was inedible.  I came home and the orange chicken was not only not extra crispy, it was not crispy at all – in fact, it was mushy and gross and after three bites I tossed all of it in the trash and went to the local pizza jernt and got three slices of pepperoni pizza.  I was told it would be a ten-minute wait, as they were jammed with idiots ordering for their Oscar partays.  Well, ten minutes turned into almost forty.  But the slices were very good.
After the Oscars, I entered another thirty pages of fixes whilst listening to music, an excellent composer named Heinrich Sutermeister.
Today, I can sleep in until eleven, then I'll do the usual morning things, I'll eat, hopefully pick up some packages, and then I'll enter fixes for at least 150 pages and more if I'm feeling up to it.  Then I'll relax and maybe even watch something if I'm in the mood and am not feeling too much doom, which is, of course, mood spelled backwards.  Doom begone, I say.
Tomorrow is more of the same and I have a lunch meeting, as well.  I'll finish my fixes and then I'll begin entering the next set of fixes and get those done, as I'll have the third set of fixes on Wednesday or Thursday.  We have a put-in rehearsal on Thursday.  I wasn't going to go, but I may end up going anyway.  Then we play our second weekend of shows.  I won't attend all of them – Sunday I'll be there for sure, as there's a talkback afterwards.
Well, dear readers, I must take the day, I must do the things I do, I must, for example, sleep in until eleven, do morning things, eat, hopefully pick up packages, enter fixes, relax, maybe watch something, listen to music, and try to have the mood be excellent and happy.  Today's topic of discussion: Favorite Oscar broadcasts of old – the good, the bad, and the ugly, but most memorable.  Let's have loads of lovely postings, shall we, whilst I hit the road to dreamland, happy to have had a fun Oscar Bash.