Well, dear readers, I had a most marvelous and cozy supper last night with Muse Margaret and her ever-lovin' Richard.  She made my favorite chicken breast things, along with rice, green beans, salad, and rolls and butter.  It was so nice to eat a proper home-cooked meal and have a proper visit with wonderful folks – it does a body good.  It was especially nice because I'd had such a crazy busy day, unexpectedly so.  There is nothing like a proper home-cooked meal.
I didn't get up until noon-thirty, after nine hours of sleep.  Once up, I wrote more commentary, had telephonic calls, got everything ready for our new release announcement (plus two surprises), and then around four Grant rang the doorbell and told me had a window of time to enter fixes.  That was great news, so I printed out the seven pages of them and went right over.  We spent the next two-and-a-half hours entering them, so that was a huge deal and I was thrilled to get that done.
I called Margaret and told her I'd be late, and then I came home, shaved quickly (I'd already showered) and hastily got myself over there.  The dinner you know about.
So, what is this new release and two surprises?  Well, I'll tell you just because I can.  The new release is one of the rarest in the Bagley series, and one of the most fun: DeSylva, Brown, & Henderson Revisited.  Great cast, nice charts, decent enough sound improved by us, of course.  The two surprises I've been sitting on for a couple of months.  When we moved into the new warehouse, we discovered several boxes of out-of-print material of varying quantities.  Two of them were cast albums that are very much in demand and going for huge money these days – Anya and Illya, Darling.  Obviously, stock on these is limited.  But it's nice to make what we found available at the normal price.  Here are all those covers.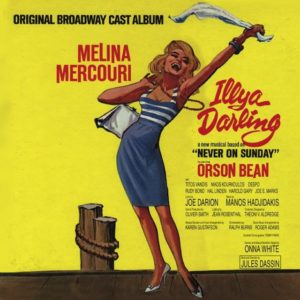 For Anya and Illya Darling you can use these direct links:
http://kritzerland.com/anya.htm
http://kritzerland.com/illya.htm
After the dinner, I came home and began carefully proofing all the lyrics in the book – the prose stuff had already been proofed by me and a couple of others repeatedly, so I'm not worried about that stuff, but the proofers have no way of knowing if I've mistyped something in the lyrics or, heaven forbid, even left out a line, so this is my time to do all that very carefully.  So far, I've found a few things I didn't catch before or that somehow got screwy when we put them in yesterday, but it's minor stuff and so far in the first 180 pages only about five things.  I'm hoping to finish proofing today and hoping we can enter the final fixes tomorrow and put this puppy to bed and get everything ready for the publisher by maybe the end of the week or the beginning of the following week.  Of course, he still has to add the photo sections.
Then I listened to some music, got everything live for our releases, and that was that.
Today, I'll be up no later than eleven, hopefully I'll have a LOT of orders, then I'll finish proofing, write commentary, eat, hopefully pick up some packages, then we have our first Kritzerland rehearsal, which goes to about six.  Then I can finish up whatever needs finishing and then relax.
Tomorrow, I'm hoping we can enter the final set of fixes, and then get the photos in and the covers finalized by the end of the week. The rest of the week is meetings and meals, our second Kritzerland rehearsal, resuming performances of the play, having our stumble-through, and then it's sound check and show on Sunday, then a busy week ahead.
Well, dear readers, I must take the day, I must do the things I do, I must, for example, be up no later than eleven, hopefully have a LOT of orders, finish proofing, write commentary, eat, hopefully pick up packages, have a rehearsal, and then relax.  Today's topic of discussion: What are your favorite films of Miss Audrey Hepburn and Mr. Peter O'Toole? Let's have loads of lovely postings, shall we, whilst I hit the road to dreamland, happy to have had a proper home-cooked meal.