(clockwise from left) Rachel Sorsa, Sharon Garrison, Bobbie Eakes and Dale Dickey (all photos by Karianne Flaathen)
"Well, what family doesn't have its ups and downs?" Queen Eleanor of Aquitaine famously opines after a particularly vicious family squabble in James Goldman's The Lion in Winter. I'm sure Ditty Blaylock, the matriarch in Del Shores' latest play This Side of Crazy would gladly exchange the trio of crown-hungry Plantagenet princes for her three ungrateful daughters every day of the week and twice on Sunday. Rachel, her oldest, lives with Mama. Ditty plays her own version of Russian Roulette (no bullets in the gun) while forced to listen to Rachel's noisy carnal relations with her husband Jude, who has been in a coma for nearly 25 years. (I guess not all bodily organs or functions enter a coma equally.) But on the plus side, Rachel is the only daughter still speaking to her mother. The youngest, Bethany, who fled the homestead nearly 25 years ago, is a professed atheist and a professional stripper. Oh, and there is a sexual orientation revelation she has yet to tell Mama. Middle daughter Abigail has been locked away in an institution for nearly 25 years as a result of Ditty's cover-up of Abigail's attempted murder of Jude. Not quite your typical hymn-singing Kentucky family.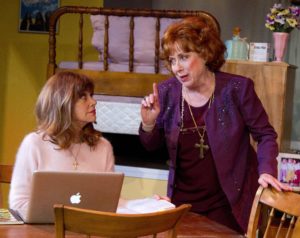 Bobbie Eakes and Sharon Garrison
Ditty is a prolific writer of gospel tunes, recorded by the likes of Sandi Patty and Shirley Caesar not to mention Dolly, Reba, Carrie and a host of other C&W stalwarts. She turned her three little girls into The Blaylock Sisters, Precious Little Superstars for Jesus. They were a mainstay on the gospel circuit until the events of nearly 25 years ago. Ditty's money and power got the truth covered up but the family was left irrevocably shattered as a result. But now the Gospel Music Network wants to honor Ditty and her 50-year career with a star-studded TV special. In a fit of foolish pride, Ditty has promised a reunion of The Blaylock Sisters. Now with just three weeks to go, she is reduced to bribing her offspring with $5000 each for them to reunite. She still has her work cut out for her. Always in need of cash, Bethany eagerly shows up with her unsigned check, in need of Mama's signature. Since she is Abigail's legal guardian, Ditty can easily arrange for her brief release from the mental hospital, armed with plenty of anti-anger pills. Her toughest task is convincing Rachel, who has never forgiven Abigail, to join in. She would rather work on her online videos for Good Christian Women.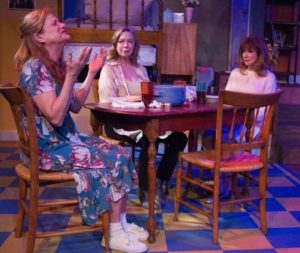 Dale Dickey, Rachel Sorsa and Bobbie Eakes
As usual with Shores' writing, he has you near tears laughing hysterically one moment and then trying to hold back the tears as he rips out your heart with gut-wrenchingly heartfelt deeply human moments. Forgiveness is often hard to bestow or to receive, especially when the anger and bitterness has festered for so long. In a truly cathartic dinner session moderated by Bethany, with Mama banished from the room, Rachel and Abigail finally achieve a state of peace and the show gets to go on.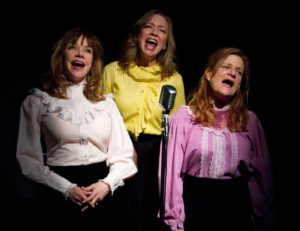 Bobbie Eakes, Rachel Sorsa and Dale Dickey
Shores skillfully directs his play, eliciting every emotional moment while making sure every laugh line delivers the laughs. His superb quartet of actresses is led by Sharon Garrison as the formidable Ditty. She is a Master Manipulator who knows how to push all the right buttons "because she installed them". Bobbie Eakes as Rachel forcefully goes toe to toe with Ditty, beautifully etching a character desperately trying to bravely smile through life no matter what it has thrown at her. Rachel Sorsa brings much humor and humanity to Bethany, a carefree spirit who has led a rough life and finds her calling as family peacemaker. Dale Dickey paints a harrowing portrait of a woman who has been shut away for decades, her edges dulled by drugs, but still festering with anger, regret and feelings of betrayal. Tom Buderwitz's scenic design artfully crams many playing areas onto the tiny Zephyr stage. This Side of Crazy is this side of brilliant. As the old ad line went—"you will laugh, you will cry" and you will go home grateful your family is not the Blaylock clan.


Zephyr Theatre, 7456 Melrose Ave in West Hollywood. Ends Mar. 8. www.delshores.com