Well, dear readers, I am sitting here like so much fish, listening to the fifth symphony of Peter Maxwell Davies, which is quite atonal and somehow I keep wishing I'd hear something of his in the style of his brilliant arrangements and orchestrations for the film of The Boy Friend.  But I'm listening to all his symphonies to see if I can get with them, even though you dear readers know I'm tonally tonal all the way.  Meanwhile, the cough lingers on as does the occasional shortness of breath and just feeling not quite up to snuff.  Also lingering on is my desire to eat everything in sight, but that's another story.
Yesterday turned out to be quite productive and busy.  I was up at eleven after seven hours of sleep.  Grant and I made a plan to lunch and then for me to give him the book and images so he could get it into his computer.  Then I scanned the rest of what I had to and got it all on a thumb drive.  Then I made an event page for the Kritzerland show and got that posted everywhere.  Hoping we can sell this one out, which would be great.
Then Grant arrived and we went to Barone's.  We both had pizza – his with sausage, mine with pepperoni.  I also had their small dinner salad.  We had fun, then came back and we got everything on his computer, but I knew he wouldn't get to it, which he didn't.  Hoping for today.  Then I came home and got a few more corrections from one of the proofers.  But before looking at them, I sat on my couch like so much fish.
Last night, I finished watching Ace in the Hole and what a powerful and nasty little film it is, and yet it has a few oddly touching moments.  The acting is absolutely superb from every player, from Kirk on down.  Wilder's direction is also superb.  And the score by Hugo Friedhofer is great.  All in all, a winner, but not a happy film.
Then I watched a motion picture on Blu-ray entitled Madigan, starring Richard Widmark, Henry Fonda, Harry Guardino, and just about every Universal character actor of that era, including Steve Ihnat, Don Stroud, Susan Clark, and on and on.  I've always been fond of the film and even owned a dye transfer 16mm scope print of it.  I love the Don Costa score, too.  The film doesn't really even have a plot – it's just episodic from start to finish.  Unfortunately, the transfer provided to Kino by Universal pretty much stinks.  Not much sharper than a DVD and with brown color and clearly taken from a fading internegative.  This should look like every other printed by Technicolor Universal film of the 1960s, but it does not.  The most amusing thing in the film is the utterance of the phrase, "sweet charity" – you might think it a coincidence but then later in the film there's a big ol' poster for the Broadway show – no coincidence, just Universal not being especially subtle that they were about to start filming that very property.  There are some really fun 1967 NYC location shots, and an equal number of shots on the Universal backlot that look nothing like a NYC street.  I'd forgotten that Madigan became a short-lived part of the Universal Mystery Movie program, starring Richard Widmark once again as Madigan, which is no mean feat if you know the film.  Anyway, I enjoyed seeing it again and I should mention the always-stunning Inger Stevens and the always-terrific James Whitmore.
After that, I listened to music and entered the last batch of fixes – minor stuff, but glad they were caught.  I sent that to Grant, since he hadn't downloaded the book file yet.
Today, I can sleep until eleven, then I'll do stuff, eat, hopefully pick up packages, do more stuff, and then relax and perhaps watch something.
Tomorrow, I have an eleven o'clock work session that should take an hour or so, then I have a lot of stuff to attend to, and then we have a put-in at seven.  Hoping that goes well.  Friday, I'll attend the performance, then the weekend is mine all mine, so I can get myself ready for the big and busy Kritzerland rehearsal week, our stumble-through, week four of performances, and then our show on Sunday evening, for which I have to buckle down, Winsocki and write commentary for, although I can probably use some of what I wrote from the previous Jerry Herman show we did.  We have a great cast for this one.  Here's the flyer.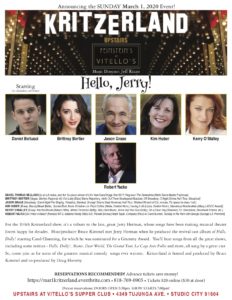 Well, dear readers, I must take the day, I must do the things I do, I must, for example, sleep until eleven, do stuff, eat, hopefully pick up packages, do more stuff, relax, and watch something.  Today's topic of discussion: It's Ask BK Day, the day in which you get to ask me or any dear reader any old question you like and we get to give any old answer we like.  So, let's have loads of lovely questions and loads of lovely answers, and loads of lovely postings, shall we, whilst I hit the road to dreamland, happy to be a tonally tonal kind of guy.