Well, dear readers, experiment three was mostly a rousing success.  A few evenings ago, I ordered from Katz's Deli online – pastrami, rye bread, kishka, mini-latkes, pickles – and it arrived yesterday with ice packs galore – free shipping.  I unpacked it carefully, read the instructions for heating the pastrami, which I had to let cool at room temperature for a while.  So, I decided to make the seven mini-latkes first – they're bite-sized and seven of them are probably like eating two regular-size latkes.  Those were simple – I heated up some oil in the frying pan, fried them for one minute, patted them down, and ate them all up, one after another, and I must say they were fantastic.  Here they were prior to being devoured.
About an hour later, I boiled some water and put the plastic bag in there, put it on low heat, and covered the pot for five minutes.  I then removed the plastic bag, cut it open and put the pound of pastrami on a plate, steaming hot.  Here is the living proof.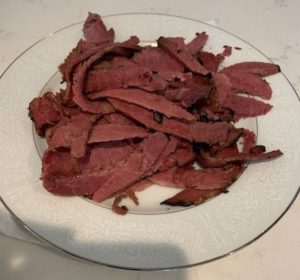 It smelled really good, but the test would be the taste, of course.  I slathered two pieces of rye bread with mustard (I only like French's on pastrami), and then put about four ounces of meat on the bread, closed it up, cut it in half and ate it – it was pretty great.  I'd ordered lean and lean it was, not an ounce of fat anywhere.  I then made a second sandwich with not quite as much meat and ate that all up.  I was filled to the brim.  Then Barry Pearl came by and I gave him the rest of the pastrami, some rye, and some pickles – I brought it to his car.  He and Cindy had their sandwiches and really liked them, too.  I don't think the pastrami, generally considered the best in the world, is up to the heights of Langer's, but it was really good.  I wasn't fond of the pickles – I'd gotten sour and half-sour – they had a weird taste.  I saved the kishka because I had no more room at the inn, tummy-wise.  So, that was a fun food adventure.
Other than that, it was another day.  I slept a bit over eight hours, got up, answered e-mails and did stuff on the computer, and as soon as I got the alert that the package had arrived I moseyed on over to the mail place and got it and thankfully the important envelope was there, too.  I stopped at the bank and used the ATM, then came home.  Then we had the dining adventure whilst listening to all manner of music.  I had some telephonic conversations and some e-mail volleys, too.  Then I finally sat on my couch like so much fish.
Last night, I watched a motion picture on Blu and Ray entitled They Live by Night, bought a couple of years ago and never even opened.  I like the movie a lot and it was fun to see it again, only my second time.  Farley Granger and Cathy O'Donnell are just wonderful, as are Howard da Silva and Jay C. Flippen.  The direction by Nicholas Ray is great, especially considering it was his first film.  I must admit to having a little crush on Ms. O'Donnell, who was also in my recently-viewed The Best Years of Our Lives.  Too bad she didn't have more of a career.  And she died way too young at forty-five.
After that, I listened to music, saw that I was down to my last four boxes of Sambucol, so went to Amazon to get another five and found that all third-party dealers are price gouging at over thirty bucks, which is more than double the retail price and way above the usual 9.98 I pay every single time.  I reported each of those third-party dealers.  Then I went to every other online store and none had it – gee, wonder where these third-party sellers got theirs.  They simply need to rot in hell.  I also saw I was getting low on Claritin-D, so I called my all-night Rite-Aid and they had it, so I drove over there.  I checked to see if they had my Sambucol and they did indeed have three boxes at the regular price, and I had some reward bucks, so I got those and I'm fine how for a few months.  I got my Claritin-D, then for fun looked at the completely empty paper goods shelves.  They did have some Campbell's chunky chicken noodle soup, but I wasn't in the mood to get anything else. I also checked eBay for Sambucol – cheapest box there with Buy It Now was sixteen bucks but with five additional bucks shipping.  No sir.  As soon as things are calm, Sambucol will be back to normal, but in the meantime, I hope Amazon kicks off every one of those third-party sellers.  I gotta tell you.
Today, I'll sleep in (why not), then I have some stuff to do here, including some cleaning up in the garage, I'll make something light to eat – perhaps a frozen dinner, or even eggs and toast or egg and cheese burritos.  Plenty to choose from or I could order takeout and have it delivered, oh, yes, I could order takeout and have it delivered.  I'm sure, I'll read, watch, and listen.
Tomorrow is more of the same, next week is more of the same and hopefully all this insanity will calm down a bit, that is if the fearmongers just keep their gaping maws shut for a couple of days.
Well, dear readers, I must take the day, I must do the things I do, I must, for example, sleep in (why not), do stuff here, make something light to eat, read, watch, and listen.  Today's topic of discussion: What are you doing with your days and evenings, how often do you leave the home environment and why, and what are you watching to amuse yourselves?  Let's have loads of lovely postings, shall we, whilst I hit the road to dreamland, happy that experiment three worked out mostly very well.