Well, dear readers, March is flying by, like a gazelle at a four-way stop sign.  We rung in March with Kritzerland 104 and it was one of our best shows.  While the stumble-through was actually perfect, last night's show did have a flub or two, but it was minor and handled with aplomb.  But the structure of the show worked perfectly (every Kritzerland is carefully structured, something we've done from the very first show – nothing is haphazard about our shows) and there were so many highlights.  Daniel Bellusci was his usual charming self and really did an incredible job with Put On Your Sunday Clothes/It Only Takes a Moment.  Brittney Bertier did great with her material.  Kim Huber was absolutely stellar, especially with her heartbreaking Time Heals Everything.  Kerry O'Malley kind of brought the house down with all three of her numbers.  Robert Yacko hit I Am What I Am so far out of the park – amazing.  And Jason Graae?  Hilarious with Tap Your Troubles Away, moving with I'll Be Here Tomorrow, and equally moving with Marianne.  And then there was our duet.  I wrote special lyrics at three in the morning on Thursday, sent it to him on Friday, we did it at the stumble-through to huge laughs without having run it a single time, not even a sing through with the pianist.  So, I insisted we not rehearse or run it again until we actually did it for the show.  Well, let's just say it landed perfectly, with HUGE laughs throughout – I'm told there may just be video evidence.  But every laugh line landed perfectly and there were a lot of them.  The patter also got very big laughs throughout, and I'm always appreciative of that.  So, a wonderful evening, filled with brilliant melody, intelligent and well-crafted lyrics and a fantastic full house of appreciative folks.
Prior to that, I happily got nine hours of sleep.  Once up, I just relaxed and rested my voice and listened to music.  Then I got ready – shaved and showered – after which I moseyed on over to Vitello's for sound check.  As I always do before the show, I had a small Caesar.  I gabbed with a lot of folks after the show.  The Shermans were with us, so that's always fun, Barry Pearl and his ever-lovin' Cindy, Peyton and her mom, former neighbors Tony and Bob, plus our own Amy and Mark, Howard Green from Disney brought a huge party of fourteen, and lots o' others.  Then the Yacko fellow and I went downstairs and had a proper meal.  I didn't know they had carbonara so I had that and it was excellent, I must say.  We yakked for an hour or so, then I stopped at a mini-market and got something sweet, came home, ate a little bit of the sweet (chocolate covered almonds and raisins) and that was that.  Here's our merry troupe.
And here's li'l ol' me, Richard Sherman, and Barry Pearl.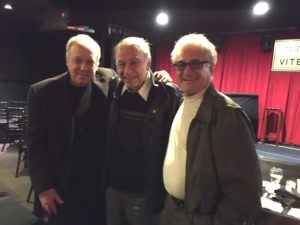 Today, I can sleep in, then I have to do some banking and then I think I can have a ME day and catch up on stuff.  But the big prayer is for Grant to finish the covers and get them to me, so that I can get it all to the publisher.  Send some excellent vibes and xylophones for that to happen, because if it doesn't it's going to be very difficult to get this done right.  I did get another blurb for the book from Richard M. Sherman.  And hopefully I'll pick up some packages at some point.
Tomorrow, I have a lunch meeting, and then I'm seeing some staged reading of a musical at Group Rep.  Since I'm not happy with some of the people involved, due to them messing with the equipment in the booth and causing our show needless problems, I'll put that aside and try to enjoy whatever the thing is.  The rest of the week is meetings and meals, hopefully getting everything to the publisher, and then we resume performances.  I know folks coming on Friday and Sunday, so I'll probably see those two shows.  I'm sure there are other things to do – well, I have to cast the April Kritzerland and get that going.
Well, dear readers, I must take the day, I must do the things I do, I must, for example, sleep in, bank, have at least a partial ME day, eat, hopefully pick up packages, pray that Grant finishes the covers and gets them to me, and then relax.  Today's topic of discussion: What movie and TV "reboots" do you think actually worked?  I'm not sure I've seen any that worked, actually.  Let's have loads of lovely postings, shall we, whilst I hit the road to dreamland, happy to have had a splendid Kritzerland at Vitello's 104.