Well, dear readers, I am happy to say that I am completely discombobulated, and my inner time clock is completely askew, completely.  Yes, I am currently channeling the Rodgers and Hart song, "I Didn't Know What Time It Was."  But that's not the exciting news.  No, the exciting news is that Simply – A Lifetime of Lyrics is up for pre-order at Kritzerland.  Here's what that page says:
Bruce Kimmel has had a long and varied career as an actor, director, writer, and Grammy-nominated record producer.  But whenever people have heard one of his songs, the invariable response is, "I had no idea you wrote songs."  And so, for his twentieth book and third book of non-fiction, Kimmel presents a book of his lyrics, lyrics written over five-and-a-half decades.
Kimmel began writing music and lyrics when he was fifteen.  Since then, he has written many musicals, has written songs for cable TV and films, including his 1970s cult movie musical smash, The First Nudie Musical, and is still the only person to have ever had a backer's audition for a show on national television, specifically his first original musical, Start at the Top, on The Merv Griffin Show.  This book's title, Simply, is the title of his MAC Award-winning song.  Many of his songs have been recorded, many of his shows have cast albums, and this book is filled with lyrics that are funny, touching, and clever.  They are lyrics that tell stories, and they are lyrics that are filled with craft and style.  But it's not only the lyrics, it's the stories behind the lyrics – how the songs were shaped, details about the shows and films, and explanations of how and why he writes in the way he does.
Culled from his shows, films, TV shows, and standalone songs, these lyrics are indeed a lifetime of lyrics and a lifetime in lyrics.
ADVANCE PRAISE FOR SIMPLY
If you ever heard a lyric you loved … or a lyric you heard made you think of someone you'd loved … or you'd love to write something that no song has ever said in quite that way before … then Simply is required reading. Both an endearing memoir and insightful songwriting guidebook, Simply is also an invaluable compendium of eminently readable verses, written by the kind of lyricist who still believes that meter really matters, and that rhyming hunch and scrunch can be a two-fisted payoff punch. Some believe the classic American pop lyric has found its final sanctuary in Nashville, but Simply demonstrates that our native craft still flourishes at the Salon de Kimmel in the City of Angels. Simply: A Lifetime of Lyrics is the artful romance of Bruce Kimmel's affair with songwriting, a love he's sustained for simply a lifetime.
Rupert Holmes
Tony and Edgar award-winning playwright and author
Bruce's lyrics abound with wit, style, originality, and perspicacity.  They shine throughout this gossamer collection.
Richard M. Sherman of the Sherman Brothers.
So, simply go to www.kritzerland.com to read more about it and to order.  Now, I'm not really advertising this, but the first fifty orders will receive a copy with a signed musical quote on the title page.  All other copies will only be signed sans musical quote.
Yesterday was a bit discombobulated.  I only got about six hours of sleep due to the time change, and then I had to shave and shower and mosey on over to the Dale of Glen for the paperback show.  I was interested to see if the hysteria and panic had affected the show and indeed it had – only about a third of the folks usually there, with several dealers and authors cancelling.  But I was there, bright-eyed and bushy-tailed.  Robert Yacko stopped by so that was nice, and so did Adryan Russ and her ever-lovin' Dale.  Most of the time, I was seated next to author Peter S. Beagle, he of The Last Unicorn.  After I was done, I perused the room and some dealers, didn't make any purchases, and then went on my merry way. Here is photographic proof of my being there.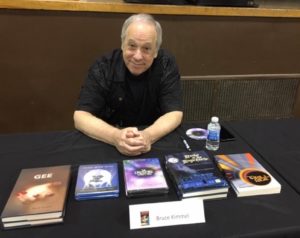 Then I went directly to the theater and saw our matinee.  Terrific audience and an excellent performance.  After, Kay Cole, her friend, Doug, and I went to the nearby Chinese jernt and had a feast.  I'm still full from it and feel like vomiting on the ground, but boy was the food good.  The conversation was sparkling and a good time was had by all.  Then I came right home.
Once home, I had a lot of e-mails to answer, and so I did.  I listened to some music whilst doing so, then did some work at the computer.  Then I sat on my couch like so much fish.
Last night, I began watching the weird Robert Altman film, Countdown, starring James Caan and Robert Duvall – I believe it was Altman's first film, but maybe I'm wrong about that.  It's not very good, but interestingly it's from a book by the same guy who wrote The Crowded Sky.  But you can see Altman already in love with his trademark overlapping dialogue, which, at least in this film, is very distracting.  Not sure if I'll finish this one.
Then it was more music, whilst Doug got the Simply page done and live and I did the eBlast for it.
Today, I can and will sleep in, then I have to do the Kritzerland show stuff, which will probably take most of the day. I'll eat, hopefully pick up some packages and an important envelope (no response to the e-mail I sent), and then at some point I can relax.
The rest of the week is book stuff and hopefully approving galley and cover proofs so that the book can then go to the printers and I can get sample copies and then order the books.
Well, dear readers, I must take the day, I must do the things I do, I must, for example, sleep in, do Kritzerland show stuff, eat, hopefully pick up packages and an important envelope, and relax.  Today's topic of discussion: What are your favorite films of Robert Altman and James Caan and Robert Duvall? Let's have loads of lovely postings, shall we, whilst I hit the road to dreamland, happy that Simply is live.