Well, dear readers, what do you get when you have a perfect screenplay, perfect direction, a perfect cast, a brilliant cameraman, and one of the greatest film scores ever written?  Well, I can tell you in just six easy to assimilate words: The Best Years of Our Lives.  I decided to watch it last night and it was three hours of unbelievable brilliance and, most importantly, simplicity.  Like It's a Wonderful Life, it is a film I cannot watch more than one minute of without a lump in my throat.  I cannot imagine anyone with a heart not being a bucket of tears at several points in the film.  It surely is one of the ten greatest films ever made, a film so filled with real characters, real emotion, real heart, with no manipulation whatsoever, and such real goodness, that it takes the breath away.  There isn't a single moment that doesn't work perfectly, and several of its sequences are amongst my favorites ever put on film.  The entire opening "homecoming" sequence is about as good as it gets, a perfect amalgam of introductory storytelling, dialogue, performances, camera, direction, and Hugo Friedhofer's score, for me the finest film score ever written.  Beyond that long opening sequence, the scene where Homer, played so beautifully by Harold Russell, who, in real life, had lost both of his hands, takes his girlfriend up to his room and shows her how it is to deal with him at night.  It's one of the most tender and beautiful scenes in all of cinema.  Then there's the scene where Dana Andrews goes to the airplane graveyard – THAT scene is one of the greatest examples of the power of music in film ever, a textbook on what film music is supposed to be and so clearly isn't anymore.  I can't even imagine how that same scene would be scored today – what a droning cello and some ambient noise?  Without a word being uttered and through a series of shots that, on their own, would not carry much power, are transformed by Friedhofer's music telling you what the character is feeling – music as subtext.  It's phenomenal.  And finally, the wedding scene at the end and the film's closing dialogue.  If, for some crazy reason, you've never seen The Best Years of Our Lives, it's high time you did.  And that, dear readers, is what we call a rave.
Yesterday was another day with endless doom and gloom panic and hysteria from the usual suspects, who seem to want to cause panic and hysteria.  I got seven-and-a-half hours of sleep, got up, answered e-mails, and found out the we won a Robby Award for our Kritzerland show saluting Michel Legrand, which really was an excellent show.  I was quite sure we'd lose, but we won and that was nice and the second time we've won a Robby when there was no ceremony.  I stayed put and never actually left the house.
I rustled up some Wacky Noodles – using what was left of the penne and some leftover bow ties – about six or seven ounces in all.  I ate that all up and it was excellent and VERY filling.  Here are the before and after photos – nude pasta and the finished product.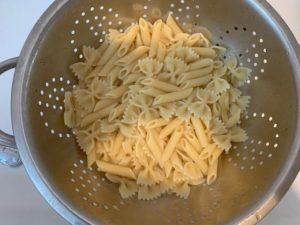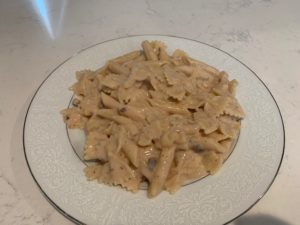 After that, I did some work on the computer and at the piano and then I finally sat on my couch like so much fish.
Last night, I watched a motion picture on Blu and Ray entitled The Glass Key.  I must've seen it before, but I remembered not a thing about it.  It's very enjoyable but somehow not great.  Alan Ladd is fun, Veronica Lake I adore, and Brian Donlevy is great.  The plot is interesting, and I enjoyed it.  Then I hunkered down and watched The Best Years of Our Lives, which I've already written about.
Today, I'll sleep in (what else is new), then do whatever needs doing around the house, including cleaning up and moving some stuff to the garage.  I'm thinking I might get take-out from somewhere – maybe Jerry's Deli – sandwich stuff.  Or maybe something from a fast food jernt, but not Subway or anywhere where the food is actually exposed.  Still hoping for a galley and cover proofs – may today be the day.  Then I'm sure I'll do a little reading, a little listening, and a little watching.
Tomorrow will be an interesting day, experiment-wise, which I'll tell you about after I find out if they've worked.  Otherwise, just sticking around here, doing a mail place run, and that's about it.
Well, dear readers, I must take the day, I must do the things I do, I must, for example, sleep in (what else is new), I must do whatever needs doing, I must eat, I must hopefully pick up packages, I must read, watch, and listen, and then relax.  Today's topic of discussion: It's Ask BK Day, the day in which you get to ask me or any dear reader any old question you like and we get to give any old answer we like.  So, let's have loads of lovely questions and loads of lovely answers and loads of lovely postings, shall we, whilst I hit the road to dreamland, happy to have seen the better side of humanity in The Best Years of Our Lives.