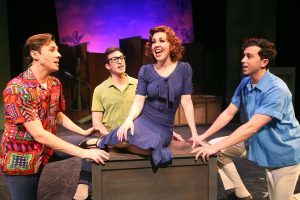 Grant Hodges, Michael D'Elia, Kelley Dorney and Max DeLoach
The Andrews Sisters–Patty, Maxene and Laverne—were known for their tight harmonies and are considered the most popular female vocal group of the first half of the 20th century. Even though they were already famous before World War II, most people associate them with songs of that era, starting with "Boogie Woogie Bugle Boy" in 1941. Playwright Roger Bean is well known for turning golden oldies into entertaining jukebox musicals. His biggest hit was The Marvelous Wonderettes in 2001. That show spawned several sequels and Bean also created Life Could Be a Dream, Honky Tonk Laundry and others. He took on the boogie woogie and swing rhythms of the sisters when he created The Andrews Brothers which is currently on stage at International City Theatre.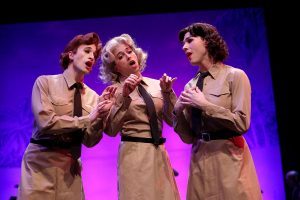 Michael D'Elia, Max DeLoach, Grant Hodges
The plot is minimal as in most Bean shows. Three brothers—Patrick (Max DeLoach), Max (Grant Hodges) and Lawrence (Michael D'Elia)—are 4-F and serving as stage crew and backup singers for USO shows on a Pacific island in 1945. Their idols—The Andrews Sisters themselves as well as pin up girl Peggy Jones (Kelley Dorney)–are set to appear before the troops ship out in the morning. Unfortunately illness grounds the female trio and the show faces cancellation. But the boys know all the lyrics, all the moves. With some helpful encouragement and makeup tips from Peggy, the boys are soon in drag and the show goes on.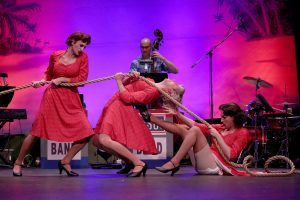 Michael D'Elia, Max DeLoach, Grant Hodges
Jamie Torcellini deftly directs the comic mayhem that ensues. The male trio easily match the tight harmonies of the original sister act and it is a lovely stroll down a musical memory lane with such beloved standards as "Bei Mir Bist Du Schon," "Rum & Coca Cola," "Don't Sit Under the Apple Tree" and 20 or more songs. Music director/pianist Brent Crayon leads a four-piece on-stage band through the swinging score.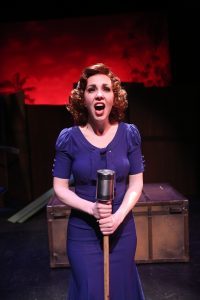 Kelley Dorney
Kelley Dorney proves to be a true triple threat and stellar leading lady material. Her singing is sublime, her dancing on point and her comic timing is perfection. She is the super glue that holds this gossamer thin musical together and gives it that extra sparkle and pizzazz.


International City Theatre, 330 E. Seaside Way in Long Beach. Ends March 8. www.internationalcitytheatre.org