Well, dear readers, we played our final show yesterday and I must say it was terrific.  We had a larger audience than Friday and Saturday, so that was fun – about thirty people, all spread out.  Doug had personally, using his own wipes, wiped down every exposed surface in the theater, including every arm rest.  The box-office, concessions, and usher were all gloved.  It was a very receptive audience – some of the biggest laughs we've gotten (it's a drama but has some comic elements, which I, of course, made sure were brought out, as it helps the dramatic moments and keeps the play from being turgid), several of the scenes got applause (a first, at least for the performances I've seen), and it was nice to go out with that kind of show.  I'm very proud of this production and especially the cast.  I've been directing theater, film, and TV for fifty years now and have worked with amazing actors, including stars, as well as some true legends that I've had in the recording studio for albums, but I've never had a cast like this, that has been so on the same page, so consistent, and so excellent, right from rehearsal one.  They adapted beautifully to the way I like to do things, and they brought so much beautiful work to the table that it made my job super easy – just blocking, occasional comic bits of business, editing and guiding, and stuff like that.  And they were all playing the same play, which is not as easy as it sounds.  And all of that without one instance of drama or handwringing.  Everyone was willing to try things, make suggestions and as I said at our first rehearsal, I wanted to make magic of the play, and avoid anything that would veer the play into maudlin or overdone territory.  I wanted everything subtle.  And they delivered all that and more.  I think I was able to find ways in clarifying things that might be confusing to audiences, and that was really the fun part.  Doug had a device in the play – there are young (Peyton Kirkner) and older versions (Kait Haire) of the same character.  In the script, sometimes the young plays a scene as the older and vice versa and reading it or even hearing it out loud or watching it staged as written I found very confusing.
So, I took a leaf from when I read the play for the first time, and in that script you can see the note I made on the last page.  As written, the older version of the character has been listening to cassettes she'd made when she was young – and the end of the play is her finishing listening, which brings us completely to the present, and then she records anew the final speech of the play.  And even though it wasn't written, I thought it would be beautiful if both actors were there, sitting at the same time, getting in position in the window seat in exactly the same way, and, after the final line, they look at each other, young and older, always together.  When it came to doing the scenes where one plays the other (Doug's idea is that when she feels like a kid the kid plays the scene, and vice versa), I tried several things and didn't love any of them.  But when I got to the end of act one, which is a very dramatic scene between the mom and the young version of the daughter, who's played by the older actress for that, I brought on Peyton at the end of the act to mirror her older self.  I thought it worked so well, that I then used the mirroring for each of those scenes and it really helped clarify those moments, and the costume designer had identical clothing for those mirroring scenes.  Here's an example.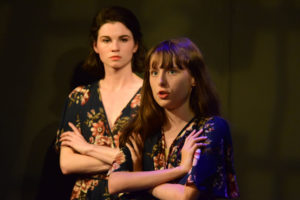 Anyway, it could not have turned out better, and the set, lighting, costumes, props, all of it was exemplary – everyone brought their "A" game with them.  It was a tough sell – very hard to get people out when they don't know the play – but we had decent-sized houses and great audiences right to the end, when we had really small houses because of the madness going on.  Here's the cast taking their curtain call group bow.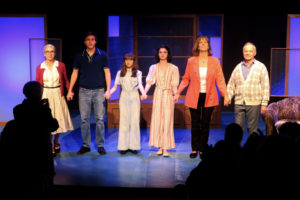 I also really had fun writing the incidental music.  I wrote the main theme right after the living room reading we did last summer or whenever it was.  Here it is.
And then a variation of that theme for all the romantic scenes.  Here that is.
There were varying lengths, a couple of tracks with solo guitar, and other cues.
After the show, I met the Pearls at the Smoke House.  They'd opted out of seeing the show – too nervous.  There were very few folks at the restaurant, which was fine, and the staff were all gloved.  Cindy and I had the fish and chips, which were glorious, as always, and I had three pieces of garlic cheese bread.  Barry had the beef stroganoff.  The conversation was fun.  After that, I came right home.
I answered e-mails, did stuff on the computer, listened to music and that was that.
Today, I can sleep in and will, the musical theater workshop has been cancelled – we're keeping the following week's open and we'll see where we're at, although I'm not sure we'll be anywhere else, with everyone continuing to feed the beasts known as paranoia, fear, panic, and hysteria.  I'll hopefully pick up some packages, I'll probably make some pasta – thinking Wacky Noodles again, since I can't get any chicken or tuna for tuna pasta salad, or I could do red sauce with onions.  We shall see.  Then it's just staying home – I'll get some reading done, but I've cancelled the April Kritzerland and hope this madness has abated by the May show – I firmly believe it can and will if we can just stop feeding those beasts and let the people who know what they're doing do their jobs.  I'll probably watch a movie in the evening.
The rest of the week is, I expect, just hanging around the house.  I'm still hoping that I'll get and approve the galley and cover proofs – most of that work comes from the Philippines and I don't think they've quite been hit with this thing yet.
Oh, and a very happy birthday to our very own Peyton Kirkner, and my very own Darling Daughter.
Well, dear readers, I must take the day, I must do the things I do, I must, for example, sleep in, hopefully pick up some packages, make food, hunker down and read, listen, and perhaps watch.  Today's topic of discussion: What will you be doing during this crazy panic and hysteria time and being locked down or whatever they're calling it these days?  Let's have loads of lovely postings, shall we, whilst I hit the road to dreamland, happy to have had a wonderful final performance.