Well, dear readers, I'm hoping that the hoarding and shopping madness has abated, oh, yes, I'm hoping that the hoarding and shopping madness has abated – that is, save for the two enigmas in all this – toilet paper and paper towels.  I think we know that a lot of the reason is mini-mart store owners buying out the big box stores so they can jack up the prices even more than they usually do.  As soon as the stores started seeing that happen, they should have automatically made it two per customer.  But they didn't.  Until recently, although there's a lovely video going around showing a real piece of merde, Trump-supporting idiot (I mention that only because said idiot mentioned it when being filmed), who literally bought out a dollar store of toilet paper, napkins, and paper towels – bought out the store, loaded it on a TRUCK.  Hmmm.  When queried why that was allowed to happen, Dollar Tree corporate said there WAS a limit of two per customer, but this store apparently thought it was okay to ignore that and give this piece of trash everything.  But last night around six, I moseyed on over to Gelson's to see if the parking lot was like the previous night at that time – half empty.  It was.  I found a space right near the front of the store, one of many.  I was quite surprised on entering to find very few shoppers.  I began by going to the meat counter and was again surprised to find a full supply of meat and chicken.  I took a quick photograph.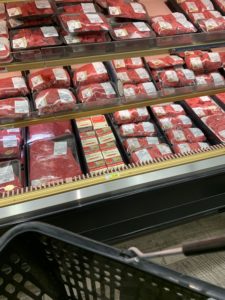 I was going to get some chicken but didn't like the way any of it looked, really, so I passed.  I could see the dairy counter was pretty empty but what there was zero of was surprising to me – cottage cheese, sour cream (why?), and butter.  They did have one brand of butter, a four-pack, but it wasn't a brand I know so I passed.  They did have milk products and whipped cream.  And some whipped butter, too, but again not the brand I like.
I then headed to the canned goods – it wasn't completely stocked, but I was able to get the tuna I like – two cans – which is the limit, which is smart, and noted they had quite a good selection of soups – but I wasn't there for soups and I was not about to go to that land of buying to buy.  I went to the pastas – that was pretty much picked clean, although they did have some linguini and spaghetti (I believe they limit that to two, as well), I got some farfalle, two boxes, so I am down with pasta for the next three weeks.  I got a red and regular onion.  And some instant microwave Uncle Ben's white rice (two packages).  That was it – I hadn't been able to get those things in either of my online orders.  Oh, and I got two frozen Lean Cuisine pizza bread things, which I really like.  There was an open checkout stand – cashier just waiting for a customer – I did that, and I was in and out of the store in exactly ten minutes.  So, that's why I think the shopping madness has abated, at least for now.  Happily, I don't have to worry at all about toilet paper, and while I'm down to my last four rolls of paper towels, two of them are double rolls, so that will last me at least eight weeks if not more.
Yesterday happened, I think that much I know.  I wasn't able to fall asleep until around five-thirty, so I slept until one – not quite eight hours and I wish I'd have gotten up a half-hour earlier, actually.  My food order from a nearby Mexican jernt was slated to arrive between two and two thirty – one beef taco, two cheese enchiladas.  I was hoping for two-thirty, but the doorbell rang precisely at two and there it was.  It was very good – not quite hot enough, but still warm.  I'm wondering if Casa Vega delivers (it's so close I could pick up if need be).  I read that the Woody Allen book had found a new publisher and that while the hardcover wouldn't ship for another few days, the eBook was available and I had a ten-dollar discount code, so it only cast three bucks and I grabbed it.  I spent most of the afternoon reading it on my Kindle for Mac APP and am enjoying it thus far.  There are a few things in it that will make you feel you're reading the first Kritzer book, but I suppose there are a few of us Jews who, as young boys, went through similar experiences.
I took a few breaks to do other stuff, had a moment of anxiety from being in the house so much and that's when I did the Gelson thing.  Then I sat on my couch for a bit, got some movies from the garage so I have stuff to watch for the rest o' the week, then read more Woody.  At some point, I made a batch of the tuna pasta salad, which will feed me well for today and tomorrow.  Looking forward to that very much.  Then I listened to music.
Today, yeah, what else is new?  Once up, I'll do whatever needs doing, I'll see if there's any mail to pick up (I'm trying to only go three times a week), I'll eat some tuna pasta salad, I'll read more Woody, I'll probably watch a movie, and do a few things on the computer.
The rest of the week?  Can't see much that will be different and am hoping this whole thing dissipates and ends sooner than anyone thinks it will.
Well, dear readers, I must take the day, I must do the things I do, I must, for example, do whatever needs doing, see if there are any packages or mail to get, eat, read, listen, and watch.  Today's topic of discussion: How have your shopping adventures gone and what are you still having trouble finding – we know about the toilet paper and towels.  Let's have loads of lovely postings, shall we, whilst I hit the road to dreamland, happy and hopeful that the shopping madness is abating somewhat.