Well, dear readers, my brain is fried right now – not broiled, not baked, not sautéed – no, my brain is fried and I just found myself standing in the middle of the floor, not going left, not going right – what am I, Stephen Sondheim all of a sudden.  The reason for the fried brain is simple: For the past two hours I have been writing commentary, which can be both fun and grueling and it was both.  But I got over half done, and I'll probably mush on after I post these here notes and take a brief break.  I'm currently listening to music, which does relax my fried brain – My Fried Brain – that's the title of my next novel.  I found on the Tube of You two great Nelson Riddle albums from around 1970 that he did for the great MPS label, who had as regulars folks like Oscar Peterson, George Shearing, Bill Evans, and Claus Ogerman – it was the latter who recommended that Riddle do an album for MPS.  I love Riddle's stereo albums for Capitol – they're just so much fun and have such great arrangements and that incredible Capitol stereo sound. While the MPS sound is quite different in nature, it is every bit as good – it's so clean and airy and crisp.  And these two Riddle albums are incredible.  I think he also did one for MPS with Oscar Peterson that I already own.  In other news, in addition to fried brain I have tired back and I wish I knew someone who could do a back rub, but I guess we can't do that at this time.  So, in paragraph one we have already ascertained the fried brain and tired back, along with solving the riddle, Nelson-wise.
Yesterday was a bit of a day.  It was suddenly summer here in the Oaks of Sherman – I think it must have been ninety-five degrees.  I slept ten hours, not arising until two, which was much later than I wanted, but I didn't get to sleep until a little after four and I was very tired.  Once up, I got myself together (no mean feat), answered e-mails, had a telephonic call, and then went to the mail place, which was once again way too crowded with people returning their Amazon packages.  I just don't understand this returning Amazon packages mania – the UPS Store makes not a cent for it and those of us who pay to have their mailboxes there are forced to wait in a long line to get whatever packages they have, which stinks.  As I stood in line, happily one of the employees saw me and came right over, got my slip, and got me my package.  Then I came directly home.  Once home, I did some work at the piano, then on the computer. And all throughout the day tracks were arriving and I got those to the singers.  Then the grocery order arrived from Ralph's via Instacart.  He had to get substitutes for about seven of the fifteen items I ordered, most of which were fine and a couple I could have lived without, like some organic English muffin things rather than the usual Thomas English muffins I get – apparently there's now a run on Thomas English muffins.  I just scratch my head at the stupidity of it all. I guess people are still hoarding and cleaning the shelves – this doesn't happen so much at Gelson's because their prices are higher, so no more Ralph's until this is all over.  I actually learned something about hoarders yesterday – they're a "thing" called "preppers," those who are preparing for the end of the world and hoard everything they can find in their underground bunkers.  I may have a fried brain, dear readers, but these people have fried sanity.
Then I made myself two scrambled eggs, cheese, and onion burrito things – very low in calories for the two, around five hundred, if that.  Then I sat on my couch like so much fish.
Last night, I watched the final movie in the Winnetou trilogy.  I'm not sure how the subsequent films deal with the events that happen at the end of Winnetou 3 and I'm not sure I'll ever find out, although a couple of them are on the Tube of You.  Anyway, of the three, I liked this one best.  The pace is faster, it's not quite so wacky, and the story is a bit more compelling.  The colors are again really vivid.  So, glad I've seen them.  Then I watched the first twenty minutes of Stanley Kubrick's film of Lolita, a movie I truly love.  I haven't seen it since it came out on Blu and Ray back in 2011.  Back then, everyone raved about the transfer, but I think it could be much better if it were done from the camera negative now with all the new technology.  I'm not sure we've ever had a transfer off the original negative.
Then I wrote a little over half the commentary, as you know, had a few little low-calorie sweets for my snack and one of the English muffins, which were just a little bit weird, but I slathered my new jar of cherry preserves on them so it wasn't too bad.  So, finally, a reasonable calorie day.  Then I relaxed and listened to Nelson Riddle.
Today, I'm going to actually and try to be up no later than eleven.  If I haven't finished the commentary, I'll do so then, then do other stuff, and then hopefully pick up some packages and mail (I know one package that's supposed to arrive today and hopefully it will), I'll eat stuff that doesn't add up to more than 1200 calories, I'll finesse the commentary, I'll keep getting tracks to singers, and then I'll watch and listen at some point.  Here's the flyer for our show.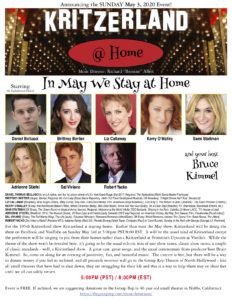 Tomorrow and Sunday will be rehearsing via Skype and/or Zoom and doing whatever else needs doing, and hopefully by Wednesday we'll be in very good shape so we can then work on all the technical stuff, which is very complex, as you might imagine. And then on Sunday we do our show.
Well, dear readers, I must take the day, I must do the things I do, I must, for example, try to be up no later than eleven, finish the commentary if I haven't already, do other stuff, hopefully pick up packages, eat no more than 1200 calories, finesse commentary, send tracks, watch, listen, and relax.  Today's topic of discussion: It's Friday – what is currently in your CD player and your DVD/Blu and Ray player?  I'll start – CD, an album of piano concertos on Melodiya.  Blu-ray, Lolita, then the Adrian Lyne version, then other stuff.  Your turn.  Let's have loads of lovely postings, shall we, whilst I hit the road to dreamland, happy to have written the notes to the albums of Nelson Riddle as well as having a fried brain and tired back.