Well, dear readers, my name is BK and I'm a pizzaholic.  Yes, you heard it here, dear reader, I, BK, am a pizzaholic.  And yesterday, I fell off the wagon or did I fall on the wagon – well, I either fell off or on the wagon because I ordered a medium pizza from Pizza Wagon of Brooklyn, my favorite of all the local pizza jernts.  And when I fall on or off the wagon I fall hard and over the course of the day and evening I do believe I ate the whole damn thing, all eight slices. Now, the good news is the crust is pretty thin and they aren't really huge slices.  I haven't eaten an entire pizza in years, save for the two Red Baron frozen things and they aren't really that big.  Anyway, the pizza was great and kept me full all the livelong day and then all the livelong evening.  And tomorrow, I'll be on the wagon again, if that means I won't do this again for quite some time.
Yesterday was an all right day.  I got almost eight hours of sleep, got up, approved a couple of tracks, did some work on the computer and answered and sent e-mails.  Then the pizza arrived, and I devoured four slices of it.  After that, we had to make some fixes on another track.  I then continued to write commentary until I finished it.  I'm sure I'll be futzing and finessing.  Some of it I'd like to cut down, but the information is necessary for this particular show.  And what IS this particular show?  Well, we cannot reveal that at this time, oh, no, we cannot reveal that at this time.  But I suppose I can reveal the cast, so check out our flyer.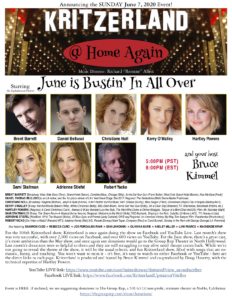 Isn't that a perfectly marvelous cast?  I know one person in the cast will make one particular dear reader VERY happy and he won't even have to leave town to see said cast member.  After that, I was feeling lethargic, so I sat on my couch like so much lethargic fish.
Yesterday, I watched a motion picture on Blu and Ray titled A New Leaf, Elaine May's first directorial effort – she also wrote and starred alongside Mr. Walter Matthau.  I've only seen this once before, back in 2011 on a homegrown open matte DVD.  So, it's nice to have it in its proper screen ratio and in a decent enough transfer.  The film ambles along amiably, has some truly laugh out loud hilarious moments, and Miss May is just a wonderful comic actress.  Matthau is great.  I will admit that I have never found James Coco either appealing or funny, so he was a bust for me, but Jack Weston was great.  In Elaine May's ten-month editing spree, during which she refused to show the film to Paramount, her cut was running three hours.  Robert Evans took the film away from her and cut it down to about 100 minutes, removing an entire lengthy subplot.  At three hours, however, it would have been unbearable and unreleasable.  It's worth seeing, certainly, especially for Elaine May's performance and the bit with the Greek nightgown.
Then I let the motor car run, since I didn't feel like taking a drive – sometimes I do, sometimes I don't.  Whilst that was happening, I ate two more slices of pizza.  Then I watched another motion picture on Blu-ray, this one called Three Days of the Condor, starring Mr. Robert Redford, Miss Faye Dunaway, Max von Sydow, Cliff Robertson, and Mr. John Houseman.  I always enjoy watching the film – this was probably my fifth or sixth time.  It's very much of its time and that's fine by me.  The actors are all excellent, the photography is great, the Dave Grusin score is great, and director Sydney Pollack does a fine job.  The last ten minutes are a bit of a letdown – they were then, they are now – but it's just a good old-fashioned 70s paranoid thriller.
After that, I ate the final two slices of pizza.  Then I listened to music and relaxed as much as I could, given that I had an entire pizza in my tummy.
Today, I'll hopefully approve the remaining tracks and then all the singers will have them, and we'll be ahead of the game by an entire week.  At one, I have Zoom rehearsal number one, with a trio of young lady singers (all teens), and then at two we have Zoom rehearsal two, which involves seven people.  Basically, these are to just run through each song, and the musical director and Hartley Powers will be there, and we'll explain to everyone exactly how this has to be recorded, as it's a bit complicated.  I'll work on the performances a bit.  Then all the folks who weren't with us last month, will do a little test so I can hear the quality of their set-up and make any adjustments I need to.  Then, next week they'll all record these two songs as we'll need several days to mix them audio-wise and another few days to get all the audio in synch with the video.
After that, I'll hopefully pick up some packages and mail, I'll eat something VERY light, and then I'll watch, listen, and relax.
The weekend will be more of the same.  If I get the commentary finessed that will be good, and I have other stuff that needs doing, as well.  Then next week we'll get the audio and video for the two group numbers and work on that.  I'm really hopeful the hardcovers will arrive so we can get them shipped out.  I'm pretty certain they are now past their due date, which was seven to ten days.  I asked my gal at the publishers to please check on them.
Well, dear readers, I must take the day, I must do the things I do, I must, for example, approve tracks, have two back-to-back Zoom rehearsals, I'll eat, I'll hopefully pick up packages, and then I'll watch, listen, and relax.  Today's topic of discussion: What are your favorite films of Mr. Walter Matthau and Mr. Robert Redford?  Let's have loads of lovely postings, shall we, whilst I hit the road to dreamland, perfectly okay with having fallen off the pizza wagon.