Well, dear readers, we had us a real comedy of errors last night, so why don't we start with that?  Yes, why don't we start with the real comedy of errors of last night, just to get it out of the way?  So, I'd had a reasonable food day and was craving a sweet.  What did I do?  I went to DoorDash and ordered two slices of cheesecake, one for last night, one for today.  I'd been thinking about doing that for some time and I just did it – one white chocolate macadamia nut, one Reese's peanut butter.  About twenty minutes after ordering I get a text from the Dasher showing a photo of the package at my front door, which is how they alert you now.  Thus began the comedy of errors.  The photo was not my front door.  I immediately texted back and mentioned that fact.  The Dasher texted back, apologized, and said she was on her way back to get it and bring it to me.  However, when she arrived the people at that house, despite not being alerted, had already taken the package inside.  She was, I think, too timid to knock on their door and tell them she'd made an error and to give it back.  So, instead she said she was driving back to the Cheesecake Factory to get the order anew.  I knew if she was doing that she'd be paying out of her own pocket, which didn't make me happy.  I went into a chat session with DoorDash and they were willing to refund but I said it wasn't necessary as long as I got the order and I told them I didn't think it fair that the Dasher have to put out her own dough.  Meanwhile, the chat person put in a redelivery order.  I thought that meant they'd cancel out the Dasher's doing it.  I kept on them about the Dasher not having to put out her own money and they assured me that if the Dasher contacted them, they'd reimburse.
Five minutes after the chat, the doorbell rang and the Dasher again apologized and gave me the stuff, and I told her I felt bad about her having had to put out her dough, told her I'd been in contact with DoorDash and that she should contact them.  My ire was truly with the pigs at the wrong house, frankly.  That house, I found out, was a block to the east of me and my address.  I just might pay a little visit to them and tell them they can thank me for their dessert, which they should not have taken inside their house.  I ate about half the white chocolate, which was VERY sweet.  I put the rest in the refrigerator with the Reese's peanut butter.  But the comedy of errors wasn't quite over: Twenty minutes later, another doorbell ring and I get the same order again, delivered by Avi, who tells me he lives down the street and that if I ever need a limo to call him. So, now I had four slices of cheesecake, so I texted the fellow in the back house and he came and got his free two slices of cheesecake.  Thus endeth the comedy of errors.  And I do hope the original Dasher does get her money back.  But if she doesn't, if I'm calculating correctly, deducting the fee and her tip, it should only have cost about fifteen bucks.
Yesterday was another two-hour sleep day to begin with.  I woke up at six and was up for an hour, but then went back to bed and slept a nice sleep, ultimately getting eight hours, so that was a good thing.  Once up, I answered e-mails and did stuff relating to the Kritzerland show.  All songs have been chosen and we've begun creating the tracks and some singers have already gotten one of their three.  My goal is for everyone to have their tracks by next Wednesday.  But there are two multi-singer numbers, and those tracks have to get to everyone because we'll be doing tests and we're in uncharted territory with that one, so we want plenty of time to get it right.
I then went to Jerry's Deli and got some turkey, a half-loaf of rye bread, some 1000-Island dressing and some cole slaw, came home, and made two small turkey sandwiches and ate them all up.  I put some of the cole slaw on the sandwiches along with a little 1000-Island dressing.  After eating, it was more work for the show, and then I finally sat on my couch like so much fish.
Yesterday, I finished watching The Bad Sleep Well, a film by Akira Kurosawa, starring Toshiro Mifune.  Like High and Low, it was a modern-day film (modern day being 1960).  It has a good plot, and I remember liking it very much.  This time around I wasn't as fond of it – some of the acting is a little much, the musical score works against the film at times, and the ending, which I remembered as being great, isn't at all – in fact, it's a real letdown.  So, it's no High and Low, which not only remains my favorite Kurosawa film, but one of the favorite films period.
Then I watched another motion picture, this one titled I Married a Monster from Outer Space, which just came out on Blu and Ray – but I watched the DVD since that's what I had.  It's a low-budget affair, with some really good behind the scenes top Paramount folks on it.  It's not as silly as most low-budget sci-fi films – it's pretty literate and not cheesy.  It stars Tom Tryon and Gloria Talbott.  We issued its weird soundtrack, which is all music from other Paramount films.  I didn't remember that this film played the bottom half of a double bill with The Blob.  Anyway, I enjoyed it for what it was.
After the movie (and the comedy of errors), I took a nice drive and noticed that gas at the cheap station had gone up since the day before by another two cents.  I honestly do not understand it and shame on the whole lot of them and yes, the buck stops with you, Governor Newsom, you big gasbag.  Then I relaxed and listened to music.  Oh, and at some point in the evening I had another small turkey sandwich.  All in all, even with the small amount of cheesecake, I think I was under 1400 calories.
Today, I'll be up by eleven to do some fixing on a track, then it will be more show stuff, perhaps having tuna sandwiches for food, which will enable me to safely have some cheesecake.  Other than that, I'll watch, listen, and relax.  Oh, and of course today is that day of days for all you mothers out there in the dark, Mother's Day.  So, the happiest of Mother's Days to those who are the mothers.  Oh, and someone posted this on my page on the Facebook yesterday.  I thought it was very well done.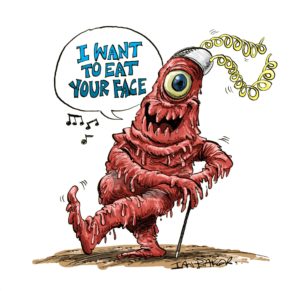 This week will all be getting singers their tracks – they all have their music and mp3s to listen to, so it's just a matter of everyone getting their piano tracks.
Well, dear readers, I must take the day, I must do the things I do, I must, for example, be up by eleven to fix a track, do more show stuff, eat, watch, listen, and relax.  Today's topic of discussion: It's free-for-all day, the day in which you dear readers get to make with the topics and we all get to post about them.  So, let's have loads of lovely topics and loads of lovely postings, shall we, whilst I hit the road to dreamland, having had quite the comedy of errors last evening with the cheesecake slices run amok.  And again, a Happy Mother's Day to all.