Well, dear readers, Kritzerland 106 went off without a hitch and the people who watched it live seemed to have a grand time.  It's really fun to watch on Facebook because of the emoji things and comments, but I now believe that Mr. Zuckerberg must have some beef with Safari because the hiccupping is ridiculous – I switched to Chrome and everything played perfectly, just as it does on YouTube.  I loved this cast, we had two surprises that no one knew about – one was the reunion of the four original Dancing Dildos and the other was Richard Sherman.  I was pleased at how many really enjoyed the songs – I think many viewers hadn't heard any of them, but I included a lot of stuff I knew people hadn't heard before.  The opening number was one of those – no one has heard that number since 1972 and boy was it fun to do it.  Obviously, that was the most daunting number to put together, as it involved Daniel Bellusci and six ensemble members.  We had to figure out a way for everyone to synch at exactly the right moment – they had to sing to the track in their earbuds so that all we actually heard were their voices.  Timing was critical on the choral stuff.  Several of the ensemble members had to redo their stuff for rhythm and timing reasons.  We had a second Zoom session where I talked them through every single note of the song.  Then they had three options of track to sing to – one with just accompaniment, which I don't think anyone used, one with accompaniment and click track, and one with accompaniment, click track, and me singing the ensemble stuff.  Once we had everyone's takes, it all went to Richard Allen, who put them in Pro Tools and got everything synched properly – wasn't that easy because without a conductor even when people are trying to be precise, they're not quite.  So, Richard had to do some fancy footwork, but in the end it worked perfectly.  That finished audio track went to Hartley, and because we'd already figured out how to synch audio to video, she assembled it all into what you saw.  The trio was the same, but easier.  I learned a few things so that if we ever do a group number or duet or trio it will be easier for everyone.
It's always a thrill to hear great singers sing your songs, and these singers all delivered.  After Start at the Top, Adrienne Stiefel did I See Rainbows, a song I wrote when I was fifteen years old.  Then it was Kerry O'Malley doing a wonderful job with Here on Earth from The Brain from Planet X.  Then Sami Staitman did a bang-up The Lights and the Smiles from The First Nudie Musical.  Both she and Kerry shot in front of green screens – Kerry's husband Karl does all her backgrounds, but Hartley Powers did Sami's backgrounds for The Lights and the Smiles.  That was followed by Robert Yacko doing I Don't Have to Hide Anymore, the song that runs over the end credits of Nudie, but a song I'd written two years prior.  Then Daniel Bellusci was back with a What If that he did brilliantly, and Adrienne Stiefel did an incredible performance of It Might Be Fun, from my never-made screenplay, Sailors.  I have always liked the song, and it is, of course, the title song from Sandy Bainum's CD of my stuff.  After that, Hartley Powers recreated her first number from A Carol Christmas, so that was a lot of fun.  Then Kerry was back with Little Miracles from the same show.
After that, Robert returned to sing I'm Here, a song I wrote for my first mystery novel, Writer's Block – he did a beautiful job of it – it's a real Sinatra kind of song.  Then Daniel Bellusci did a hilarious job with Cowboy Buckaroo from Stages.  That was followed by me doing The Creature's Song (aka I Want to Eat Your Face) from The Creature Wasn't Nice, then Adrienne absolutely and perfectly nailed You Said from Start at the Top.  Then came Brent Barrett doing Two Roads, the song I wrote with Richard Sherman – he did great and Richard made his surprise appearance at the end of it.  Then came the trio, Lament for Three from Stages and the three girls – Hadley Belle Miller, Mackenzie Wrap, and Oliviana Marie did a great job.  Then Robert did a What If involving Sweeney Todd that was fall out of your chair funny.  Then came Christiane Noll who did a simple, sublime, and beautiful performance of Simply.  That was followed by another song no one had heard, not performed since 1973, called The I'm-on-a-Diet Blues, with Kerry O'Malley tearing up the jernt in fine fashion.  I wanted to close the show soft, so we ended with Sami Staitman recreating her song Everything Is Gonna Be All Right from Welcome to My World.  Richard Allen did great tracks, Hartley did a fantastic job of assembling the show, and Doug Haverty was, as always, our stalwart co-producer.  We're hoping we raised a few bucks for the Group Rep.
A few minutes prior to the show, I posted this photograph of the set-up I use for the commentary.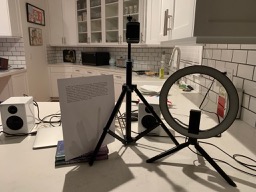 Amusingly, it did exactly what I thought it would do, i.e. made our new viewers think the entire show was live.  In fact, Barry Pearl texted me and asked me to plug the movie of Grease airing after us.  I finally had to explain that I'd actually shot the commentary two-and-a-half weeks ago – he had no idea.
Otherwise, yesterday was a fine day.  I was up at eleven after eight hours of sleep.  I did some stuff that needed doing, then went and picked up a package and important envelope that had arrived the day before.  I came home and tried to order from Hugo's via DoorDash, and found they were trying to charge me full fees AND a delivery charge.  Well, no, I have DashPash and I've ordered from Hugo's several times, including four days ago, and there's never been full fees and a delivery charge.  So, I chatted with someone on the site and they finally informed me that Hugo's has a delivery charge and full fees and that not all restaurants work with DoorDash – news to me so I insisted she cancel my subscription right then and there, which she did.  I can use it until the next billing cycle, so I ordered from Stanley's instead, my favorite pasta dish, which arrived twenty-five minutes later, and which was excellent.  Then I watched a couple of Alfred Hitchcock Presents episodes – one very good one with Brian Keith, and the other two were not that good.  And then it was time for our show.  We had about sixty-five live viewers but before the evening was through, I believe over 500 people had viewed it.  Not as many as last month, but with what's going on that was no surprise to me.  I think certain folks will catch up with it later in the week.
The decision to hang tough and air last night was an ongoing conundrum for a week.  Doug, Hartley, and I all wanted to air it if things were calm by Saturday, which they pretty much were.  We didn't know of any demonstrations in LA or elsewhere that were planned, but of course there were – they just didn't really announce them in advance.  We all felt that because music is a healing art, that people could use an eighty-minute respite, and if you read the comments that seemed to be the case, and it made all of us very happy to know people got some hope and joy out of it.  I'd also canvassed the cast and they were all for it, too, for all the reasons stated above.  Of course, one person kept sending up the "angry" emoji on every single bit of commentary and on every single song.  I'm sure if we put on our thinking caps and concentrate real hard, we might be able to figure out who it was doing it.  Listen, if it brings them joy to do something truly stupid like that, so be it.
After the show, I relaxed for bit, then sat on my couch like so much fish and watched a motion picture called Blindfold, starring Mr. Rock Hudson and Miss Claudia Cardinale, with a script by Philip Dunne (from a short novel by Lucille Fletcher) and directed by the self-same Dunne.  I don't find him a very good director and that was certainly the case here. I'd never seen the film – it wants to be in the Charade mold, and it fails miserably because Dunne can't decide what movie he's making.  It's a knock-about comedy, it's a thriller, and it's a smirky Rock Hudson movie – none of the elements coalesce and none of them work well together, hence you really don't know how to take the film, which is deadly for a movie.  The villain is not interesting, but then the entire film is not interesting.  The transfer from Universal via Kino is pretty good, actually.
After that, I relaxed, read the comments on the show (there are well over four hundred of 'em at the moment), and that was that.
Today, I'll be up when I'm up, then I will try to cast more of the July Kritzerland so I can choose more songs.  What I kind of liked about these two at home shows is having many of the regulars be in them, along with two guest stars and whatever surprises we can rustle up.  But some may need a break after two in a row, but I think I'm going to give them first refusal.  I'll hopefully pick up some packages, I'll eat, I'll do whatever needs doing, and then I'll watch, listen, and relax.
Tomorrow, Jerry's Deli will open for dine-in, so I'll try to go to show my support.  Then it will be more of the same and I think the Smoke House meal will actually happen a week from now.
Well, dear readers, I must take the day, I must do the things I do, I must, for example, be up when I'm up, try to cast more folks, choose songs, eat, hopefully pick up packages, and then watch, listen, and relax.  Today's topic of discussion: Which were your favorite numbers from last night's show?  Let's have loads of lovely postings, shall we, whilst I hit the road to dreamland, pleased as punch that Kritzerland 106 went so well.