Well, dear readers, I am sitting here like so much fish, listening to a Chopin piano concerto courtesy of Mr. Charles Munch and pianist Alexander Brailowsky.  Chopin, like Brahms, really knew how to write a tune in a way that speaks to my musical sensibilities, which are probably mine alone.  Earlier, I'd been watching disc two of season five of Alfred Hitchcock Presents.  Each season had its fair share of duds and season five is no different, but on disc two alone there are three classics and, in fact, three of the best of the entire series.  The first is Special Delivery.  I remember watching it in 1959 and it gave me the willies then and gives me the willies now.  It's about a kid who gets a box via special delivery of seeds that grow into mushrooms.  The story is by Ray Bradbury, it's beautifully acted and directed and still creepy as all get out.  I hadn't realized it, buy Michael Burns, who starred in the first pilot I did, was in this as a young kid.  The second classic is certainly in my top ten for all-time best of this series.  It's called Specialty of the House, and is deliciously acted by Robert Morley and Kenneth Haigh – about a very exclusive and private dining establishment, where its very lucky clientele hope for the specialty of the house, which is served infrequently.  It's really great – great writing, great directing, and it has yet another unique and weird performance by the one and only Madame Spivy – herein billed only as Spivy, as the owner of the establishment.  I loved Madame Spivy when I was younger – it just so happened that she was in a bunch of movies I saw back then and I was always delighted to see her – those movies included memorable appearances in The Fugitive Kind, Studs Lonigan, All Fall Down, Requiem for a Heavyweight, and, of course, The Manchurian Candidate.  She was a New York cabaret regular back in the 1930s and 1940s, released two albums of 78s, had her own nightclub for a decade from 1940 to 1951, called Spivy's Roof, which catered to a gay crowd, and some of the folks who performed there were Mabel Mercer, Paul Lynde, Martha Raye, and Liberace.  Madame Spivy died of cancer in 1971 at the age of sixty-four.  Here is the divine Spivy in Specialty of the House.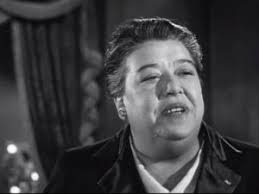 The third classic on disc two is Man from the South, another one I vividly remember watching back in 1960. While I can find no mention of it now, I remember reading in TV Guide or the newspaper that the ending had to be reshot either before it aired or for the rerun and that the hand at the end was originally not gloved.  Who knows if I'm just thinking I remember reading that?  The episode is a classic from start to finish, based on a Roald Dahl short story.  The stars are Steve McQueen and Peter Lorre, who are both great.  Again, it's well directed, and everything clicks.  It was really fun to see all three again.
Yesterday was an okay day.  I ultimately did get a little over eight hours of needed sleep, got up, did stuff on the computer, and began writing the commentary and got a third of the way through.  I went to the mail place and picked up two packages, came home, did more work on the computer, had some telephonic conversations and then ordered food, trying a new local jernt called The Crabby Crap.  I mostly did that to try their fried clams and their crab mac-and-cheese, but this jernt isn't known for that stuff, their known for stuff like peeled shrimp in a bag and various crab leg dinners.  The food arrived thirty minutes later.  I tried the fried clams and they were pretty good but the tartar sauce was horrible and so was their cocktail sauce, so in the end it was a fail.  And the crab mac-and-cheese, which I did finish, was a little too "fishy" smelling and tasting in a way none of the lobster mac-and-cheese I've had has been.  So, not a jernt I need to return to.  After that, I sat on my couch like so much fish and watched those episodes of Alfred Hitchcock Presents.
After that, I listened to music and finished writing the commentary, so that's out of the way now.  And then it was time to write these here notes.
Today, I'll be up when I'm up, I'll do whatever needs doing, I'll hopefully pick up some packages, I'll eat, and then we have a four o'clock Zoom rehearsal for this show's one group number.  After that, I can watch something, then listen and relax.
The rest of the week is more of the same and then early next week we'll have the rest of our Zoom rehearsals.
Well, dear readers, I must take the day, I must do the things I do, I must, for example, be up when I'm up, do whatever needs doing, hopefully pick up some packages, eat, have a Zoom thing, then watch, listen, and relax.  Today's topic of discussion: What are your favorite anthology movies and TV shows and your favorite episodes?  Let's have loads of lovely postings, shall we, whilst I hit the road to dreamland, happy to have given a lot of ink to the divine Madame Spivy.